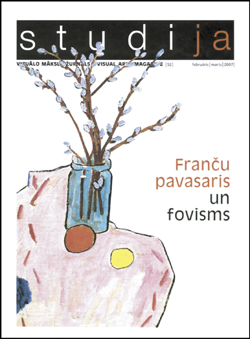 2007 Nr.1 (52)
... It simply works out the way it does


Laima Slava


The solo exhibition by Ģirts Muižnieks in the White Hall of the National Museum of Art was certainly one of last year's most vivid events in Latvian art.


"First you retire, and then you get going"*


Alise Tīfentāle


Just like the once-popular series of TV shows by the name of "A song for my generation", the popularity of naive art is currently on the upswing.


The legacy of Valdemārs Tone


Dace Lamberga


Before departing from this life, Valdemārs Tone (1892-1958) told his wife to keep only as many paintings as could be hung on the walls, and sell the rest in order to get by. In the apartment of Aina Tone-Baker at Hove, near Brighton, the walls of all three rooms and the corridor were densely covered with portraits and still lifes.