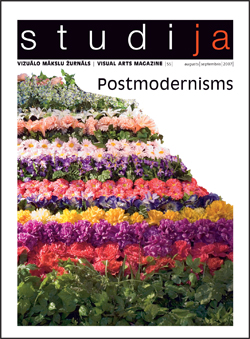 2007 Nr.4 (55)
Belgian art. Collection of the Museum of foreign art


Daiga Upeniece


Daiga Upeniece, Director of the Museum of Foreign Art
Dorine Cardyn-Oomen, Scientific director of Kooinklijk Museum voor Schone Kunsten Antwerpen Conversation before the exhibition opening.


Picturesque greetings to a mole


Dace Lamberga


Helēna Heinrihsone - an elegant woman of indiscernible age always dressed in black; a young-in-spirit, free-thinking personality; one of the stars of contemporary Latvian painting.
Farewell to theory?


Helēna Demakova


The Creative Work of Leonards Laganovskis from the Postmodernist Perspective.