Pop art and art in the 21st century


Eva Ližbovska


Artist Auce Biele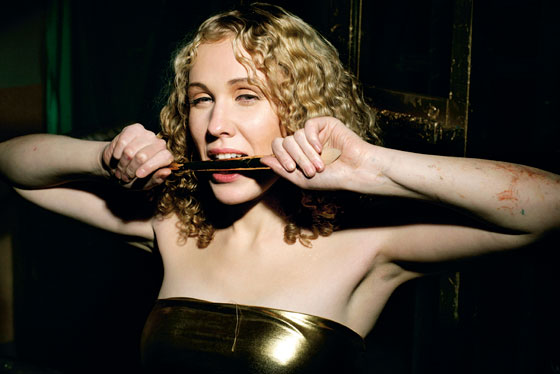 Auce Biele
Pop Art as one of the most pronounced movements in art history of the last century has left a strong mark on many artists all over the world; Auce Biele (1981) - a young, very creative and distinctive Latvian artist - is no exception. This year she received her BFA, graduating from the Visual Communications Department of the Latvian Academy of Art. Over the past two years she has already put on three solo shows and taken part in several group exhibitions both in Latvia and abroad. Now her works are on show as a part of the exhibition "Candy Bomber. New Acquisitionss in Latvian Painting" at the Arsenāls Exhibition Hall of the Latvian National Museum of Art (17/11/2007-27/01/2008).

The object of Auce's interest is the study of pop culture and consumer culture - people's love of things that replace human relationships, advertising, television, magazines. What captures the interest of people in Latvia today? What is the place of art among fashion brands and another discount campaign in the shops? Auce arrives for the interview smiling and happy as usual - she's ready for a chat, although initially reluctant to accept the presence of a dictation recorder, because it only captures voice and no image.

Eva Ližbovska: What inspires you?

Auce Biele: Half of my time is spent at parties, which also serve as a source of inspiration; of course, some time needs to be given to rest, because these things take so much energy - but, at the same time, I get a lot from them as well.

E.L.: Over the past two years you have been very active creatively, you've taken part in several exhibitions. What are your feelings on being one of the brightest young artists?

A.B.: Most importantly, I never have the feeling I've completed something. As soon as a project comes to an end, I start seeing things I'd like to do differently, I get new ideas about other ways of working. That's why I'm so active. I believe I am not, and do not want to be, a "Sunday artist", who produces a single piece in six months - it means you're neither a professional, nor have experienced what you're depicting! Everything has to be lived, internally!

E.L.: Which is more important to you - the working process or the result?

A.B.: When I am working, I wouldn't change that moment for anything. Honestly! It's just a great feeling. (Laughs) It's a parallel experience. If I'm working very diligently, I lose all sense of boundaries and cannot tell what is for real. Thus I can experience anything I want. And what does it matter - if you experience it vividly enough, it happened! So there! (Laughs) They must be the fulfilled/unfulfilled dreams. I've been thinking lately, about where those ideas of mine come from. I look at some of my work and wonder, did I really create that? The ideas just come along... And I'm always very grateful for it. I believe I have very little part in it consciously. At school I was taught how to use tonal relationships, and all the rest of it, but ideas cannot be taught.

E.L.: You've just graduated from the Visual Communications Department of the Latvian Academy of Art - but you're known as a painter...

A.B.: ...yes - although I was very fond of painting even when I was still at the School of Applied Arts, I deliberately did not go for the Painting Department, because I would lose so much if I learnt to work only in a way that pleases my professors - the traditional style. Here I'm getting a completely different experience, I get to see painting from a different angle. I could've applied for the Fashion Department or whatever, but the guru of visual communication, Ojārs Pētersons, was the reason I made this particular choice. (Laughs) Now I realise this is the time to forget everything I've been taught, because any department will teach you just that one thing. You have to learn, but also to know when to turn a deaf ear, or you will resemble any number of other artists.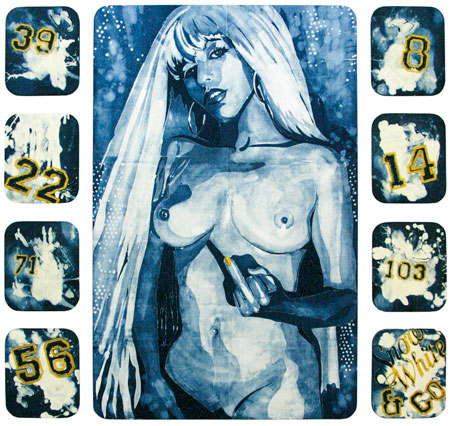 Auce Biele. Solo exhibition "LO & VE". 2007
E.L.: Have you thought about further creative development, ways to avoid exhausting your ideas?

A.B.: I have this picture in my head that I try to fulfil. With each exhibition it becomes more complete - there is this image perfection I strive for. Everything has been planned meticulously. Even the things I will be doing next summer, autumn...

E.L.: These days it is not enough for an artist to be creative, they must also be able to "manage" themselves. Is this important to you?

A.B.: Yes, it is very important, because essentially it is the parties and different encounters that ensure your success. Who you drink your wine with, who you dance with - these things matter. I caught on to this very quickly. My works can be anything, but if I'm not sociable myself, nothing is going to happen. I know many artists don't like this, they find parties tiresome, but I enjoy it. I have to fully understand, feel and investigate everything that is going on around me! Many of my pieces I have experienced physically, either before or after creating them. I've had occasions when I've met in real life a face I've painted before.

E.L.: How are your works created? At the opening of your last exhibition you said you'd been watching a lot of TV. Does the telly inspire you?

A.B.: Yes, I watch TV in a very professional way. If, for example, MTV Base can go on all day, showing people a tanned, beefy bloke and twenty girls he has to choose from... and people don't get tired of it... The story essentially hasn't changed over several years - so people must have a need for it. I'm interested in what people need, the basic values everything is built on. This channel exists because there is a demand for it, but what is it showing? I look at these things as a bystander. Also, for example, you'll find advertising brochures in all the shops. I collect them, because I think they're more worthwhile than some pieces of art right now.
Sometimes fashion advertising has a much more profound concept than some art books, the images are more emotional and powerful, more visually convincing. So I examine the advertising culture, because the numerous people involved in their creation have devoted enormous amounts of energy to their work. Sometimes I don't know if I should buy that art book or just go into a shop and pick up a bunch of free brochures, because the ideas, the quality is there! It's not about simply snapping pictures of clothing items, there's always a concept. Yes, those are my art books, my professors! (Laughs) Of course, I look at real art books as well, the old greats...

E.L.: Which of the old greats appeal to you - who speaks to you?

A.B.: When I was a teenager, it was Lautrec. Because I love nightlife and partying. I still leaf through books about him... But now I mostly look at how sexual the images have been all through art history. All those reclining Venuses and Donnas, just covering that little bit with their hands. I think about how sexual it would have seemed back then. I understand all those fights about whether it was acceptable or not. These days the feminine ideal has changed, but in essence that sexuality must've been just mind-blowing. If you look at those beautiful nude male statues - they're so sensual... And if you imagine him alive and in motion! I think art today is not as perverted as it was then.

E.L.: So those are also the sitters for your works?

A.B.: Yesterday I bought a heap of men's sports magazines, to study their flesh (laughs), because I'm looking for sitters, but there are very few handsome men in Riga, in comparison to other European countries. You can find girls by the dozen, if you need to study something. What something looks like is very important to me.

E.L.: How did you arrive at the Pop Art aesthetics and traditions you use in your work?

A.B.: I came to it by accident. I wasn't thumbing through Warhol, not at all. I'm simply curious about what people are into, and you can't call it anything but pop. That's how it is. I'm not much of a consumer, because I visit the malls maybe once a year. I work a lot all the time, and I have no time to go and consume... (laughs)

E.L.: But you think about consumers...

A.B.: ...yes, I think about consumers. If I were into it myself, I probably wouldn't give it a single thought, I wouldn't notice. I look at it all from the outside in, just like the TV screen, which I look at once a week maybe. A few hours in front of the telly, and you're already pulled into it, there's no way to be impartial. For the moment I'm still just on the way to depicting popular culture. Warhol's banana as the symbol of pop culture was intact, unpeeled, but in my works it is now opened up and transformed in a way, it really resembles the male member. There's been a transformation in popular culture.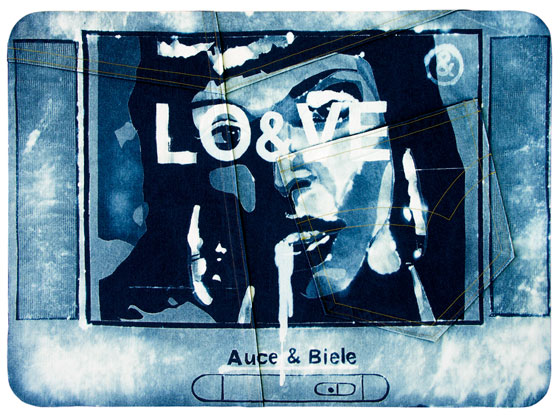 Auce Biele. Solo exhibition "LO & VE". 2007
E.L.: You don't usually reveal any techniques you use in your works... How did you arrive at using denim fabric in painting?

A.B.: When I was a student at the applied arts school, we had to do all those placards, but the paper was difficult to glue down, it always threw bubbles. I was looking for another way to do it so that wouldn't happen. So I arrived at the idea of using denim instead of paper. I tried all kinds of things with denim, but I didn't yet know how to do something on that scale. That was some six or seven years ago. I still have those placards lying around in a pile, and I look at them - that was my beginning. It took a long time to find out all the nuances, because you have to feel the denim, the technique... It is a lengthy process, all those chemicals... that's why I don't tell anybody any details. I had no-one to tell me how to do things. Every artist has something of their own - one will take a dry brush and scrape away, I have something else...

There are those tiny unpredictable surprises in the working process, and those are what I enjoy most. I don't like things that have been fully and completely planned out. I'm studying at the department of pure conceptualism, and I was taught to describe everything. I'm glad I've learnt it, but I was very resistant to it... To me it is important that my work be read and understood not by art scholars, but by simple boys and girls. It is the work itself that speaks to them, not the text beside it. What I aim for in my work is something like the feeling you get when you turn on the radio in the morning and the music you hear gives you a positive charge for the entire day. When I'm creating my pieces I have to forget I was taught to analyse everything; otherwise the works lose their genuineness, no miracles will ever happen if everything is calculated in minute detail. I always remind myself, "You only live once, do everything to make your stretch on earth a cool one!" (Laughs) I do all I can to make it so. Lately I've become very fond of feeding birds. If you don't have enough money to just give it away, you should at least do something for the birds.

E.L.: Some artists are quite the opposite - they get rid of any negation by pouring it into their work...

A.B.: I can't imagine the everyday life of those people. I can't work when I'm in a bad mood.

E.L.: Love is another important subject in your work...

A.B.: Yes, yes, yes... maybe it's because I can't seem to find it myself... I don't know what will happen if I do. Maybe I'll embark on a different subject. It is important, because when you're in love all your emotions are positive, growing and giving. In fact it's true perfection! Everyone yearns for it, and there is nothing better. If I am thinking of love when I am creating my works, there's no way they're going to be negative! Of course, love can often hurt very badly. Any person will have a time in their life when love will not just give but take as well. Everyone gets to experience unrequited love. There are those who "lock their door" after such an experience and refuse to let anyone near them ever again. I try to do everything I can to stop that door from locking down... The more I do, the more ideas I get. I never feel I've exhausted myself. You can only exhaust yourself if you're not doing anything. That's just the most horrible feeling, when a person is somehow frozen and not in motion...

E.L.: What is your opinion of contemporary art in Latvia?

A.B.: In Latvia? I'm certainly happy for any person who is doing something, but in Latvia, as far as I can tell, only street art is really picking up. But it doesn't speak to me much because it uses the same techniques that are used abroad. Whenever someone says, "Ew, that's so dumb!" I always want to say, "Then do something yourself! Go and do it!" I'm just happy whenever people are using their brains. When I am abroad I never have enough money to go to museums and look at all the art, so what I see is what is on the street. (Laughs) In Latvia I'm also very impressed with the new fashion designers - Mare & Rols, Indra Miklāve and others. I don't know any of the young painters. I've spent too much time painting. (Laughs) I'm going to see the young painters' exhibition now, and then I'm going to have an opinion - because until now I haven't had the opportunity to see the work of so many young artists all in one place.

E.L.: Every year there is the Autumn exhibition...

A.B.: I just think one shouldn't take part in it. I think it's a bit shameful to take part in it... also because of the way it is all presented... It is very important for the young artists to have some sort of a driving force. The young ones have a tough time moving forward - it takes a lot of sweat and tears. For example, for me it was U25 that released something in me. Vītoliņš brought all the young ones together.

E.L.: Many of the young artists go into the advertising industry.

A.B.: Almost all of them! I'm still holding out, because I know I have passed that milepost. I have lived so long without money, so there is no way back. I have to keep that bar as high as I've set it: it is not difficult to produce a single good piece, the trick is to stay at that level. Many do get weeded out this way. If you go into advertising you close something off for yourself - because, if you want to be an artist you have to grit your teeth and spend a couple of years making do with a pair of jeans, two t-shirts and three pairs of socks... (Laughs) In winter you ask someone to lend you a scarf and just keep going. Because it is your choice - you can earn money and go about in taxis, or you can pull your wardrobe together and just make do for a year. It's really quite tough at first, especially for girls, who like to look pretty. (Laughs)

E.L.: Lots of artists graduate from the Academy of Art, but just a few of them make it and achieve something.

A.B.: Because it takes an enormous amount of energy. Along the way, when you are just starting out, there will be many who'll say you shouldn't even do it, that what you're doing is silly. You have to cover your ears, turn off the sound. Especially if you're doing something different from the others, you'll be told you're a loser. To an artist it is important to have exhibitions, to have people come to see them and talk about them. It doesn't matter if they're saying good or bad things, because you are the only one who sets your criteria. At the Visual Communications Department of the Academy you are taught to think, analyse, coax things out of yourself. Art has to flow freely, but the Academy cuts this flow off. Each professor will tell you something different, and you start to get the feeling you can't do anything at all.

When I was in Bremen as an exchange student I could let go of everything I'd been taught here, erase all the files, the voices of all the professors, and start creating pieces I myself could like. Each exhibition brings growth, each is an increasingly fatter tick in a box. This is the third one for me. Many young artists don't put on exhibitions, they say they don't feel completely ready. But you never will! It doesn't matter what it is going to look like, you should do the projects, put together exhibitions, because that is where you can see you mistakes and learn to do things differently the next time. I recommend all young artists stop waiting for some sort of inspiration, because there is no such thing. I've read biographies of some 19th-century artists - Rodin and others. They also lived by the principle of just doing, not waiting around for something. That's what Ojārs taught me, too - if nothing is coming to you, brew yourself a mug of tea and pace the room. That way, you're going to see one thing, then another; if you're sitting in one spot you only have one view in front of you. Ģelzis always said - do the dishes. Or peel some potatoes! Do something! (Laughs) I'm glad we have these professors in our department - strong and diametrically opposing personalities, each with their own views of what art should be, and the student gets to come up with a third, his or her own concept.

E.L.: The title and central character of your latest solo exhibition is Norma Jean. How did this character speak to you?

A.B.: It is the real name of world-famous actress and pop culture symbol, Marilyn Monroe, and phonetically it is similar to "jeans", or denim. One of the pieces at the exhibition shows the blond Marilyn Monroe in glasses and, lower down, Norma Jean when she still had her dark hair, a larger nose and no mole. We are familiar with her visual transformation, but what changed inside her? "Anti Pop", the piece that was used for the poster of the exhibition, is an anti-pop image - you'll never see a woman without hair on the cover of a women's magazine. I based this work on real magazines, to research the principles of cover layout. Another important aspect of my works is the rounded corners, an aspect of functionality. Modern design uses rounded, organic lines.

E.L.: You're always smiling, happy and very positive.

A.B.: Yes, I've been told that a lot, especially lately. (Laughs) Every morning I get up and try to give myself that frame of mind - I mentally clear everything around me. It's not that easy to stay on that positive wavelength all the time. Brekte once told me he sometimes goes up to the bottled water shelves in a store - because water is best at taking on energy - and mentally wishes a nice day to everyone who is going to drink it. And that improves his own mood!
go back