Vitamins on the plane


Vineta Kaulača, Artist


A conversation with the artist Andris Vītoliņš
The human memory is able to selectively retrieve experience and rearrange the information in a new form. As with any creative process, coincidence is often an important precondition for further development. The event reproduced with the aid of memory creates a completely new space, regardless of how many recognisable traces have been preserved from the initial coordinate system. Similarly, a painting creates a brand new space in the consciousness, independent of the impulse connecting it to outwardly recognizable time and place.

In response to an invitation from Studija to comment on Andris Vītoliņš's most recent exhibition Plastic Vitamins, I met the artist at the same time as his works were on show in a personal exhibition at Alma Gallery (8.09.–21.10.2011) and also in the group exhibition Tides of Change – New Art from Estonia, Latvia and Lithuania at HangArt 7 in Salzburg (01.10.–15.11.2011).

Dynamism/tempo

Vineta Kaulača: I think that your works have a quality that is atypical of Latvian art in that they possess a sense of dynamism, tempo and speed, which somehow aligns with the contemporary zeitgeist. Because of this and the chosen colour palette, the images from the past are projected towards the future and manifest modern elements. There is not a hint of the nostalgia with which we tend to view time-worn evidence of the past.

How do you see the relationship between time and space? Is it more important for you to look to the future rather than looking back?

Andris Vītoliņš: Right now art is in a state of literary dictatorship. Text has become more important than the visual. Most people can no longer perceive dynamism and movement. A person sits at her computer and writes to her friends. She doesn't even converse, she uses Twitter. It is a sedentary, non-dynamic activity. Literary activity without physical contact. I am interested in something more – I want physical contact. There is dynamism in physical contact. The dynamic is the link with the most important tempo of all: the heartbeat. Rhythm forms part of a living organism. While a person is alive, he or she radiates this dynamism.

Dynamism and tempo are physical values that are difficult to describe in text, because text is in essence static. Perhaps that is why most contemporary art works bore me: they contain only dry literature, there isn't any life or passion.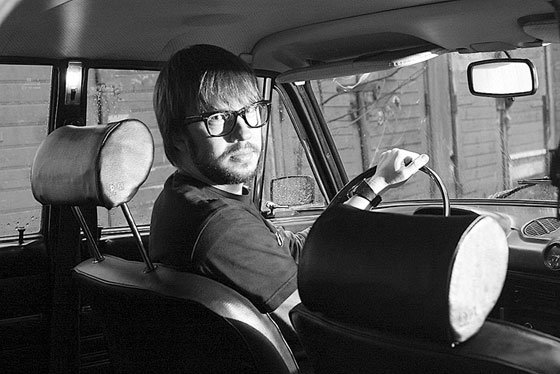 Andris Vītoliņš. 2011
Photo: Arnis Balčus
V.K.: Your works remind me of David Schnell, one of the artists from the currently popular New Leipzig School. Quite subjectively, my attention is drawn to artists who challenge the concept of a painting as a static object. The movement your works possess is geometric, rather than plastically depictive or expressive. In some way this makes me think of Schnell's geometrically dynamic works.

A.V.: I had seen Schnell's works numerous times, however it took me quite a long time to relate to them on a personal level. I had the feeling that I'd discovered someone who was doing something similar to me. I'm interested in how you can paint movement on a plane. Perhaps it's worth mentioning Dziga Vertov's Man with a Movie Camera (1929), which caused a revolution in visual culture. There is this strength and a striving for a brighter future in the film. He was the first to film using the principle of simultaneity, where the action takes place on several planes in parallel. Now this is used in modern touchscreen technologies. What interests me is how he uses all those different angles rather than a static camera. He was obsessed with movement on several planes. He created his films like paintings in which parallel action takes place.

V.K.: As one of the oldest mediums, the information space of painting is enormous. But perceptions have changed. The rapid expansion of information accessibility and intensive screen experience has radically altered our relationship with reality. Do you find the "slowness" of the medium to be an advantage or a limitation?

A.V.: In its way it possesses enormous power. The power of a painting lies in the fact that it is not dependant on the next generation VHS or DVD or MP3. These kinds of formats are being constantly regenerated. A painting is product-free. I think that a painting is a model of linear development, in the sense that it starts here and ends there. It cannot be fragmented like pixels. You can't extract a layer of a painting. When it is finished it is finished. You can't start from the upper layer and finish with a lower one.

V.K.: In a painting all of the layers coexist simultaneously. The time in its making and the experience through which it was created are preserved.

A.V.: It is the intermingling of linear and digital time, which registers all of these layers. The development of a painting is not dissimilar to the natural development cycle of a person.

A digital file does totally unnatural things. The digital world offers an absolutely free and manipulable order, where sequence is irrelevant.

Process

V.K.: To what extent is the creative process subordinate to the end result or vice versa?

A.V.: In most cases I already have a vision of the end result of a work. But the process is important too. The process can also be destructive. I am, however, interested in a process with a constructive result. Perhaps this is due to the environment in which I was born and grew up. This environment is quite destructive and unpredictable, so over time I have become increasingly interested in structures and processes.

V.K.: Did the process of working on your latest exhibition Plastic Vitamins open up any new experiences for you?

A.V.: While working on the exhibition I did a lot of drawing and grounded myself in architectural studies. Many works came about sitting at a drawing board with a ruler. I created some 30–40 paintings using draughting techniques. In its way this was a specific physical experience. Now there's the feeling of an "after-effect". I want to move away from my own self-imposed rules.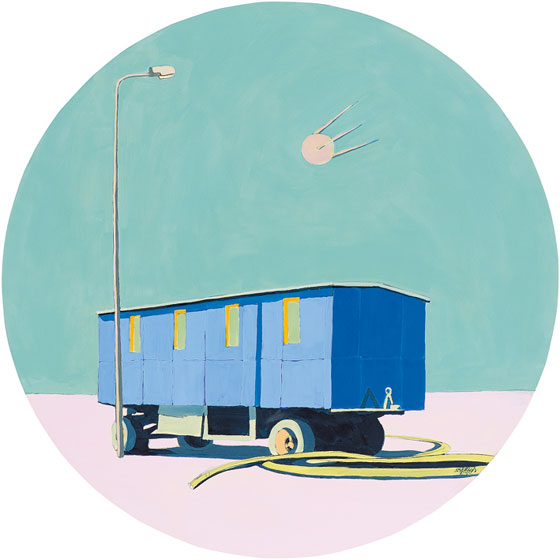 Andris Vītoliņš. Long-term investment. Acrylic on canvas. Dia. 100 cm. 2010
V.K.: I wanted to ask you about one of your works on show – Untitled. In my opinion, in it you can sense that feeling of freedom and surging away that you mentioned. The layers of the painting's creation are more exposed, which increases the scope of its perception. Was this one of the last works you created?

A.V.: Yes, it was one of the last, and in many ways it demanded a lot from me. I had invested a lot of time in the preparation process. Purely physically it is harder to make and upholster this type of frame. Once the enormous circular frame is finished, you're afraid of damaging it. Then the deadlines also start looming. There's a great deal to lose, both physically and spiritually.

V.K.: Were you kept going by a sense of potential loss?

A.V.: It was more like a sense of the risk, as well as the intention to make this work one of the core elements of the exhibition.

V.K.: The unexpected often disturbs systematic work and changes the initial plan. Do you let that affect you?

A.V.: I think it's very important that, throughout your life, you get out of your comfort zone occasionally. This builds up endurance. Once you're settled in your comfort zone, it's all over and you are no longer developing – you're merely existing.

V.K.: The defect promotes development, it opens up new space?

A.V.: Yes. It's like a storm in nature that pulls off the branches of a tree, or bends it so that the tree finds its own character, its uniqueness. If conditions were perfect, it would just grow boringly straight the whole time.
Similarly, while I am working, something external or peripheral can add effect, a detonation that the painting registers.

V.K.: Do you paint several works at the same time? What are the relationships between the works?

A.V.: I always have several ideas shuffling around in my head. For a while I tried to finish one painting before moving on to the next, but right now I am working on several works simultaneously. Sometimes it takes the passing of time and personal experience to complete a work.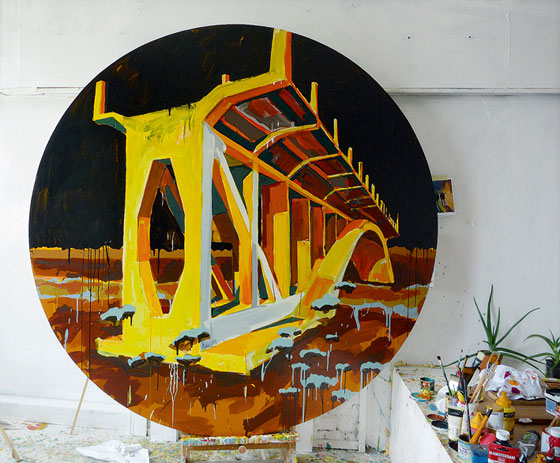 Andris Vītoliņš. Free Land. Acrylic on canvas. Dia. 200 cm. 2011
V.K.: How do you feel now, when the works are on view in an exhibition? Do you get the feeling that a particular phase has been completed? Do they provoke you?

A.V.: When I see these paintings in an exhibition I feel as if a new journey is beginning. Everything is still ahead of me and I just have to keep going, start moving. Although many of my paintings annoy me, I want to continue and to keep on painting.

Motif / utopia

V.K.: At the centre of your latest works there are public paradoxes characterising specific times and places – utopian visions of construction works that have become ancient-looking ruins in a remarkably short time. Motivation and impulse are highly personal matters, like the process of painting itself. How important is this motif to you?

A.V.: The motif is not important, because an excellent artist will always be able to turn it around in a way that suits himself. If the artist has something to say, he can use anything as subject material. In this case I chose architecture as my leitmotif. Architecture is one of the most fundamental art forms that can physically affect us. We can switch off a video with the click of a button, but you won't get rid of a building with the push of a finger. This is why to me this subject feels so relevant, especially in the context of global development. For me personally, the surrounding environment is important and gradually I have begun to integrate this environment into my paintings.

V.K.: To what extent does this theme of utopia and the absurd relate to the artists of the New Leipzig School?

A.V.: I have been to Leipzig. We have a shared history; its roots are quite similar – living under a regime. We have a lot in common, attitude for instance. Abandoned areas, an economy destroyed. In fact, we came to capitalism at the same time that they did. A kind of contemporary EU capitalism. And the attitude of Western Europe towards us is similar.

V.K.: The text accompanying the exhibition and the titles of the works are highly ironic, given the context, for example National Treasures, Highway to Heaven, Dream Home, The Wind is Born in Liepāja etc.

A.V.: I make no secret of the fact that I am to some extent opposed to this fragmentation of our existence. If I live in such a disjointed and incoherent time, then of course I protest through my work. My protest is more like a game, but I take a critical view of the situation. Look at Europe's never-ending wailing about energy consumption, when at the same time the average European drives 50,000 km to work every year. The tragedy of the modern human being is that we live in such a fragmented age.

V.K.: You write: "Our national symbol is ruins. Ruins are the calling card of this system. On entering the city, coming from the airport, we see ruins. When we arrive by train, we see ruins in the station square. Travelling around the country – ruins everywhere. Entering Liepāja or driving through through Saldus – ruins." Does your vision, which accents the paradoxical, encompasses a reaction to a certain geopolitical situation?

A.V.: I get the feeling we are living in a utopia. I have become used to the fact that all of our projects are "projects of the century". I travel around a lot and see what goes on elsewhere. For example, in Klaipeda a viaduct is completed in a couple of years, without making it some "project of the century". That unfinished building is in Grobiņa, for instance. I've been looking at this "monument" since childhood. It's like a symbol you notice when you turn off the highway. I reflect on this paradoxical environment. I take a highly ironic view and can see that irony facilitates development.

/Translator into English: Filips Birzulis/
go back