The Joyful Danse Macabre of Ragnar Kjartansson
Alise Tīfentāle, Art Critic
While waiting for an e-mail from Ragnar Kjartansson, an Icelandic artist (born 1976), I was browsing through the literature and philosophy portal www.satori.lv (February, 2009) and came across an interesting and animated discussion about the possibly minuscule, or quite the opposite - the great-potential of Latvian literature (participants of the discussion were Pauls Bankovskis, Ilmārs Šlāpins and Nils Sakss). Can a small country beget great writers? The most convincing opinion in the discussion supported the idea that literature which would be sufficiently exciting for "the countries of the great cultures", or indeed any-where else, cannot come into being in the provincial cultural conditions of our small country.

As regards contemporary Latvian literature, this may be true, however, at the same time, similar discussions are not likely to arise when talking about other fields of culture: both Latvian artists, photographers, musicians, designers and those from other small countries have no complaint at all about their provincial origin, moreover, they garner international success without any excessive fuss. And we can also presume that an artist from a small country has an even better opportunity to make a successful career, in comparison to an artist from any capital city of contemporary art, especially when taking into consideration the reduced scale of local competition. It is much easier to win a minute of attention from an important curator in Riga or Reykjavik than, for example, in London or Berlin. This one minute guarantees the artist the opportunity to create new works and offer them to the international public.

For instance, participation in the European Biennial for Contemporary Art Manifesta (19 July-2 November, 2008) served as an important career turning point for Ragnar Kjartansson, the artist this article is about, as well as Evelīna Deičmane and Miks Mitrēvics, the young Latvian artists. In a way it's natural that these are the artists to represent their countries in the prestigious Venice Biennial, while the young artists from "countries of great culture" have to grow old and achieve the status of being a classic, in order to start hoping for this opportunity.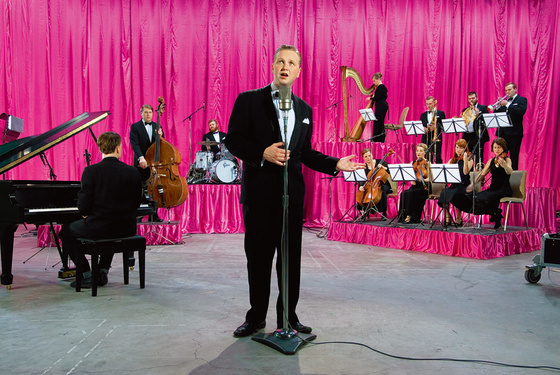 Ragnar Kjartansson. God. DVD. Edition of 3 with 2 Artist's Proofs. 30min. 2007. Courtesy of the artist, Luhring Augustine, New York and Galleri i8, Reykjavik
Eventually, I received the above mentioned e-mail, where Ragnar answered wow fantastic to my suggestion of a small written interview. He also asked to say hi to Miks Mitrēvics, whom he met during Manifesta, and informed me that he is travelling somewhere in the Rocky Moun-tains in Canada. Our correspondence was cut off at this point, as ob-viously the artist had more suitable things to do in the Rockies. We can easily picture him on the top of a mountain, like the Wanderer above the Sea of Fog by Caspar David Friedrich, who suddenly turns to the viewer and suggestively winks his eye. The artist extensively uses a wide variety of means of expression belonging to Romanticism in his works, thus catching the spectator in a web of melancholy and nostalgia. Melancholy is "like a dark synthesizer soundtrack on a sunny day. Remember the soundtrack to David Lynch's Mulholland Drive?"1 Ragnars enquires, and adds that without melancholy, uneasiness and yearning it is not possible to make art.

For many, the installation and performance Schumann Machine by Ragnar Kjartarsson was one of the most striking attractions of the Biennial Manifesta 7. After the usual opening and thank you speeches on the opening day of the Biennial, which were held in the inner courtyard of an old tobacco factory in the small town of Rovereto, Italy, all those present headed purposefully to the far end of the courtyard decorated with a "flaming" mural painting, similar to those in old amusement parks or on the stage of an amateur theatre play. There was a tiny door in the painted wall of flames, and the crowd of art lovers tried to squeeze themselves into an unexpectedly tiny, dark room. Only about a score of the spectators could fit into the office smelling of fresh chipboard - into an improvised salon, where a piano player and a solo singer were performing the romantic songs of Robert Schumann from the song cycle Dichterliebe (1840), with words by Heinrich Heine. It turned out that the singer was Ragnar himself, whereas the piano player was Davíd Thór Jónsson (born 1978), a musician popular in Iceland.

The audience could immediately feel as if they had arrived in a museum or a loop of timespace (i.e., the Schumann Machine), leaving the bright sunlight and rather easygoing opening spirit of the contemporary art exhibition behind; in its place spectators were confronted with the phenomenon of the long gone era of Romanticism instead. Just few steps away from the audience, photographers, and cameramen, to Schumann's heartbreaking music the artist was singing about dark yearning, tears, vast woods, and unattainable love. Even though the decoration of gigantic flames on the outside of the Schumann Machine seemed to be advertising a clapped-out carousel, or at least a joke about it, there was nothing to laugh at inside. Ragnar's performance was not a travesty about seemingly old-fashioned sentimentality and the frenzy of romantic love, it was rather a machine for travelling to a different state of mind. Because "Sorrow conquers happiness" - Ragnar repeatedly sings this phrase for 40 minutes in his video work God (2007), where moreover he looks like a real star of the cabaret, with a pink satin curtain in the background and accompaniment by an orchestra. Daniel Birnbaum, curator, picked this work by Ragnar for the Triennial of Torino (6 November, 2008 - 1 February, 2009).

Schumann Machine, as do other Ragnar's works, balances between the comic and the tragic in an impossible manner. It seems that the references to noble and superhuman suffering, the solemn delight about unreachable heights and romantic yearning for divine love cannot be perceived completely seriously nowadays, and are presented with certain amount of irony, even in the opera performances of today. Likewise, in works of art as well, an excess of drama is not appreciated adequately: for example, when Marina Abramović, a classic performance artist, repeated her body art performance Lips of Thomas (created in 1975) in an extended version of 7 hours at the Guggenheim Museum, New York, in 2005 (during her performance, she used a razor blade to cut a five-pointed star on her stomach, burnt the wound with a blast of hot air, lay naked on blocks of ice, etc.)2, at some point during her performance somebody in the audience called out: "Hey, you don't have to do it again!". Ragnar makes references to the works of Marina Abramović and Chris Burden, he mentions Wagner's idea of Gesamtkunstwerk, and Dieter Roth, a Swiss artist, as an Überkunstler, meanwhile recognising his own "obsession with lying or pretending"3. This can also be explained, as Ragnar spent his childhood in the theatre where his parents were working, and since adolescence he has been performing himself (in addition to the career of a performance artist, he was also a singer in a popular Icelandic rock band called Trabant).

It is possible that Ragnar's works are topical because he offers a new "way out": under the circumstances where the art of "fighters" and "activists" - so popular not so long ago - has failed to change either the worldview, the Weltanschauung of an individual, or the quality of life in the Third World, or anything else, a new way is needed in order to meaningfully come to terms with everything in our private life, as well as with what is happening globally. This new way out could be constituted by a resigned Weltschmerz, brimming with self-esteem, without excessive irony and unnecessary hopes, yet with a sentimental glance at the idealised noble past (maybe this is the right moment for Goethe, Schiller and Sturm und Drang to become fashionable again?), as well as with a certain amount of reflection about today's rather less noble reality (the painted cardboard decorations of Schumann Machine, the interior design of a cabaret in the work God, etc.). This is exactly what Ragnar Kjartansson offers in his works of art. As he once explained: "I love life, I love the despair of it. This "no-win" situation we are in. "Weltsch-merz" is probably the best word to describe what I am trying to say. All artists that thrill me have this feeling, from Prince to Bergman and back to Goethe."4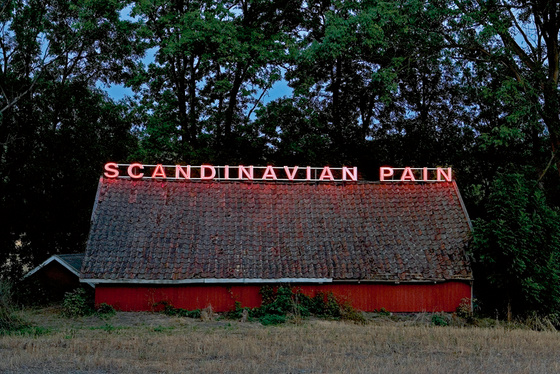 Ragnar Kjartansson. Scandinavian Pain (twilight). Print. Edition of 5. 35x50cm. 2006. Courtesy of the artist, Luhring Augustine, New York and Galleri i8, Reykjavik
Weltschmerz in this context could be similar to a poeticized view on the physiologically determined and entropic human existence. Ragnar is also making a reference to the specific phenomenon called "Scandinavian pain" (Scandinavian pain is the title of one of his performances, 2006). "Scandinavian pain" can be perceived as yet another precisely indefinable, yet perceptible Nordic phenomenon we come across in both literature and art, including Edvard Munch and Ingmar Bergman. "Scandinavian pain" comprises a certain amount of the silent despair and existential fear overflowing a human being in the dark, cold and loneliness; it's a permanent depression transforming into (sublimating into) heavenly beautiful, yet equally sorrowful art and poetry. For the purpose of his performances, Ragnar has played different roles: he has appeared as a knight in melodramatic cardboard armour, a nuanced interpreter of songs by Schumann, as Death and even the Devil, as in his 2-hour performance Satan is Real, (2004), where he had himself buried up to the waist in a park next to the Museum Dhondt-Dhaenens in Ghent, Belgium, before proceeding to sing the same blues passage again and again for hours on end, accompanied by his guitar: "Satan is real. He's working for me." Another performance had Ragnar in a black suit and holding a shining scythe as Death himself, talking to children in a summer camp. This was a happening, but the children had no idea that they were participating in a work of art as they freely chatted away to the kind man Death (video work Death and the Children, 2002).

The pride and joy of his own country - that's how a great artist from a small country can feel. Ragnar Kjartansson graduated from the Icelandic Academy of the Arts, Department of Painting, and for some time earned his money by working in an advertising agency, meanwhile in art electing to be a performance artist and a musician on stage, including being a rock star ("Art is graceful solitude; it is like fishing, while music is like football"5 says Ragnar), as well as doing plenty of other crazy things. The artist is 33 years old now, and he has achieved a lot. Ragnar is represented both by Gallery i8 in Reykjavik and by the respected Luhring Augustine Gallery in New York. He receives a state grant for creative work in art, drinks champagne, enjoys the compliments from curators and art historians at the openings of art biennials and triennials, and possibly at the moment, while this article is being completed, somewhere in the Rockies he is looking for inspiration for another surprisingly sorrowful work, to make the spectators of the Venice Biennial feel the sadness.

Several of works by Ragnar Kjartansson can be viewed on-line at: http://this.is/rassi


(1) Corbetta, C. Everyone is Decadent These Days. Mousse, No. 15, 2008, p. 34.

(2) Marina Abramović. Seven Easy Pieces. New York, Solomon R. Guggenheim Museum. 9-15 November, 2005

(3) Corbetta, C. Everyone is Decadent.., p. 34.

(4) Jung, K. K. Somewhat Unreal. New York Arts Magazine, September/ October, 2006, p. 31.

(5) Ibid.

/Translator into English: Laura Zandersone/


go back