Ceci n'est pas une pipe...


Jānis Borgs, art critic


Armands Zelčs. Escape Attempt
12.06.-19.07.2009. VKN Gallery
The Academy Goes Public


Iliana Veinberga, art critic


Shape. Colour. Line: Diploma work exhibition of the graduating students of the Departments of Visual Arts and Visual and Plastic Arts of the Latvian Academy of Art and its Latgale extension branch, academic session of 2008- 2009
12.06.-28.06.2009. Riga Art Space
The Opening Hours of Rent


Jana Kukaine, art critic


Izstāde "NOMA 00-10" / Exhibition Rent 00-10:
Oskars Pavlovskis, Evita Vasiļjeva, Darja Meļņikova, Kaspars Groševs, Artūrs Bērziņš, Reinis Hofmanis, Justīne Jukumsone-Jukumniece, Nils Jakrins, Sofija Šellare, Galka Kūlio
04.06.-14.06.2009. In a former shop at Krišjāņa Valdemāra iela, 18
In Praise of Naivete


Vilnis Vējš, artist


Works by August Künnapu
06.06.-31.07.2009. Gallery "21"
Inside Her Own Reservoir of Time


Aiga Dzalbe, art historian


Nele Zirnīte. "Laika rezervuārs"
11.07.-16.08.2009. Latvian National museum of Art
A Brief Digest of this Summer's Exhibitions of Textile Art
Ieva Krūmiņa, Professor of Textile Art, Art Academy of Latvia
About Human Behavior in Finnish Style


Inese Baranovska, art historian


Variations on Transcending the Finiteness of Human Vision - exhibition of Finnish contemporary art
10.07.-23.08.2009. Riga Art Space
Biennale without a Budget


Alise Tīfentāle, art critic


Prague 4th Biennale
14.05.-26.07.2009. Karlin Hall
Possible Worlds of Art


Jānis Taurens, philosopher


Daniel Birnbaum, the Director of the Venice Biennale 53rd International Art Exhibition entitled 'Making Worlds', introduces his vision of art, as set out in the opening article of the catalogue, with the words: "A work of art is more than an object, more than a commodity. It represents a vision of the world, and if taken seriously must be seen as a way of making a world."
Making Worlds – Not Essences, Just Versions


Ieva Astahovska, art critic


However unique every work of art is, the "memory" of a large exhibition such as the Venice Biennale creates a "symphony" in which each work is but a heavenly sound in a greater whole. That is why this article will present an overview of the exhibition curated by Daniel Birnbaum, the director of this year's Venice Biennale.
Enjoy the Riches of the Countryside
Alise Tīfentāle, art critic
All About Themselves
Solvita Krese, art historian
About Venice Biennale
Principally about Bruce Nauman


Jana Kukaine, art critic


For where should a rose's teeth have been?
(Ludwig Wittgenstein, 'Philosophical Investigations')
Art Must Surprise


Laima Slava, art historian


A conversation with Daiga Rudzāte, Artistic Director of the INDIE project agency
Art 40 Basel - a maniferstation of market confidence


Marita Batņa, culture theorist


10.06.-14.06.2009. Basel
A Time for Opportunities


Marita Batņa, culture theorist


Baltic contemporary art kicks off at Sotheby's
Latvian contemporary painting at SCOPE Basel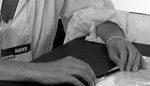 Gallery Alma
Marita Batņa, culture theorist
The City - a Live Being or a Construction
Pēteris Bankovskis, art critic
Irēna Bākule, Arnis Siksna. Riga Beyond the Walls (Rīga: Neputns, 2009)
XXX
Rihards Pētersons, art historian
Irēna Bākule, Arnis Siksna. Riga Beyond the Walls (Rīga: Neputns, 2009)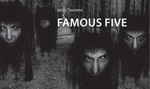 Esoterics and Method


Pēteris Bankovskis, art critic


Jānis Taurens. "Famous Five" (Rīga: Neputns, 2009)
Alise Tīfentāle. "Alnis Stakle" (Rīga: Neputns, 2009)
Straying from the Path


Kaspars Groševs, artist


Martin Creed - I Can't Move (1999)
David Shrigley - Forced to Speak with Others (2006)