Absolūts mākslas darbs
Kirils Kobrins
Ludvigam Vitgenšteinam pieder, šķiet, vienīgais pareizais novērojums par nodeldēto dzīvības un nāves attiecību tēmu: "Nāve nav dzīves fakts." Neskatoties uz savu acīmredzamību, pat banalitāti, šis izteikums ir galīgs un nav pārsūdzams. Būdama "dzīves" pārtraucēja, "nāve" tiešām nav daļa no tās – gluži kā tad, ja uz galda būtu stāvējusi tasīte ar tēju, bet pēc tam to novāktu, šīs tasītes prombūtne nebūtu tās iepriekšējās klātbūtnes fakts. Pārējais ir atkarīgs no tā, kurš vēro šo prombūtnes–klātbūtnes situāciju, izdarot kaut kādus secinājumus un piedzīvojot dažādas izjūtas saistībā ar to, ka, lūk, šis priekšmets te bija, bet tagad tā nav. Tam, protams, seko arī jautājums par tās "rokas" dabu, kas uzliek un novāc priekšmetus. Bet tas jau ir teoloģisks jautājums. Pie teoloģijas mēs vēl atgriezīsimies.

Cita lieta, ka doma par nāvi un ar to saistītās dažāda veida psiholoģiskās reakcijas neapšaubāmi ir dzīves sastāvdaļa. Vēl jo vairāk, tieši šī doma lielākoties veido dzīvi – turklāt ne tikai atsevišķa indivīda dzīvi, bet arī indivīdu kopumu, sabiedrības un pat cilvēces kā tādas (ja mums ļauts lietot tik miglainu jēdzienu) dzīvi. Patiesībā tas, kas veido visu pasaules reliģiju saturu, ir – reakcija uz domu par nāvi. To pašu var sacīt par mākslu. Kādu laiku domas par nāvi, kas atspoguļojās reliģiskajos nosacījumos un rituālos, un domas par nāvi, kas tā vai citādi bija mākslas galvenā tēma, bija aptuveni līdzīgas. To "šķiršanās" brīdis pienāca aizpagājušajā gadsimtā, bet šī procedūra vēl nav galā un diezin vai kādreiz to sasniegs.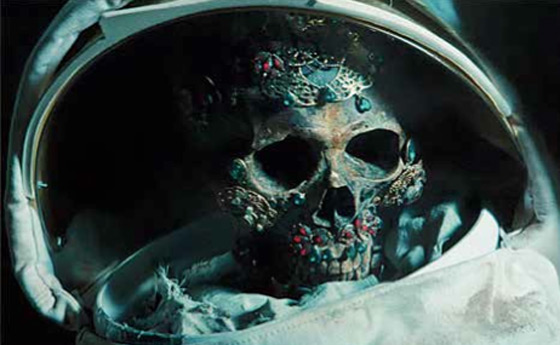 Deivids Bovijs. Kadrs no mūzikas video Blackstar. 2016
Režija: Johan Renck
Ekrānuzņēmums
Nāve, kas attēlota – reliģijas telpā esošajā – mākslā, tajā noteikusi (un nosaka aizvien) trīs galvenos sižetus. Pirmais – "dzīves" un tās izpausmju, vispirms jau mīlestības, iznīcīgums. Otrais, mazāk banāls, – kā pārvarēt nāvi. Trešais, visretāk sastopamais, – kā sagatavoties nāvei. Pirmais sižets mums dod liriku. Otrais – reliģiozus tekstus, tēlus un skaņas, kas pavada nostāstus par mirstošo un augšāmcēlušos dievu. Trešais – filozofiju, kas cenšas radīt savu, no ierastās reliģijas atšķirīgu "vēstījumu". Starp citu, pēdējais gandrīz nekad neizdodas, ņemot vērā to, ka vairākums reliģiju aicina ticīgo tieši "gatavoties nāvei". Cita lieta, ka nāve reliģijā tiek uztverta kā sava veida tiesas process, no kura iznākuma atkarīgs tās iestādes raksturs, uz kuru mūs nosūtīs bargie tiesneši. Tātad, lai izbēgtu no nepatikšanām, jākrāj pozitīvi raksturojumi un izziņas par labu uzvedību no dzīves vietas. Bet, protams, viss nav tik vienkārši un primitīvi. Pirmkārt, liecības par nelaiķi var tikt interpretētas visdažādākajos veidos, turklāt diezgan bieži pati tiesa izskatās dīvaina, bez skaidriem procesuālās darbības nosacījumiem. Dažās reliģijās lietas izskatīšana pēc būtības tiek aizstāta ar diezgan dīvainu un, no pirmā acu uzmetiena, haotisku procedūru, kas norisinās drīzāk intuīcijas, nevis loģikas laukā. Citās – teiksim, kalvinismā – tiesa vispār nav vajadzīga, jo viss ir jau iepriekš noteikts. Visbeidzot, vecajā indiešu budismā gatavošanās nāvei ideālā variantā ir gatavošanās izzušanai, nevis pēcnāves esamībai citā ķermenī, pārdzimšanai. Īsta budista mērķis ir – apturēt pārdzimšanu ķēdi, nomirt uz visiem laikiem, precīzāk, izzust pavisam. Pirmajā mirklī šķiet, ka tā ir dvēseli visstindzinošākā nāves perspektīva, taču budismā, pirmkārt, tiek noliegta "dvēseles" pastāvēšana, otrkārt, "Es" pastāvēšana, treškārt, vispār jebkā cita, izņemot apziņas, kas šo noliegumu reflektē, pastāvēšana. Piebildīsim, ka arī apziņas galu galā nav, taču līdz šai izpratnei tai, neeksistējošai, jānonāk sava darba visaugstākajā punktā. Tomēr budismu tā sākotnējā formā, pirms tas nokļuva Tibetā, Ķīnā un tālāk, līdz tā mutācijai un sajaukumam ar dažādiem vietējiem kultiem un ticējumiem, ir ļoti grūti, gandrīz neiespējami nosaukt par "reliģiju". Tā drīzāk ir filozofiska skola vai pat – domāšanas veids.

Un tomēr reliģiju vēsturiski visizplatītākās attiecības ar nāvi ir citādas – un visbiežāk izriet no tā, ko mēs aplūkojām iepriekš. Nāve ir slieksnis, aiz kura sākas kaut kas cits, un šo citu nosaka cilvēku rīcība, kas īstenota līdz šī sliekšņa sasniegšanai. Dievi nav pakļauti nāvei, bet, ja tie arī nokļūst šādā situācijā, tad tikai tādēļ, lai sniegtu cilvēkiem morālo mācību un nodemonstrētu savu nemirstību. Tieši šeit mākslai pavērās neierobežotas iespējas, ar kurām tā dzīvo vēl joprojām.

Pats redzamākais piemērs ir kristietība, kuras centrā – ar nāvi nāvi uzvarējušā cilvēkdieva figūra. Kristus cilvēciskās ciešanas un viņa dievišķā augšāmcelšanās ir spēcīgs tēls, kam nav līdzīga un kuru diezin vai kādreiz izdosies izsmelt līdz galam, kamēr pastāv tas, ko neskaidri dēvē par "Rietumu kultūru", nemaz nerunājot par citām kultūrām, kuras jau vēsturiski vēlāk skāra (un daļēji pat izveidoja) kristietība. Kristus ciešanu tēma, lai lasītājs piedod man vēl vienu banalitāti, ir mūžīga – ko nosaka tas, ka tajās ideāli iemiesota tā pati "doma par nāvi", ar ko mēs sākām šo eseju. Kristietībā doma par nāvi mūs satriec ar savām bioloģiskajām šausmām, apelējot pie ķermeņa sairšanas, bet tā arī ticīgā apziņai piedāvā izrauties no šīm šausmām, veicot ētisku piepūli. Māksla, kas atspoguļo šo tēmu – proti, būtībā visa māksla, kas Eiropā radīta kopš mūsu ēras 5. gadsimta, – strādā ar šiem šausmu un cerību tēliem. Gan viens, gan otrs tēls mums tiek pasniegts uzskatāmi – kā cilvēka miesiskās (un miesai piesaistītās cilvēka psihes, "dvēseles") ciešanas un gara triumfs pār miesu. Apbrīnojami, ka visai šai diženajai mākslai nav nekāda sakara ar nāvi kā tādu. Ar to pašu nāvi, kas nav dzīves fakts. Reliģiskā, kristīgā māksla atspoguļo klātbūtni – ciešanas, ilgas, prieku un tā tālāk –, bet ne prombūtni. Prombūtne, izzušana pēc savas būtības nevar būt mākslas sižets. Bet tā var kļūt par mākslas darbu. Tikai tai jābūt īpaša veida mākslai.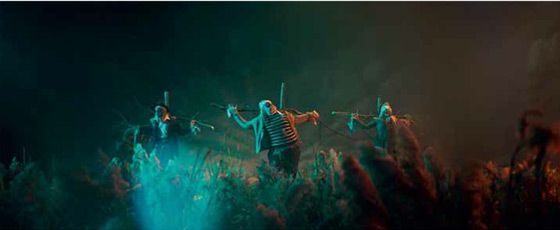 Deivids Bovijs. Kadrs no mūzikas video Blackstar. 2016
Režija: Johan Renck
Ekrānuzņēmums
2016. gada 10. janvārī kļuva zināms par Deivida Bovija nāvi. Divas dienas pirms tam, 8. janvārī, Bovija dzimšanas dienā, iznāca viņa jaunais albums Blakckstar. Dažas dziesmas publikai jau bija zināmas, lai gan ne tādā veidā, kā tās skanēja albumā. Divas dziesmas (Sue (Or in a Season of Crime) un Tis a Pity She Was a Whore) parādījās tiešsaistē – pavisam citā aranžējumā – jau pusotru gadu iepriekš, bet tituldziesma, ko pavada garš, baiss video, publikai kļuva zināma 2015. gada rudenī. Visbeidzot pašlaik, iespējams, vispopulārāko dziesmu no šī albuma – Lazarus – arī varēja dzirdēt jau rudenī, tikai cita dziedātāja un citu mūziķu izpildījumā; tā kļuva par daļu no tāda paša nosaukuma mūzikla, kura pirmizrāde notika 2015. gada decembrī. Tomēr absolūti nevienam nenāca prātā, ka Bovijam ir gatavs jauns albums, turklāt pilnīgi atšķirīgs no iepriekšējā. Un, protams, neviens nezināja, ka viņš mirst.

12. janvārī Deivida Bovija ķermenis bez jebkādām ceremonijām tika kremēts un viņa pelnus, kā kļuva zināms jau vēlāk, izkaisīja pār Bali salu. Prese apgalvoja, ka tāda, saskaņā ar "budistu rituālu", bijusi nelaiķa griba. Tas arī viss. 8. janvārī, Bovija dzimšanas dienā, negaidīti iznāca viņa albums, bet 10. janvārī viņš vienkārši izzuda. Nekādu relāciju par viņa vīrišķīgo cīņu ar vēzi. Nekādu publisku manipulāciju ar ķermeni. Nekādu bēru un memoriālo dievkalpojumu. Piemiņas koncertiem, cieņas izrādīšanas aktiem un citām lietām, ar ko nākamajos mēnešos izklaidēja pielūdzējus, nebija nekā kopēja ar Deivida Bovija nāves faktu. Vārdi, ko viņam tika veltījuši visdažādākie cilvēki, sākot ar vecajiem cīņu biedriem un popzvaigznēm līdz tā sauktajiem "parastajiem cilvēkiem" un pat politiskajiem un reliģiskajiem darboņiem1, tikpat labi varēja būt pateikti arī pirms 10. janvāra. Pats Deivids Bovijs, kurš bija mūsu vidū, tajā dienā vienkārši izzuda, izgaisa, pārstāja eksistēt. Viņu kā tasīti novāca no galda. Sanāk, ka Deivida Bovija nāves fakts nav Deivida Bovija dzīves fakts. Tomēr tas retrospektīvi izgaismoja dažas uzreiz nepamanāmas viņa mākslas iezīmes. Un, lūk, šīs iezīmes šodien šķiet tās svarīgākās.

Par to, ka Bovija nāve kļuvusi par mākslas darbu, sāka runāt jau 2016. gada ziemā, turklāt dažādu aprindu cilvēki. Pirmais, šķiet, bija Tonijs Viskonti, stabilākais Bovija producents, kurš strādājis ar viņa pirmajiem un pēdējiem albumiem, nemaz jau nerunājot par dižo "Berlīnes triloģiju" (Low, 1977; Heroes, 1977; Lodger, 1979). Viskonti teica: "Viņš vienmēr darīja to, ko gribēja. Un viņš vienmēr gribēja darīt visu pēc sava prāta un vislabākajā veidā. Viņa nāve neatšķiras no viņa dzīves – tā ir mākslas darbs." Te Deivida Bovija nāve pasniegta kā sava veida pēdējais un, iespējams, labākais viņa albums, pie kura strādāt aizgājējs sāka jau ilgi pirms nāves un, lūk, pabeidza to visnevainojamākajā veidā. Tonija Viskonti profesija uzlika zīmogu šim izteikumam; producents tomēr ir tas cilvēks, kurš "saved kopā" ierakstītās skaņas un muzikālās partijas, formē albumu, nosaka tā skanējumu. Šajā kontekstā Deivids Bovijs bija savas dzīves producents.

Ja piekrītam Viskonti, tad Deivida Bovija nāve ir viņa dzīves fakts. Tā ne tikai pieliek punktu albumam ar nosaukumu David Bowie. Life and Art, tā demonstrē, pat pierāda, ka visi šajā albumā ietilpstošie mākslas darbi veidoti vislabākajā un visoriģinālākajā veidā, atbilstoši Bovija gribai. Citiem vārdiem, mūsu priekšā ir tas pats kristīgais, rietumnieciskais piegājiens: cilvēks dzīvo, ņemot vērā fināla punktu, un cenšas laikus izkārtot to tā, lai beigas tiešām vainagotu darbu un piešķirtu dzīvei augstāku jēgu. Citādi nāve tiešām ir vienkārši izzušana, nekas vairāk. Tikai Viskonti gan Dieva, gan Dieva dāvātās nemirstības vietā liek mākslu. Māksla sniedz iespēju pārvarēt nāvi; pati māksla tiek traktēta kā darbs, kas veikts konkrētajam indivīdam vienīgajā iespējamajā veidā. Deivids Bovijs to paveica.

Pats interesantākais – pēc Tonija Viskonti – izteikums par Bovija nāvi kā par mākslas darbu ietverts gana pazīstamā britu filozofa Saimona Kričlija (Simon Critchley) grāmatā. Kričlijs ir burtiski apsēsts ar nāvi; pēdējo septiņu gadu laikā par šo tēmu viņam iznākušas divas grāmatas – "Mirušo filozofu grāmata" un "Piezīmes par pašnāvību"2. Ārpus tīri akadēmiskas un kulturālas intereses Kričlijs izjūt arī personīgu nāves (turklāt brīvprātīgas) vilkmi: ciešot no smagas depresijas, filozofs tiecas domāt par pašnāvību. Pirms dažiem gadiem lielu troksni sacēla notikums, ko dienas gaismā izcēla britu tabloīdi: Kričlijs Ņujorkā rīkoja dzejas seminārus, kuru dalībnieki apsprieda pašnāvnieku pirmsnāves vēstules kā žanru – un pat paši tās sacerēja. Tā vai citādi, nāve ir viena no galvenajām – ja ne pati galvenā – šī filozofa tēmām.

Kričlijs ir Deivida Bovija uzticīgs pielūdzējs no agras jaunības, kad viņu, jaunieti no Hārtfordšīras strādnieku ģimenes, iepazīstināja ar albumu Low. 2016. gada maijā, četrus mēnešus pēc Bovija nāves, Kričlijs izdeva viņam veltītu grāmatu – kulturoloģisku, filozofisku, fana un autobiogrāfisku spriedumu miksli par savu varoni [On Bowie, 2016]. Tajā lasāmi arī šādi vārdi: "Man līdz šim brīdim nesaprotamu iemeslu dēļ es 1976. gada pēdējos četrus mēnešus pavadīju pilnīgā vientulībā, ja neņemam vērā nepieciešamo saskarsmi ar māti, kā arī darbu kopā ar tēvu dzelzs lokšņu izgatavošanas rūpnīcā. Tā ka Bovija Sound and Vision, kurā viņš dzied rindu "Drifting into my solitude" ("Dreifējot savā vientulībā"), uz mani atstāja nopietnu iespaidu. Es arī biju bedres dibenā."3 Bet, iztiekot bez tīri personiskām alūzijām, – mēs visi taču popa varoņos meklējam ko tādu, kas sakrīt ar mūsu pašu dvēseles stāvokli, vai ne tā? Kričlijs neaplūko Boviju kā "rokmūziķi" un pat ne kā "popmūziķi", bet kā mākslinieku, turklāt laikmetīgu mākslinieku. Doma nav jauna, šo rindu autoram jau nācies to izteikt4, taču mūs šeit interesē kas cits – Kričlija spriešanas loģika. Ja Deivids Bovijs ir "laikmetīgs mākslinieks", tātad viņa nāve arī ir "laikmetīgs mākslas darbs". Diemžēl Kričlijs šeit apstājas. Nudien žēl. Jo interesantākais sākas pēc šīs frāzes – ja turpinām domāt tajā pašā virzienā.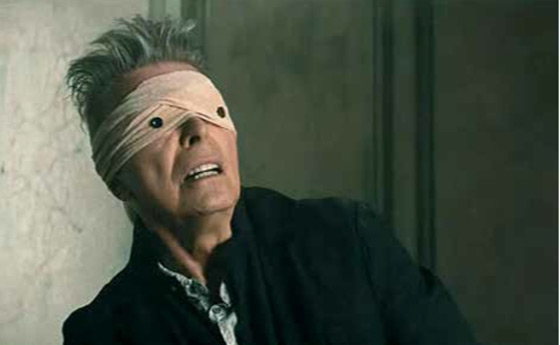 Deivids Bovijs. Kadrs no mūzikas video Blackstar. 2016
Režija: Johan Renck
Ekrānuzņēmums
Deivids Bovijs patiesi nebija tikai "rokmūziķis" vai "popmūziķis", vai vienkārši "mūziķis", lai arī sacerēja lieliskas dziesmas un viņam piemita reti sastopams mūziķa intelekts un intuīcija. Katrā no žanriem, kuros viņš iemēģinājis roku kopš 60. gadu beigām, ir par viņu labāki izpildītāji, mūziķi un komponisti. Ne tāpēc, ka Bovijs būtu mazāk talantīgs, – viņu vienkārši neinteresēja darbs kāda virziena vai žanra (glemroka vai soula, elektronikas vai folka) "iekšienē". Viņš tos izmantoja kā materiālu kaut kā cita radīšanai, ko nevar definēt kā tīru "mūziku". Tieši tāpat Bovijs nebija ne "rokzvaigzne", ne arī "popzvaigzne" (pēdējo apzīmējumu uz Boviju var attiecināt vienīgi viņam neveiksmīgajā periodā 80. gadu vidū). Grūti atrast viņam tālākus tēlus par Elvisu Presliju, Džimu Morisonu vai Maiklu Džeksonu – kaut gan bez Bovija nebūtu arī Džeksona tēla, tāpat kā gandrīz visu spožāko popmūzikas zvaigžņu, sākot no 80. gadiem. Bovijs izgudroja rokzvaigznes un popzvaigznes tēlu, iemiesojās tajā, spēlējās ar to, bet pēc tam to pameta, lai ietu tālāk. Viņš radīja visdažādākos personāžus, kas absolūti nelīdzinājās cits citam (Zigijs Zvaigžņu Puteklis, Izkāmējušais Baltais Hercogs, Jukušais Aktieris un tā tālāk) un ātri vien zaudēja savu īpašo statusu un pārvērtās par universāliem popkultūras simboliem. Jo drūmāka bija Bovija mākslinieciskā valoda, jo dīvaināki viņa kostīmi, dziesmu vārdi un pati mūzika, jo lielāku uzmanību viņš piesaistīja. Pat "Berlīnes triloģiju", neskatoties uz to, ka tajā ietilpstošie albumi atstāj nepabeigtu ēku vai pat ēku uzmetumu iespaidu, jau tajos gados ar entuziasmu uztvēra visdažādākie klausītāji, arī tie, kuri bija tāli no vācu 70. gadu eksperimentālās elektronikās mūzikas (tā toreiz spēcīgi ietekmēja Bovija daiļradi) un no dekadentiskā Berlīnes tēla, ko Bovijs aizņēmās no rakstnieka Kristofera Išervuda (Christopher Isherwood), kurš sarakstījis virkni romānu par šīs pilsētas dzīvi 20. gadsimta 20. gadu beigās un 30. gadu sākumā.5 Saimonam Kričlijam, proletāriešu jaunietim no Hārtfordas, protams, šie kultūrvēsturiskie fenomeni bija visai tāli, taču Low plati viņš klausījās līdz nodilumam.

Te mēs novērojam "laikmetīgai mākslai" tipisku lietu: ja tādas mākslas darbs tiešām saviļņo publiku, tas dara to pavisam citādā, netiešā veidā; skatītājs pat nesaprot, kas ielikts un kas apslēpts šajā artefaktā, – tas vienkārši pievelk. Publikas lielākā daļa neuztver Demjena Hērsta sazāģētās govis un briljantiem nosētos galvaskausus kā finanšu kapitālisma kritiku (drīzāk kā tam veltītu himnu) vai kā alūziju par baroka ēras "retumu kabinetiem". Tie vienkārši atstāj iespaidu.

Tieši tā arī izpaudās Deivida Bovija ģenialitāte. Viņš radīja milzīgu iespaidu, kas šķietami bija tīri estētiska rakstura. Bovijs nereti par savu tālu skolotāju un pat priekšteci nosaucis Oskaru Vaildu – ar to liekot saprast, ka ir vienisprātis ar dendija estētikas un pat "mākslas mākslai" principiem. Bet patiesībā viss bija citādi. Bovijs neradīja artefaktus ar ideāli, nevainojami noslīpētu virsmu, kā sludināja Vailds. Viņa albumi, koncerti, tēli – tie visi bija nepabeigti, trausli, nereti bezgaumīgi. Tie ne tikai ir nepilnīgi – tie nemaz necenšas sasniegt pilnību. Vēl jo vairāk – palūkojoties caur plaisām, kas klāj šo tēlu un skaņu sajaukumu, varam redzēt tikai vienu. Tukšumu. Neko.

Deividam Bovijam nebija ko teikt ne savai publikai, ne šai pasaulei vispār. Sākumā viņš sacerēja – centās sacerēt – dziesmas, kurās bija ietverts kāds sižets un pat morāle. Bet pat tās pārsteidz ar savu bezjēdzīgumu; nejaušie vārdi un tēli izplūdina dziesmu struktūru, un no skumīgās antiutopijas Five Years atmiņā paliek tikai nezin no kurienes parādījies "zaldāts ar salauzto roku", bet no Bovija slavenās Space Oddity – tas, ka astronautam majoram Tomam pirms iziešanas atklātā kosmosā jāuzvelk ķivere (kas ir loģiski) un jāiedzer "proteīna tabletes" (kas ir nejēdzīgi un komiski). No 1976. gada Bovijs pārstāj sacerēt "dziesmas", aprobežojoties ar to, ka studijā ar skaņām pakāpeniski apaudzētajam ritmiski melodiskajam materiālam uzlika nejaušas frāzes, ko viņš meistaroja pēc Braiona Gaisina (Brion Gysin) "izgriezumu metodes"6. Saimona Kričlija tik apbrīnotās Sound and Vision rindas ir radītas tieši tā. Gandrīz vienaldzīgs pret tā dēvēto "saturu" un (labākajos gados) arvien vairāk tiecoties padarīt "formu" maksimāli dīvainu un konvencionālu vienlaikus, Deivids Bovijs sekoja savam īstajam skolotājam, Endijam Vorholam. Tikai Vorhols strādāja ar popkultūras matēriju, bet Bovijs gāja plašumā – viņš strādāja ar visu, kas gadījās pa rokai. Tāpēc arī viņa visproduktīvākajos periodos tik liela loma bija narkotikām. Tās ļāva Bovijam zaudēt viņam acīmredzami piemītošo domāšanas un interešu loģiku un veselo saprātu, pievēršot uzmanību viseksotiskākajām apkārtesošajām lietām – kā Kabuki teātrim, astroloģiskiem murgiem, Špēra arhitektūrai vai Berlīnes elektroniskās mūzikas andergraundam. Kaut kādā ziņā Bovijam bija vienalga, ko un no kurienes ņemt, – galvenais, lai to varētu izmantot viņam vajadzīgajā veidā. Vorhols bija daudz ieturētāks un ierobežotāks: ārpus sava laika ikonogrāfijas – Mao portretiem, Elvisa, Merilinas, reklāmas un vēl šā tā – viņš saprātīgi negāja. Runa nav par Endija Vorhola piesardzību, vai, pasarg Dievs, bailīgumu. Viņš vienkārši bija pragmatiķis, strādājot ar tīri sociālu matēriju, ņemot no sabiedrības tās fenomenus un tad izskaistinātus un tiražētus atkal pārdodot tai pašai sabiedrībai. Nauda Boviju, protams, interesēja, bet tā viņam nebija principiāla, pat ne konceptuāla problēma kā Vorholam.

Viņš to čakli pelnīja, racionāli investēja, tērēja diezgan taupīgi, šajā jomā paliekot visai parasts angļu džentlmenis. Nauda Bovijam ļāva mierīgi darīt to, ko viņš gribēja. Un šeit mēs atgriežamies pie Tonija Viskonti izteikuma.

Ko gribēja Bovijs? Ja piekrītam tam, ka viņš bija mākslinieks, kāds tad bija viņa mākslas galvenais uzdevums? Kāda bija viņa mākslinieciskās darbības jēga, izņemot vēlmi radīt duci citam no cita absolūti atšķirīgu albumu un poptēlu? Vai tikai viņš šai ziņā nesekoja Gistavam Flobēram, kurš, saskaņā ar H. L. Borhesa slaveno izteicienu, savu dzīvi veltīja tam, lai sarakstītu dažas pilnīgi atšķirīgas, it kā dažādu autoru radītas, grāmatas? Nē. Flobērs bija pilnības moceklis. Flobērs centās radīt literatūru no nekā. Bovijs centās parādīt, ka aiz visiem raibajiem kultūras mēsliem, ko viņš pagrāba sev katram gadījumam, slēpjas nekas. Nevis "nekas neslēpjas", bet tieši "slēpjas nekas" – Nekas, un tam visam nav nekādas jēgas –, taču līdz tādai atziņai jāiet sarežģīts, smags ceļš, apkārtējiem demonstrējot visu mūsu pasaules raibo, vulgāro pārpilnību.

Šajā ziņā Deivids Bovijs nebija tipisks Rietumu mākslinieks, pat ne "Rietumu mākslinieks" vispār. Ar Neko un Tukšumu strādājuši daudzi, tostarp ģeniāli rakstnieki, mākslinieki, mūziķi. Beketa radošā brieduma laika proza ir par to. Taču Beketa varoņiem galu galā dzīves un jēgas izdzišana nav pat drāma, bet traģēdija, kaut arī mēslaina, klusa, šķebīgi garlaicīga, bet traģēdija. Tās būtība ir tajā, ka "jēgai" un "dzīvei" ir pozitīvas konotācijas, bet to atmiršanai Beketa varoņu eksistencē – negatīvas. Beketam nāve tiešām ir dzīves fakts, jo viņš "nāvi" aizstāj ar "miršanu". Bekets neticēja jēdzienam Nekas, tāpēc arī viņš – neskatoties uz visiem saviem jaunievedumiem – bija tradicionāls Rietumu rakstnieks.

Deivids Bovijs sākumā intuitīvi, bet pēc tam apzināti sekoja pavisam citai loģikai. Var cik uziet salīdzināt viņu pašu ar viņa personāžiem – kas ir bezjēdzīga nodarbošanās –, taču viena lieta iekrīt acīs uzreiz. Paši veiksmīgākie Bovija izgudrojumi ir atnācēji, kas atrodas starp cilvēkiem nejauši, kas cilvēces kultūras lietas un likumus uztver ar interesi, taču nemaz necenšoties saprast, kā tie iekārtoti. Viņš pārcilā šīs lupatas, reizēm tajās uzcērtas, bet viņš ir citāds. Nekādas romantikas – viņš nav ne "augstāks", ne "zemāks" par cilvēkiem, viņš vienkārši ir izslēgts no to kopienām. Tātad viņš atrodas emocionālā un sociālā tukšumā, kuru, lai kaut kā izdzīvotu, nepieciešams steidzami ar kaut ko aizpildīt. Tā piedzima viņa dziesmas, albumi, skatuves maskas, intervijas, skandāli, ekscentriskie izgājieni, un tā galu galā radās arī viņa pēdējais tēls – No Darbošanās un Publiskuma Aizgājušais Ģēnijs. Deivida Bovija pēdējos divpadsmit gados visai privātā, nepiederošajiem slēgtā dzīve kļuva par vēl vienu skatuves personu – tikai tagad promesošu. No turienes, savas ģimeniskās nošķirtības Lafajeta ielā Ņujorkā, viņš ar tīmekļa starpniecību apdomīgi publiskoja savas artistiskās esamības pēdas. Citāda esamība citu acīm viņam vairs nešķita pieņemama.

8. janvārī Deivids Bovijs laida klajā savu pēdējo albumu un pēc tam, 10. janvārī, izzuda. Tātad izspēlēja divas nāves. Pirmo (08.01.2016.) – tās kultūras, kurā viņš bija strādājis, labākajās tradīcijās. Meistara pēdējais šedevrs – viņa darba un sasniegumu pilnās dzīves vainagojums. Bovija otro nāvi (10.01.2016.) var saprast divējādi. Jā, tā tiešām atgādina budismam tipisku dzīves pārtrūkšanu. Bet iespējams arī cits skaidrojums. Deivids Bovijs, kurš ar konceptuāliem tērpiem bija drapējis Neko, galu galā veica pašu radikālāko mākslas žestu: novāca visus drapējumus un parādīja mums nāvi kā izzušanu. Bovijs padarīja par mākslas darbu no galda novāktas tasītes prombūtni. Un līdz ar to atcēla visu, ko bija paveicis iepriekš.


Tulkojusi Inga Bunkše


1 Kā piemēru minēsim Vācijas ārlietu ministrijas tvītu, kurā tā pateicas Bovijam par to, ka viņš tika veicinājis mūra krišanu (atsauce uz viņa dzīvi Berlīnē no 1976. līdz 1978. gadam, uz viņa albumu "Berlīnes triloģija" un, protams, slaveno dziesmu Heroes, kuras varoņi "stāv pie mūra"). Paredzams un rutīnas pilns bija toreizējā britu premjerministra Deivida Kamerona izteikums ("milzīgs britu talants"), toties negaidīts kļuva Vatikāna kardināla Džanfranko Ravazi, Vatikāna Kultūras padomes priekšsēdētāja tvīts, kurā viņš nocitēja dažus vārdus no Bovija dziesmas Space Oddity. Pirms diviem gadiem daudzos katoļos sašutumu izraisīja antiklerikālais video dziesmai The Next Day no tāda paša nosaukuma albuma.

2 Critchley, S. The Book of Dead Philosophers. New York.: Vintage Books, 2009; Critchley, S. Notes on Suicide. London.: Fitzcarraldo Editions, 2015.

3 Critchley, S. On Bowie. London.: Serpent's Tail, 2016. P. 93.

4 Кобрин, К. Бог умер. Colta ru, 11.01.2016. Pieejams: www.colta.ru/articles/music_modern/9778

5 Īpaši no grāmatas "Ardievu, Berlīne", kas, stipri pārveidota, kļuva par literāro pamatu slavenam Brodvejas mūziklam un vēlāk Boba Fosa filmai "Kabarē".

6 Džons Klifords Braions Gaisins (1916–1986) – Lielbritānijā dzimis rakstnieks, Viljama Berouza draugs, "sagriešanas metodes" (The Cut-Up Method) propagandētājs. To savulaik izgudroja dadaists Tristans Carā. Saskaņā ar šo metodi, uz papīra uzdrukātais teksts tiek nejauši sagriezts ar šķērēm un tad no izgriezumiem salikts jauns teksts.
Atgriezties