Negantās dialektikas valdzinājums
Artis Ostups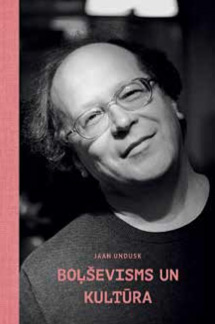 Jāns Undusks
Boļševisms un kultūra
Rīga: Neputns, 2016
168 lpp.: il.
ISBN 978-9934-512-92-6
No igauņu valodas tulkojusi Maima Grīnberga
Māksliniece: Anna Aizsilniece
Pirms aptuveni pusotra gada, rakstot par Jāna Unduska īzprozas izlasi "Gaidot vārdus", es atzīmēju kādu aspektu, kuru iespējams attiecināt arī uz viņa nupat latviski izdotajām esejām (abas grāmatas meistarīgi tulkojusi Maima Grīnberga): "Nevainojamā izteiksme un gudri izmantotā kultūrvēsture rada tik ciešu savienību, ka formu un saturu var nošķirt vien abstraktā līmenī."1 Unduska pārdomas par boļševismu un kultūru, tāpat kā viņa intelektuālos un reizē ar neparastu vieglumu apveltītos stāstus, raksturo imanenta pieeja – izklāsta forma labprāt ļauj sevī atstāt nospiedumu pētāmā objekta struktūrai. Taču Undusks negantās dialektikas (kas ir viņa eseju caurviju tēma) valdzinājumam padodas tikai tur, kur viņš var likt tai pavērsties pašai pret sevi. Imanentā metode viņam kalpo par aizsegu asprātīgai dekonstrukcijai.

Tēzes, antitēzes un sintēzes mūžīgais dzinējs, savulaik darbinājis veselu totalitāro mašīnu, igauņu akadēmiķa esejās nereti parādās kā kaut kas komisks, taču tikai līdz brīdim, kad atceramies šo dialektisko spēlīšu spēku: " .. reālā sabiedrībā tāda veida
procedūras (–a reiz –a) izpaudās kā bēdīgi slavenās ideoloģiskās tīrīšanas, tas nozīmē, it kā velns būtu izdzīts ar belcebulu."2
Kad nesen vienai tulkotājai ieminējos, ka rakstīt par Unduska esejām piekritu daļēji tāpēc, ka esmu jau recenzējis Borisa Groisa "Komunismu. Post scriptum", viņa man steigšus atgādināja pēdējā izvēli "neatzīt" saikni starp marksistisko dialektiku un padomju režīma represijām. Katram Groisa lasītājam ir zināms, ka viņš pārvietojas "lieliem lēcieniem" un tādējādi provocē – cēlonis tam, iespējams, jāmeklē vēlmē izlauzties no filozofijas marginalitātes, kurai tā, šķiet, ir nolemta "monetārajā realitātē"3. Lai kādas arī nebūtu viņu stilu atšķirības (no raupja un transindividuāla vienā gadījumā līdz vieglākam un iejūtīgākam – otrā), abi domāji Padomju Savienību redz kā filozofisku projektu, kas cilvēkus pakļāva paradoksa varai. Taču Undusks apzinās postpadomju atmiņu politikas specifiku un krājuma noslēguma esejā "Retoriskie spaidi igauņu padomju historiogrāfijā" atgādina, ka pagātnes pieraksts bez morāliem spriedumiem patiesībā ir bezvērtīgs.4

Virspusēji raugoties, boļševisms līdz Staļina nākšanai pie varas atsevišķās iezīmēs var šķist romantisks, taču nudien – tikai gaužām vājā apgaismojumā. Boļševismā ir kaut kas no avangarda – abās kustībās būtisku lomu spēlē "lēciena" metafora; protams, nemaz nerunājot par faktu, ka vēsturiski avangarda koncepts līdz 20. gs. 30. gadiem attiecās kā uz mākslu, tā uz politiku. Undusks citē Ļeņinu: "Ar ko atšķiras dialektiska pāreja no nedialektiskas? Ar lēcienu. Ar pretrunīgumu. Ar pakāpenības pārtraukumu."5 Tikmēr Tristans Carā 1918. gada manifestā dadaismu nodēvē par "elegantu lēcienu, brīvu no aizspriedumiem"6. (Klasiskāku citātu noteikti varētu atrast pie futūristiem, taču es pieminu tieši šo mākslas virzienu, jo, kā norāda arī Undusks, Ļeņina dzīvoklis Cīrihē atradās uz vienas ielas ar Cabaret Voltaire, kad tajā savu darbību, bēgdami no pilsoniskās gaumes, uzsāka dadaisti.) Boļševisma entuziasmu precīzi ilustrē Gustava Kluča fotomontāža "Visas valsts elektrifikācija" (1920) – milža lieluma Ļeņina figūra soļo pretī nākotnei, kamēr no jumtaugšas viņam uzgavilē strādnieki – vadoņa kulta pamatu lējēji. Tāda ir kultūra, par kuru vēlāk sajūsmināsies Valters Benjamins, komunismā sagaršodams fašisma pretindi – mākslas politizāciju (iespējams, palaižot garām Kluča un citu tamlīdzīgu darbu acīmredzamo "cildenumu"). Savu slaveno tēzi viņš nebūtu izteicis, ja ne 1924. gada vasara tolaik vēl nabadzīgajā Kapri salā un iepazīšanās ar boļševiku Asju Lācis. "Es ieteicu viņam studēt Marksu, Engelsu, Ļeņinu, Pļehanovu," atceras Lācis. "To viņš arī izdarīja."7

Undusks visai oriģinālā veidā iedziļinās Krievijas revolūcijas filozofiskajos priekšnosacījumos. Gan Ļeņina, gan it īpaši Georgija Pļehanova un Aleksandra Bogdanova prātojumos viņš saskata strukturālismam radniecīgu domāšanu par "es" attiecībām ar valodu un realitāti (ciktāl ideoloģija – vienalga, kreisā vai neoliberālā – šeit vispār ļauj veikt kādus nošķīrumus). Nudien, Pļehanova un Bogdanova ticība vienādības zīmei starp "es" un indivīda attiecībām ar vispasaules proletariātu itin labi sasaucas ar strukturālās lingvistikas ideju, ka "es" attiecas tikai uz diskursu, kurā tas izskan. Ar to atšķirību, ka Padomju Savienībā tas bija nevis individuālais, bet gan kolektīvais diskurs – patiesība, banāli izsakoties, bija kaut kur tur ārā. Totālā struktūrā, kā norādījis Žaks Deridā, "totalitātes centrs atrodas citur"8. Pētot boļševiku filozofiju un padomju cenzūras dialektiku, Unduskam izdevies iezīmēt to baiļu un neskaidrības mērogu, ko spēj radīt autoritārs centrs.

Politiskā māksla līdzās dialektiskajam materiālismam un komunismam ir vēl viens koncepts, kuru daļa latviešu mēdz uzlūkot ar šaubām, un tas, visticamāk, skaidrojams ar atmiņām par sociālo reālismu. Undusks to apraksta nevis kā stilistisku paņēmienu kopumu, jo tas par tādu nekļuva, neskatoties pat uz 1934. gada Vissavienības padomju rakstnieku kongresa doktrīnu; tā vietā viņš sociālistisko reālismu aplūko kā instrumentu vai platformu politiskās kārtības nodrošināšanai.9 Mūsdienās, par laimi, politiska māksla uzreiz nenozīmē reālpolitikas ieroci, tā drīzāk izvaicā valdošās ideoloģijas ētiku vai reanimē pagātnes zaudētājus. Paradigma ir mainījusies. Vai mākslinieks šeit ir tikai tāpēc, lai savāktu naudu? – vaicā kādas esejas nosaukums.10 Nē, bez naudas vēl ir arī kopiena.


1 Ostups, Artis. Tornis, spogulis un monāde. Latvju Teksti. Nr. 2 [26], 2015, 76. lpp.
2 Undusks, Jāns. Boļševisms un kultūra. Tulk. Maima Grīnberga. Rīga: Neputns, 2016, 10. lpp.
3 Groiss, Boriss. Komunisms. Post Scriptum. Tulk. Ilva Skulte. Rīga: Latvijas Laikmetīgās mākslas centrs, 2015, 99. lpp.
4 Undusks, Jāns. Op. cit., 134. lpp.
5 Ibid., 58. lpp.
6 Tzara, Tristan. Dada Manifesto. In: Danchev, Alex (Ed.). 100 Artists' Manifestos: From the Futurists to the Stuckists. London: Penguin Books, 2011, p. 144.
7 Lācis, Anna. Anna Lācis. Rīga: Liesma, 1973, 203. lpp.
8 Derrida, Jacques. Structure, Sign, and Play in the Discourse of the Human Sciences. In: Writing and Difference. Transl. by Alan Bass. London and New York: Routledge, 1978, p. 279.
9 Undusks, Jāns. Op. cit., 76. lpp.
10 Rosler, Martha. Take the Money and Run? Can Political and Socio-Critical Art "Survive"? In: e-flux journal What is Contemporary Art? Berlin and New York: Sternberg Press, 2010, p. 104.
Atgriezties