Lipīgā Bergena


Valts Miķelsons


Bergen Assembly 2016
Bergena, Norvēģija
01.09.–01.10.2016.

Grupas izstāde Adhesive Products
Bergen Kunsthall, Bergena, Norvēģija
02.09.–09.10.2016.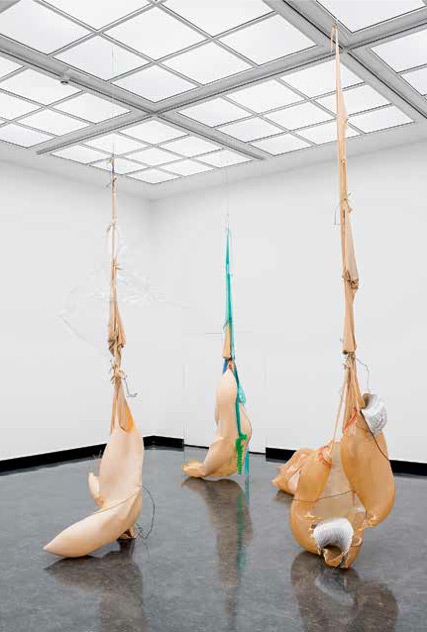 Daiga Grantiņa. Buff in Bloom, Glow and Thumps. Audums, plastmasa, metāls. 2016
Foto: pateicība Galerie Joseph Tang, Parīze
Bergenas Asamblejas formāts veidojies 2009. gadā, kad Norvēģijas otrās lielākās pilsētas pašvaldības iniciatīva organizēt laikmetīgās mākslas biennāli sastapās ar vietējās kultūras scēnas šaubām par kārtējās regulārās starptautiskās megaizstādes nepieciešamību. Starptautiska simpozija rezultātā radās reizi trīs gados notiekošā Asambleja, kuras šīgada formāts ir visa gada garumā izkliedētu izstāžu un pasākumu kopums trīs savstarpēji neatkarīgās programmās, ar starptautiskajai publikai ērtu pasākumu "sabiezējumu" septembrī.

Viena no programmām bija veidota ap libāniešu izcelsmes franču mākslinieka un komponista Tareka Atuī (Tarek Atoui) projektu par skaņas un klausīšanas izpratnes paplašināšanu, balstoties nedzirdīgo un "citādi dzirdīgo" pieredzē un tādējādi radot izstādi un koncertu sēriju. Otra programma sastāvēja no diskursīvu pasākumu cikla, simpozija un izstādes Bergenas vecajā ugunsdzēsēju stacijā, un tā koncentrējās uz infrastruktūras jēdzienu – gan ierastajā politekonomiskajā izpratnē, gan attiecinot to uz mākslas struktūrām un tajās ietverto varu. Savukārt trešā programma bija laikā un telpā izvērsta refleksija par divu mākslinieču – Lindas Benglisas (Lynda Benglis) un Mārvinas Gejas Četvindas (Marvin Gaye Chetwynd) – darbību. Šīs programmas organizatori – Berlīnes institūcija PRAXES – bija tiekušies sašķobīt ierasto retrospekcijas formātu, veidojot lielāka un mazāka mēroga izstādes visa gada garumā dažādās Bergenas izstāžu telpās un dodot laiku sarunu, pārdomu un kritikas attīstībai.

Bergenas Asamblejas blīvākajā laikā skatāmā grupas izstāde Adhesive Products ("Lipīgie produkti") bija daļa no programmas, kas padziļināti pievērsās amerikāņu mākslinieces Lindas Benglisas darbībai. Vienlaikus tā bija apjomīgākā un zināmā mērā arī tradicionālākā no Asamblejas septembra izstādēm.

Par izejas punktu tajā bija ņemti "sastingušā žesta" (frozen gestures – mākslas kritiķa Roberta Pinkusa-Vitena (Robert Pincus-Witten) lietots apzīmējums) darbi, kurus Benglisa bija radījusi 20. gadsimta 60. gadu beigās, – gan krāsainie lateksa un poliuretāna putu veidojumi, kuru nedaudzos saglabātos eksemplārus papildināja videodokumentācija, gan vēlākie metāla lējumi. Piecu mūsdienu paaudzes autoru – to vidū arī Daigas Grantiņas, kuras pirmā personālizstāde Latvijā tikko bija skatāma kim? Laikmetīgās mākslas centrā, – darbi veidoja vairāk nekā pusi no izstādes, komentējot Lindas Benglisas pieeju materiāliem. Fakts, ka tikai viens no šiem autoriem – Stērlings Rūbijs (Sterling Ruby) – bija vīrietis, atspoguļo Benglisas pašapzinīgo sievietes pozīciju mākslas pasaulē, kurā joprojām dominē vīrieši, kā arī viņas karjeras sākuma darbu polemiku ar tālaika maskulīno minimālismu.

Atritinot 60. un 70. gadu debates līdz mūsdienām, šķita, ka šī organisko, plūstošo, pilošo, lienošo formu infestācija baltā kuba sienās, grīdā un telpā joprojām saglabājusi zināmu kritikas potenciālu, zināmu vulgaritāti un tādu kā mazākuma pozīciju kopējā mākslas laukā. Jaunāko mākslinieku, tostarp Grantiņas, interpretācijās bija izmantoti mūsdienīgāki materiāli un dažādu materiālu salikumi, zināmā mērā sasaucoties ar padomju laika konstruktīvistu interesēm. Savukārt Rūbijs un Kāri Upsone (Kaari Upson) vairāk uzmanības pievērsa nevis darba tapšanas procesa atspoguļojumam materiālajā veidolā, bet gan "ārpusē" esošiem priekšmetiem. Visbeidzot nebija viegli izšķirties, vai šī izstāde tuvināja Lindas Benglisas darbus mūsdienām vai arī pavirzīja mūsdienu autoru darbus tuvāk iepriekšējām desmitgadēm – šķita pārsteidzoši, ka "lipīgie produkti" nebija ieperinājušies lielākā skaitā izstāžu zāļu.
Atgriezties