Melanholiskais raksturs
Artis Ostups
"1992. gada augustā, kad karstās dienas tuvojās beigām, es nolēmu kājām šķērsot Safolkas grāfisti, cerībā izkliedēt tukšumu, kas mani pārņem ikreiz, kad esmu pabeidzis kādu lielāku darbu."(1) Ar šo melodisko teikumu, kas savu grūtsirdību, šķiet, aizguvis no rēgainās piekrastes teritorijas, sākas vācu rakstnieka Vinfrīda Georga Zēbalda (Winfried Georg Sebald) 1995. gadā izdotais romāns "Saturna gredzeni" – profāna svētceļojuma dokumentācija, kuras formālais trumpis ir teksta un attēla saspēle, radot neparasti skaistu, melanholisku un nesaudzīgu versiju par Anglijas koloniālisma vēsturi, kas slēpjas katras aprakstītās epizodes dzīlēs.

Es atgriežos pie romānā ieskicētās saiknes starp iluzori skopo tagadnes ainavu un pagātnes drupām brīdī, kad pats esmu pabeidzis nopietnu projektu un, pavadot atvaļinājumu mazos zvejnieku ciematos, pūlos saprast, ko darīt tālāk. Un šajās pārdomās turpina uznirt attēli kopā ar tekstu, tādas kā sirreālas sakārtas, tāpat arī pašrefleksīvas frāzes, kuras šķir balti laukumi (otrajā gadījumā laikam pie vainas Stefana Malarmē slavenais dzejolis "Kauliņa metiens" (1896), kura rēgs arvien turpina vajāt dzejniekus un māksliniekus(2) un kurā, starp citu, būtisku lomu spēlē tāda melanholiska figūra kā kuģa vraks – jau atkal fragmenti, jau atkal jūra ar savu drūmo plašumu). Mans trešais dzejoļu krājums "Žesti", kas iznāca šā gada maijā, atdod godu Zēbalda prozai ar poēmu "Trīs fotogrāfijas" – esejas izteiksmei pietuvinātas refleksijas par Franca Kafkas, Valtera Benjamina un manas bērnības fotogrāfijām eksistē vienā telpā ar pašiem graudainajiem attēliem. Tikai tagad, vēlreiz pāršķirstot Eduardo Kadavas grāmatu "Gaismas vārdi" (1997), es skaidrāk apjēdzu – fotogrāfija man dāvāja manas dzīves "pēcnāves rakstura" reprodukciju(3); ierasti vizuālajai kultūrai piederīgs medijs dzejoli – šo pašatklāsmei tik pakļāvīgo formu – padarīja baisāku (Freida "unheimlich").

Fotogrāfijai Zēbalda prozā piemīt rēgaina kvalitāte – attēli it kā steidzas garām, un rakstnieka uzdevums, ko var izpildīt tikai ar audēja melanholiju, ir notvert to īso brīdi, kad attēls vēl ļaujas dialektiska tēla konstrukcijai. "Saturna gredzenu" metode liek atminēties divas citas auglīgas stratēģijas: pirmkārt, sirreālistu profāno ilumināciju, un, otrkārt, Benjamina vēstures (drupu) filozofiju. Tie ir Zēbalda iedvesmas avoti, no kuriem pirmo viņš būtiski revidē, bet otro pieņem itin vaļsirdīgi – to apliecina viņa ainavas izjūta. Andrē Bretona 1928. gada publicētajā romānā "Nadja", kas oriģinālo teksta un attēla rotaļu dēļ uzskatāms par Zēbalda prozas priekšteci, melanholija atklājas kā dzīvespriecīga, un tas raksturo sirreālismu kopumā; turpretī Zēbalda lēni plūstošajos teikumos tā ir brīva no naivajām cerībām par ikdienas dzīves revolūciju, par pēkšņu mistiskas patiesības uzplaiksnījumu, viņa valodā drīzāk pazib cilvēces pagātnes trauslie un šifrētie ziņojumi. "Taču jo tuvāk es pienācu šīm drupām, jo tālāk atkāpās jebkāds priekšstats par noslēpumainu mirušo salu, un jo vairāk es iztēlojos sevi starp mūsu pašu civilizācijas drupām pēc tam, kad tā būs gājusi bojā kādā nākotnes katastrofā."(4) Visai baisā veidā "Saturna gredzenu" varoņa pieredze sabalsojas ar Benjamina rakstīto par vēstures eņģeli (vai katru no mums), kura vaigs vienmēr ir pievērsts aizgājušam laikam – nerimstoši augošai drupu kaudzei – un kuram "pagātne ir satverama vien kā tēls, kas uz neredzēšanos uzmirgo savas izzināmības acumirklī"(5). Benjamins šeit, protams, domā dialektisku tēlu, kurā, viens otru izgaismojot, satiekas pagātne un tagadne, lai brīdinātu par nākotni. Sastatīta kopā ar stāstījumu, fotogrāfija Zēbalda darbā kļūst par šādu tēlu, tā atsvešina no sagūstītās ainavas, un kā neizdzēšamas pēdas mēs smiltīs atsedzam izstumto vēsturi.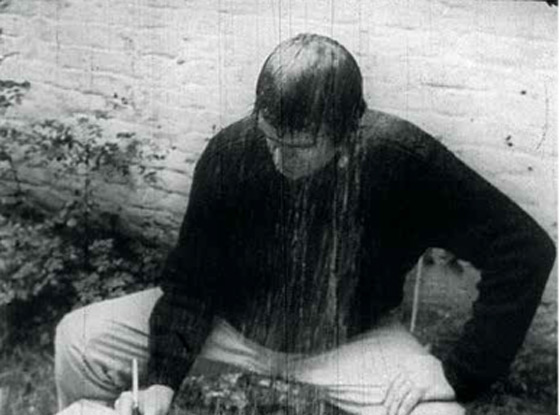 Marsels Brothērss. Kadrs no īsfilmas "Lietus" (La Pluie). 1969
Pateicība Estate of Marcel Broodthaers/Artists Rights Society (ARS),
New York/SABAM, Brussels
Nelielo eseju "Par vēstures jēdzienu" Benjamins saraksta 1940. gadā, laikā, kad Eiropas politiku ir pārveidojis karš un utopijas ideoloģija, un tāpēc nav brīnums, ka tieši progresa vētra, pēc viņa domām, dzen uz priekšu vēstures eņģeli un atņem skatienam pagātni – gluži kā smilšu vētrā, ko, starp citu, piedzīvo arī "Saturna gredzenu" varonis. Bet kas tolaik virzīja mākslu? Līdzīgi kā sabiedrību kopumā – brutāls spēks, taču bez mērķa iznīcināt cilvēci. 1931. gadā Benjamins cieš trūkumu un vēstulē Geršomam Šolemam salīdzina sevi ar kādu, kas ir uzrāpies grimstoša kuģa mastā, lai raidītu varbūt pēdējo briesmu signālu.6 Būdams tipisks melanholiķis, viņš uzsver savu bezcerību. Tomēr Benjamins ir mēģinājis novērsties no Saturna jeb melanholijas zīmes, ko viņam trāpīgi piedēvējusi Sūzana Sontāga7 (viņa arī Zēbalda cienītāja).

Ja melanholiķis sirgst ar gribas vājumu, tad viņa antitēze ir kāds, kurš apņēmīgi soļo uz priekšu; kurš ir brīvs no vēstures eņģelim raksturīgās pasivitātes un pats veido vēsturi, iznīcinot savā ceļā pagātnes izliktos šķēršļus. Tas ir jau minētais 1931. gads, kad Benjamins šo antitēzi nosauc vārdā. Alegoriskā skice "Destruktīvais raksturs", kuru viņš sacer, apsverot iespēju izdarīt pašnāvību, un kurā ieskicētā tēla prototips ir filozofa tuvs draugs baņķieris Gustavs Gliks, būtībā uzbur precīzu priekšstatu par moderno mākslinieku kā graujošu spēku: "Destruktīvais raksturs neredz neko no ilgstošā. Tieši tāpēc viņš visapkārt redz ceļus. Kur citi uzduras mūriem vai klintīm, viņš redz ceļu. Tā kā viņš visur redz ceļu, viņam nākas arī visapkārt ceļu attīrīt. Vardarbība, ar kuru tas tiek veikts, ne vienmēr ir rupja, reizēm tā ir cildena. Tā kā viņš visapkārt redz ceļus, viņš pats vienmēr stāv krustcelēs. Neviens acumirklis nezin, ko nesīs nākamais. Pastāvošo viņš sagrauj drupās, tomēr nevis drupu dēļ, bet tā ceļa dēļ, kas stiepsies tām cauri."8 Benjamins spēlējas ar sava drauga uzvārda (Glück) acīmredzamo nozīmi – vai gan cilvēks, kurš dzīvo ar tādu brīvību kā destruktīvais raksturs, varētu neiemantot laimi, it īpaši, ja ar laimi saprot izlaušanos no "sava likteņa tīklojuma"9? Mākslas vēsturē liktenis varētu būt tradīcija, kuras pārvarēšana vienā gadījumā – modernismā – tiek uztverta ar optimismu, bet citā – postmodernismā, kam pats modernisms kļuvis par kanonu, – ar ironisku pesimismu.

Bet kā ir mūsdienās? Modernais mākslinieks jeb destruktīvais raksturs, tradīciju satriekdams gabalos, pats radījis jaunu mūri – ideju par mākslu kā nebeidzamu progresu. 20. gadsimta 60. gados attiecībā pret šo mūri sevi definēja postmodernā kultūra, kam ironija kalpoja par glābiņu no "vienkāršas veco tekstu stilizācijas"10; tā ļāva reizē paturēt modernisma čaulu – kolāžu – un izsmiet ilgas pēc patiesības (kas bija sirreālistu profānās iluminācijas mērķis). Šodien postmodernā ironija ir zaudējusi savu šarmu, bet tas nenozīmē, ka mākslā un literatūrā būtu atjaunojusies ticība progresam un mistiskai patiesībai. Modernisma rēgi, kā atzīmē mākslas teorētiķis Jans Vervurts (Jan Verwoert), atgriežas nevis kā pasīvi objekti ironiskai apstrādei, bet gan kā aktīvi mūsu līdzgaitnieki.11 Manuprāt, ar šiem rēgiem ne tik daudz jāsaprot kādas konkrētas tehnikas vai artefakti (lai gan iespējams arī šāds skatījums), bet gan modernisma "zaudētās nākotnes"12 – līdz šim nepietiekami ieskicētās saiknes starp dažādiem destruktīvā rakstura izgaismotajiem fragmentiem. Taču mēs nekad droši nezinām, kas saista šos fragmentus; šī radniecība drīzāk balstās melanholiķim labi pazīstamajā sajūtā, ka kaut kas ir zaudēts, tikai neizdodas saprast, kas tieši.

".. mans racionālais prāts tik un tā nespēj izskaidrot atkārtošanās spokus, kas mani vajā arvien biežāk un biežāk,"13 ar neslēptu grūtsirdību raksta Zēbalds.

Melanholiskais raksturs savā piezīmju burtnīcā ar īpašu aizrautību fiksē tās atziņas, kas par laikmeta iezīmi padara viņa nevarību izvēlēties jaunu mīlestības objektu. Tādējādi viņš turpina pētīt vēsturi un neticēt progresam. Melanholiskais raksturs, tāpat kā viņa priekšgājējs destruktīvais raksturs, vienmēr stāv krustcelēs, taču viņa skats nav skaidrs, jo visapkārt plešas migla. "Es klausos tālas atmiņas, ko izdziedāt / Sāk zvani lēnīgi caur miglu salti drūmo,"14 tā Bodlērs dzejolī par ieplīsušo zvanu ataino melanholiskā rakstura ikdienu. Melanholiskais raksturs, ieklausīdamies pagātnes neskaidrajos trokšņos, kas viņu sasniedz no visām debespusēm, atstāj novārtā savu patību. Līdz ar to melanholisko raksturu grūti apsūdzēt lētā humānismā. Melanholiskais raksturs ir gatavs smagi strādāt, lai iedvestu dzīvību šķietami necilās lietās un notikumos. Nejaušībai viņa metodē ir otršķirīga loma. Melanholoskais raksturs sajūsminās par avangarda kaislīgumu, tomēr viņš to necenšas atkārtot; vienlaikus viņš mēdz atgriezties pie Tristana Carā idejas par dzeju kā atšķirīgos veidolos eksistējošu praksi15. Galu galā, vairāk par visu melanholisko raksturu atbaida mākslas tīrība, ciktāl tā kalpo progresa ilūzijai. Viņa matus nepluina vētra – tagadni viņš redz kā notikušu un nenotikušu situāciju mirguļošanu. Kad melanholiskais raksturs beidzot nogurst no "nemitīgas vēsturisko stāstījumu vairošanās"16, viņš vai nu padodas atpūtai, vai estetizē savu krīzi.

Sēžot uz terases ar skatu uz jūru, kurā lēni uz vietas šūpojas jahta, un pārskatot šo skici, man, protams, nākas sev jautāt – vai melanholiskais raksturs spēj būt asprātīgs, vai melanholiskais raksturs prot raisīt smaidu? Taču tad es atceros Marsela Brothērsa (Marcel Broodthaers) mākslu, kuras augstākais punkts, šķiet, bija viņa radītā institūcija – "Modernās mākslas muzejs, ērgļu departaments". Brothērss ir vēl viens melanholiķis, kuram raksturīga aizraušanās ar vēstures atliekām un sava strupceļa pārvēršana mākslā (kādā citā esejā es labprāt pakavētos pie viņa koloniālisma kritikas motīviem un atsaucēm uz Malarmē). 1964. gadā, būdams bez nepieciešamās izglītības, Brothērss nolemj beidzot sākt pelnīt un trūcīgo dzejnieka amatu nomaina pret viesmīlīgo mākslas sfēru. Visbiežāk domāju tieši par 1969. gada īsfilmu "Lietus (projekts tekstam)", kurā viņam ar lejkannu gāž virsū ūdeni, kamēr viņš spītīgi raksta. Šis darbs acīmredzami reflektē par viņa pāreju no vienas radošās sfēras otrā – teksts pārtop sava veida zīmējumā; tomēr daudz interesantāka man šķiet varbūtība, ka īsfilma dāvā alegoriju vēsturei. Cik gan ātri notikums var izplūst neskaidrā tēlā! Pirms promiešanas atzīmēju burtnīcā: "Dzeja, kas pastāv, tikai gaistot."


1 Sebald, G. W. The Rings of Saturn. Transl. by Michael Hulse. New York: A New Directions Book, 1999, p. 3

2 Malarmē ietekme uz literatūru ir visnotaļ plaša; visredzamāk tā izpaudusies konkrētajā dzejā (concrete poetry), teiksim, latviski žurnālā "Punctum" publicētajos Eižena Gomringera tekstos. Pievēršoties mākslai, noteikti jāizceļ Vito Akonči un Marsels Brothērss ("Kauliņu metiena" eksperimenti ar telpu un tipogrāfiju viņus savulaik mudināja pārbēgt no literatūras uz mākslu). No pašlaik aktīvajiem autoriem var minēt, piemēram, Dominiku Gonsalesu-Fersteri (Dominique Gonzalez-Foerster) un Dženisu Kerbelu (Janice Kerbel).

3 Cadava, Eduardo. Words of Light: Theses on the Photography and History. Princeton: Princeton University Press, 1997, p. 8.

4 Sebald, G. W. Op. cit., p. 237.

5 Benjamins, Valters. Par vēstures jēdzienu. No: Iluminācijas. Tulk. Ivars Ījabs. Rīga: Laikmetīgās mākslas centrs, 2005, 289. lpp.

6 The Correspondance of Walter Benjamin, 1910– 1940. Ed. by Gershom Scholem and Theodor W. Adorno, transl. by Manfred R. and Evelyn M. Jacobson. Chicago: Chicago University Press, 1994, p. 378.

7 Sontag, Susan. Introduction. In: Benjamin, Walter. One-Way Street and Other Writings. Trans. by E. Jephcott, K. Shorter. New York: Harcourt Brace Jovanovich, 1978.

8 Benjamins, Valters. Destruktīvais raksturs. No: Iluminācijas. Tulk. Ivars Ījabs. Rīga: Laikmetīgās 9 mākslas centrs, 2005, 326.–327. lpp.

9 Benjamins, Valters. Liktenis un raksturs. No: Iluminācijas. Tulk. Ivars Ījabs. Rīga: Laikmetīgās 10 mākslas centrs, 2005, 54. lpp.

10 Jameson, Fredric. Transformations of the Image in Postmodernity. In: The Cultural Turn: Selected Writings on the Postmodern. 1983–1998. London and New York: Verso, 1998, p. 99.

11 Vervurts, Jans. Par apropriāciju: kāpēc tēlu pie- savināšanās mūsdienās šķiet citāda. Tulk. Vilis Kasims. Sk.: www.punctummagazine. lv/2014/06/27/par-apropiaciju-kapec-telu-piesa-vinasanas-musdienas-skiet-citada/

12 Gallix, Andrew. In theory: the death of literature. Sk.: www.theguardian.com/books/2012/ 13 jan/10/in-theory-death-of-literature

13 Sebald, G. W. Op. cit., p. 187.

14 Bodlērs, Šarls. Ļaunuma puķes. Atdz. Augusts Štrauss, Klāvs Elsbergs, Irēna Auziņa un Dagnija 15 Dreika. Rīga: Zvaigzne ABC, 2013, 108. lpp.

15 Miller, Tyrus. Lettrism and Situationism. In: The Routledge Companion to Experimental Literature. Ed. by Joe Bray, Alison Gibbons and Brian McHale. London and New York: Routledge, 2012, p. 104.

16 Groys, Boris. Comrades of Time. In: e-flux journal What Is Contemporary Art? Berlin and New York: Sternberg Press, 2010, p. 28.
Atgriezties