Kinētiskās mākslas pionieris
Elita Ansone
Ivetas Vaivodes un Artura Riņķa izstāde "Ceļojums uz Nekurieni" Dekoratīvās mākslas un dizaina muzejā ir jaunas fotogrāfes skats uz kinētiskās mākslas klasiķa, savulaik avangardista, tagad savā veidā autsaidera darbību brīvdabas mākslas dārzā, prom no Rīgas izstāžu zālēm. Pirms dažiem gadiem iedziļinājos Riņķa dzīves filozofijā un apmeklēju viņa performances "Nekurienē", kurās nakts melnumā, skanot New Age mūzikai, tērpies impozantā stīmpanka kostīmā, mākslinieks mudina skatītājus ieiet meditatīvā stāvoklī, saplūst ar dabu un mākslas darbos sajust Visuma lielos principus. Jāatzīst, ka tas, kas notiek vasaras naktī brīvdabā, nav iespējams izstāžu zālē. Riņķa "nekuriene" ir unikāla tieši tādēļ, ka nav saistīta ne ar ko institucionālu, bet izstāžu zāles formāts nav piemērots, lai sajustu to alternatīvo garu, kas piešķir īpašu vērtību Riņķa darbībai laukos, kur mākslas darbu uztveri ietekmē debesis, ūdens, gaiss. Šīs izstādes sakarā, manuprāt, ir iederīgi izstāstīt secīgu Riņķa daiļrades stāstu, kurā viņš ar mani dalījās 2012. un 2013. gadā, kad rakstīju disertāciju par New Age ietekmēm latviešu mākslinieku darbos. Meditācija, saite ar dabu, kosmisms, fantastika, indiāņu mitoloģija – tas viss izpaužas viņa mākslā. Riņķis izrādījies viens no tiem, kuru New Age idejas fascinē absolūti tīri un nerafinēti. Var arī teikt, ka Riņķis ir kosmists. 1970. gadu kinētiskās mākslas pionieru paaudzei Latvijā bija tuvas krievu kosmisma idejas; tās izpaudās filozofijā un kultūrā kā dabas filozofijas, reliģijas un ētikas savienojums. Krievu rakstnieks un filozofs Jurijs Ļiņņiks grāmatā "Krievu kosmisms un krievu avangards" (Линник, Юрий. Русский космизм и русский авангард, 1995) saskata kosmisma ietekmi uz laikmetīgo mākslu kopumā un īpaši krievu avangarda mākslinieku Francisko Infanti, kura kinētiskie objekti savukārt atstāja ietekmi uz latviešu kinētiķiem Valdi Celmu un Arturu Riņķi. Kosmismu raksturo "globāla planetāra domāšana", "vienota cilvēka izpratne [holisms]", "saite ar dabu un senatni", "mikropasaules atbilstība makropasaulei", pārņemtība ar domām par pasaules uzbūvi, dabu, cilvēku un sabiedrību.1 Riņķi kosmoss interesē kā ar bezgalību, transcendenci, reliģiski mitoloģiskiem ticējumiem un arī science fiction saistīts tēls.

Pārsteidzoši "ņūeidžisks" ir Artura Riņķa stāsts par to, kā viņu 60. gados piemeklējusi pēkšņa un nešaubīga vēlēšanās mainīt savu dzīvi, kuru bija pārņēmusi pārmērīga alkohola lietošana, un viņš nolēmis kļūt par mākslinieku: "Es saņēmu vēstījumu no spožas zvaigznes debesīs. Tā tālumā mirguļoja un teica: "IZBEIDZ! Tev priekšā daudz darāmā!" Man nebija šaubu, ka zvaigzne ar mani runā. Mani pārņēma apskaidrība! Es sāku iet uz Mākslas akadēmijas kursiem un nokļuvu jaunā pasaulē."2 Tā, pateicoties New Age kultiskajos ticējumos populārajam astroloģiskajam konceptam, Riņķis sāka jaunu dzīvi. 1974. gadā viņš akadēmijā pabeidza Rūpnieciskās mākslas nodaļu un sāka darboties kinētiskās mākslas un industriālā dizaina jomā. Viņā bija aizrautība un prasme atrast nebijušus tehniskus risinājumus savām radošajām idejām un radīt sarežģītus kinētiskus objektus. Daudzi atcerēsies, piemēram, viņa veidoto kinētisko objektu "Sakta" viesnīcas "Latvija" fasādē (1979).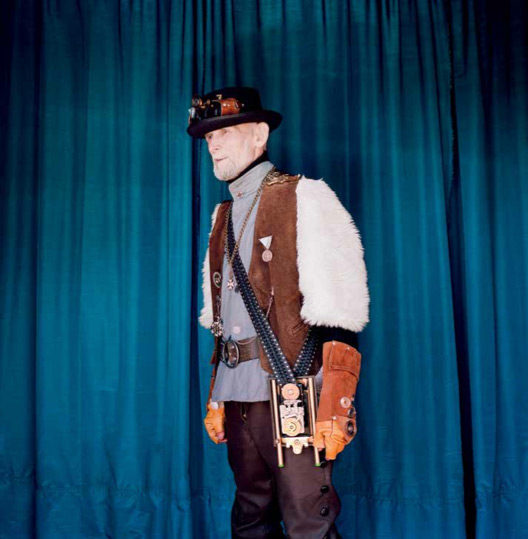 Iveta Vaivode. Arturs Riņķis. No sērijas "Ceļojums uz Nekurieni". 2014
Artura Riņķa darbos līdzās kustībai nozīmīga ir krāsa un mūzika. Viņš ir sinestēts. Sinestēzija ir neiroloģisks fenomens, kad divas vai vairāk maņas ir apkopotas pārī. "Es redzu mūziku", viņš apgalvo. Riņķa diplomdarbs "UNIKĀLAIS polihromprojektors" (1974, vadītājs Aleksandrs Dembo) kļuva par mākslinieka sinestētisko vīziju piepildījumu. Performanci ar unikālo projektoru mākslinieks pats nosauca par "dinamisku gaismas glezniecību"3. "UNIKĀLAIS polihromprojektors" ir iekārta, kurā mehāniskas kustības rezultātā notiek krāsu filtru miksēšana, un caur speciāli veidotu optiku un jaudīgu projekcijas lampu projektors uz ekrāna attēlo mākslinieka iecerēto krāsu plūdumu. Skaņa diplomdarbam tika ņemta no Imanta Kalniņa mūzikas filmai "Pūt, vējiņi!". Vēlākos gados mākslinieks kinētiskās glezniecības demonstrēšanai radīja arī vēl citus tehniskos risinājumus. 1978.–1979. gadā Sv. Pētera baznīcā jaunie un sparīgie dizaineri Arturs Riņķis, Valdis Celms un Andulis Krūmiņš sarīkoja izstādi "Forma. Krāsa. Dinamika", kas tagad jau kļuvusi par leģendu. Šajā izstādē Riņķa projektors ieguva nosaukumu "EMU", ar kuru kinētiskā glezniecība "eksperimentālos seansos" ar stacionāru kino projicēšanas aparatūru tika demonstrēta uz 5 m diametra ekrāna. Mākslinieks stāsta, ka kinētiskās glezniecības seansus Sv. Pētera baznīcā apmeklējuši "interesentu pūļi". Izmantojot spektra krāsu plastisku plūdumu un daudzveidīgu optisku deformāciju, notika abstrakta improvizācija, kuru mākslinieks radīja tieši seansa laikā.

Liekot lietā savu sinestētisko spēju redzēt mūziku krāsās, viņš veidojis izteikti kosmiskas, kā arī ar dažādām dabas parādībām – kā ziemeļblāzma, saullēkts, ūdens, gaiss, gaisma u. tjpr. – un asociācijām saistītas ainas. Vizuālā risinājuma impulsi nākuši gan vīziju, gan sinestētisko redzējumu veidā.

Veidojot abstraktu un kustīgu krāsu telpu, kas pastāvīgi mainās, Riņķis vēlējās radīt dzīva Universa ainu. "Kustība ir visaptveroša. Kustība – ir dzīvība,"4 mākslinieks rakstīja izstādes "Forma. Krāsa. Dinamika" sakarā. Aparatūru EMU mākslinieks 1984. gadā5 izmantoja, Rīgas kinostudijā uz 35 mm kinolentes nofilmējot eksperimentālo filmu "Elpa". Iedvesmu kinētisko glezniecību iemūžināt filmā deva igauņu komponista Svena Grīnberga6 New Age mūzika – 1981. gadā sacerētais 7 minūšu garais elektroniskās mūzikas skaņdarbs Hingus ("Elpa"). Filmas "Elpa" (StudijaArt, Rīga, 1984) sižetisko attīstību mākslinieks strukturējis, sekojot skaņdarba daļām. "Sākotne – pasaules rašanās enerģijas plūsma, dzīvība kosmosā, pretpolu savienošanās – dzīvības rašanās; noslēgumā sajūsma par savu esību, kurā cilvēka sirdspuksti saplūst ar kosmisko vibrāciju," viņš stāsta. Riņķa "Elpas" konceptā ietverts romantisks radīšanas un evolūcijas patoss. Viņa kinētiskā glezniecība, tās forma virza uz meditatīva stāvokļa sniegšanu. Riņķis to sauc par "psihorelaksējošu efektu", kuram viņš izmanto "dabas ritmus, kas plūstoši meditatīvā mainībā nomierina un cilvēku harmonizē". Mākslinieks uzskata, ka krāsas, plastikas un skaņas sintēzē vizuālajam un skaņas efektam ir vienlīdz svarīga nozīme. Par savu kinētisko glezniecību viņš rakstījis: "Pastāvēt tā var vienīgi organiskā saistībā ar skaņu. "Redzamās" mūzikas idejai ir jau vairāku gadsimtu vēsture, bet kā estētiska realitāte tā vairāk pieder 20. gadsimtam. Gaismas mākslas entuziasti gan mūsu zemē, gan ārzemēs meklē audiovizuālās sintēzes vispārējos principus."7 Kalifornijā jau 20. gs. 30. gados bija izveidojusies vesela "krāsu mūzikas" mākslinieku skola. To radīja gleznotājs un abstraktu filmu autors Oskars Fišingers (Oskar Fischinger), kuram sekoja Džeimss Vitnijs (James Whitney), Džordans Belsons (Jordan Belson), Harijs Smits (Harry Smith) un Čārlzs Dokums (Charles Docum). "Vizuālās mūzikas" vēsturi pētījis Viljams Morics8, kinētisku krāsu projekciju aktivitātes, kopš 20. gs. 20. gadiem redzamas Tomasa Vilfreda (Thomas Wilfred) un Kloda Bragdona (Claude Bragdon) mākslā, turklāt to tehniskais risinājums un garīgie uzstādījumi ir līdzīgi Riņķa centieniem. Vilfreda ar roku manipulētās krāsu projekcjas, ko viņš sauca par lumia, centās atspoguļot "planetāras un galaktiku orbītas un to muzikālās sfēras, kā arī norādīja uz zinātnes n-dimensiju teoriju". Teozofiskie uzskati un ceturtā dimensija krāsu mūzikā kombinējas ar mistiskiem uzskatiem, budisma filozofiju, meditāciju, psihedēliju, kā arī bītņiku un hipiju kultūru, apkopo Morics.9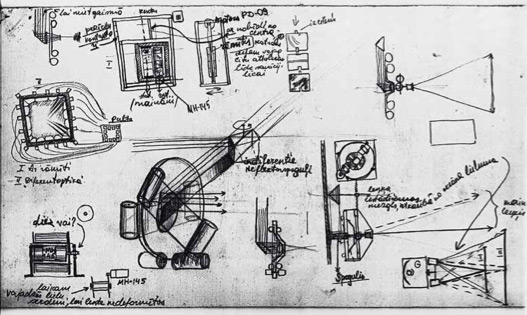 Arturs Riņķis. Dažādu ideju uzmetums skicē. 20. gs. 70. gadi
Izstādei "Forma. Krāsa. Dinamika" Riņķis radīja vēl četrus kinētiskos objektus, no kuriem darbos "Ceļa zvaigznes", "Pulss" un "Bezgalība" kosmosa valdzinājums izpaudās dabas elementu izmantošanā. Par darbu "Bezgalība", kurā sīki perforētas pulēta metāla plāknes papildināja ūdens un gaismas efekti, Herberts Dubins raksīja: "Pati priekšmeta forma ir nozīmīga kā estētiska vērtība."10 Savukārt objekts "Pulss" – aeroloģiskā zonde, kuras iekšpusē, aparatūrai rotējot, tika projicēta zila debess josla un ūdens ņirba, – attēloja ūdeņu un debesu ieskautu planētu. "Pneimatiskā gaismas ierīce rada kosmiskas poēzijas skaistumu," rakstīja Jānis Borgs.11 Visu trīs izstādes autoru kopdarbs "Pasaule" tapis, inspirējoties no 70. gados sensacionālu popularitāti ieguvušās Ērika fon Dēnikena12 filmas "Atmiņas par nākotni". Izstādes centrā izveidotā 8 m diametra telpā uz iekārtām rotējošām plāksnēm (2,5 m x 0,6 m), ko mākslinieki asociēja ar senās Tibetas bibliotēku grāmatu plāksnītēm, tika projicēti attēli no planētas Zemes. Konstrukcija radīja ēnu spēles, un skatītājs varēja izstaigāt šo lēni rotējošo instalāciju. Dubins tajā pašā rakstā atzīmē, ka izstādes darbi raisot "bezgalības, nenoteiktības nojautu", kā arī rodoties "īpatnēja pārdomu, meditācijas situācija, iegrimšana plašās asociācijās". 1990. gadu pirmajā pusē Riņķi sāka aicināt piedalīties starptautiskos videomākslas festivālos. Panākumus tajos ievadīja filmas "Elpa" pārkopēšana videoformātā, kā arī neosirreālisma manierē animētā videofilma Daliland (1992).

Līdz īstai iespējai saplūst ar dabu mākslinieks nonāca 1996. gadā, kad kopā ar dzīvesbiedri dizaineri Ināru Riņķi sāka veidot brīvdabas mākslas dārzu savā lauku īpašumā "Vijolītes" Abavciemā. Dārza nosaukumā "Mākslas dārzs. Nekurienes vidū" dots romantisks mājiens par īpašu, ārpasaules neskartu, no visa un visiem nošķirtu vietu. Kopš 1981. gada, kad šī māja iegādāta, mākslinieki tur pavada vasaras, piekopjot ekoloģisku dzīvesveidu un konceptu "tuvāk dabai". Bijušo kūti – simtgadīgu guļbūvi – Riņķis pārveidoja par "audiovizuālo zāli", kurā ar EMU un citu paškonstruētu aparatūru uz 3 x 4 m liela ekrāna demonstrēja kinētiskās glezniecības kompozīcijas. 2011. gada 12. maijā audiovizuālā zāle līdz ar projektoru un visiem kinētiskajiem mākslas objektiem sadega ugunsgrēkā. Tomēr Riņķa veidotās darbu tehniskās pases palīdzēja tos rekonstruēt. Mākslinieks kopā ar dēliem un dzīvesbiedri objektus atjaunoja, un jau 2012. gada 20. septembrī dārzs atsāka savu darbību.

Dārzā izvietotas vairākas kinētiskās glezniecības variācijas – dīķī uzstādīts ekrāns kinētiskajai glezniecībai "Ūdens glezna"; atlaižoties gultā, var vērot, kā dārzā uz lielāka ekrāna kustas glezna "Sapnī" (2009). Kā pirmie "Mākslas dārzā" 1996. gadā tapuši trīs vides objekti: "Īpašuma zīme", "Kalns" un "Galaktika". Tie iezīmē rituāla vietas veidošanu. Objektu "Kalns" veido uzbērums ar akmeņu krāvumu ugunskura vietai un piramīdas karkasu tai pāri. Ugunsrituāli, kas raksturīgi neopagānismam, tiek veikti gan uzsākot kaut ko jaunu, gan pateicoties par esošo, gan iesvētot vietu utt. Piramīdas karkasa novietojums virs ugunskura vietas atgādina gan Ēģiptes piramīdu, gan latvju Dieva zīmi. Šāda pasaules seno kultūru miksēšana redzama lielākajā daļā "Vijolītēs" izvietoto objektu. "Cilvēku galaktika" ir koncentriskos apļos izkārtoti akmeņi – akmens dārzs meditācijai: "Atvedām akmeņus, un tie paši sastājās apļos, veidojot Visuma modeli. Uz malām mazāki akmeņi un uz vidu lielāki un apsūnojuši, centrā metāla lode. Tajā vietā (kā noteica varāki ekstrasensi) ir stipra enerģijas plūsma un jutīgi cilvēki to uztver, un nereti viņi šeit meditē."13 Sava mākslas dārza 1 ha lielajā teritorijā Riņķi ieviesuši Austrumu meditācijas principus – "japāņu pārdomu dārza plānojumu" – un izvietojuši objektus tā, lai tie cilvēku noskaņotu, kā rakstījis Riņķis, "citādi skatīt un sajust Pasauli, pārvarot sava Ego važas" un palīdzētu viņam "izrauties (..) no ikdienas rutīnas, no stresa, atbrīvoties no uzkrātās negatīvās enerģijas un ļauties brīvas apziņas plūdumam, vēloties saplūst ar Dabu, sajust un gūt Visuma enerģiju". Šādu "ņūeidžisku" misiju veic dārza apskates rituāls. Vairākos objektos dārzā pavīd arī sirreālisma elementi, bet patiešām negaidīti tie tiek izspēlēti, dārza naksnīgajiem apmeklētājiem pie debesīm "noorganizējot" divus mēnešus – vienu īsto, otru – mākslinieka uzstādīto.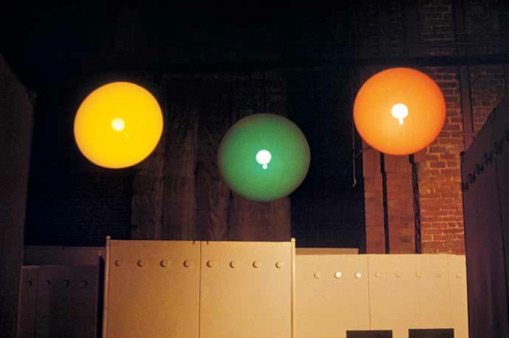 Arturs Riņķis. Ceļa zvaigznes. Alumīnijs, elektromotors, krāsu filtri. Darbs no izstādes "Krāsa. Forma. Dinamika". 1978
Īpaša attieksme Riņķim ir pret indiāņu mitoloģiju. Inku dievam veltīts objekts "Virakoča" (2004) – saules simboliku attēlojošs disks ar "zelta" centru. Tas ievietots rāmī, kas rotāts ar inku ornamentiem no iedomāta Virakočas apmetņa. Objekta demonstrēšana ir ritualizēta – skatītāji tiek sapulcināti priekšnesumam, ir tumsa un klusums, un tad tiek ieslēgts apgaismojums un atskan eksotiskā peruāņu soprāna Imas Sumakas (1922–2008) pārdabiskās balss dziedājums, bet spoguļplāksnēm klātajā takā ceļu uz inku zeltu simbolizējošo objektu iezīmē katrā plāksnē atspīdošs zelta diska centrs. Matemātiski precīzi aprēķinātais atspīdumu leņķis spogulī un tā optiskais, realitāti nojaucošais efekts sasaucas ar Krievijas avangarda mākslinieka Francisko Infantes 70–80. gadu darbiem.

Indiāņu kultūras ietekme redzama arī kinētiskajā objektā "Krāsu vilnis" (2010), kas darināts inku karoga varavīksnes krāsās un atveras un aizveras kā putna spārni. Arī objektā "Plūsmas" (2009), kura vizuālie elementi sasaucas ar indiāņu rituālu rotām. Ar sajūsmu Riņķis uztvēris Džeimsa Kamerūna filmu "Avatars" (2009), kurā 3D formātā uzburta fantastiska dzīvu augu valsts. ".. mēs [ar Kamerūnu] nākam no viena zvaigznāja! Mani fascinēja filmā rādītā daba un augi, arī tur vairāki mēneši spīd pie debesīm! Skatoties filmu vairākas reizes, pastāvīgi domāju, kā varētu ko līdzīgu radīt savā dārzā," atzīstas mākslinieks. Filmas iespaidā tapis darbs Nako Inea (2010), kurā kā kustīgas gaismu joslas līgani cilājas sarkani luminoforu stienīši ar diodēm, atgādinot par "dabas ritmiem mūsu zemapziņā", kā saka mākslinieks. Šī objekta versija bija redzama arī Latvijas Nacionālajā bibliotēkā pērn skatāmajā izstādē "No Johansona līdz Johansonam". Līdz sirreālismam sakāpinātā pārsteiguma mērķis ir Dabas atklāsme un katarse. "Daba kopumā ir kā dievība, viss tiek dievišķots. Manos darbos sajaukušies visādi pasaules uzskati – indiāņu, Austrumu meditatīvā atklāsme, latviskais arī turpat,"14 – šie mākslinieka vārdi apliecina panteistisku pasaules izjūtu.

Riņķa dabas misticisma un bezgalības valdzinājuma saknes meklējamas arī 70. gadu ekoloģiskās apziņas sprādzienā, kurā iederējās lokālo seno kultūru (Amerikā – indiāņu, Latvijā – latviešu utt.) jaunatklāšana. Savukārt "meditatīvā reibuma" atradums kinētiskajā mākslā sakņojas 60. gadu psihedēliskajā kultūrā. Riņķa mākslas saknes ietiecas 60. gadu kontrkultūras ideālos, kad sauklis "tuvāk dabai", kas ietvēra brīvības mīlestību un "zaļās" domāšanas ideālus, pauda antiinstitucionālu manifestu, kuru Riņķis realizē kopš 90. gadiem.

Riņķa un Vaivodes tandēmā izpaužas sinerģija, kuru viņi demonstrē eksperimentālā vingrinājumā izstādē skatāmajā videodarbā. Tas ir stāsts par sinhronitāti, paralēlismu, saprašanos bez vārdiem un savstarpēju sajušanu, kāda, neapšaubāmi, reizēm īstenojas kādu cilvēku starpā. Šajā video mēs redzam, kā abi varoņi – Arturs Riņķis un Iveta Vaivode – stāv blakus, viens rāda kustības, otrs nezina un neredz – kādas, taču savās kustībās tās atkārto.


1 Введенская Е. В. Утопические идеи в филосифии русского космизма: Н.Ф. Федоров K. Э. Циолковский, И. В. Вернадский : [Disertācija]. disserCat : [elektroniskā bibliotēka]. Pieejams: www.dissercat.com/
2 No: Riņķis, Arturs. Intervija 2012. gada 9. aprīlī. Pierakst. Elita Ansone. Audioieraksts E. Ansones arhīvā.
3 Riņķis, Arturs. Forma – krāsas – dinamika. Liesma, Nr. 11, 1978, 16.–17. lpp.
4 Riņķis, Arturs. Forma – krāsas – dinamika. Liesma, Nr. 11, 1978, 16.–17. lpp.
5 Rinkis, Arturs. Kinetic Experiments. Leonardo. Volume 27, Number 5, 1994, p. 391– 393. Žurnālā kļūdaini minēts 1987. gads; filmas titros – 1984.
6 Sven Grünberg (1956) – viens no pirmajiem PSRS sāka komponēt New Age mūziku. Viņa stilam raksturīgi space music, ambient, pasaules mūzikas, orientālisma ietekme, un viņš izmanto stilistiskas klišejas, ko radījuši Vangelis un Kitaro.
7 Riņķis, Arturs. Forma – krāsas – dinamika. Liesma, Nr. 11, 1978, 16.–17.lpp.
8 William Moritz (1941–2002) – ASV filmu vēsturnieks, specializējies vizuālajā mūzikā un eksperimentālajā animācijā.
9 Moritz, William. Abstract Film and Colour Music. In: The Spiritual in Art. Abstract painting. 1890– 1985, pp. 299–309.
10 Dubins, Herberts. Pirmo reizi – kinētisma problēmas : [par dizaineru Valda Celma, Artura Riņķa un Anduļa Krūmiņa darbu izstādi Rīgas Arhitektūras un celtniecības vēstures muzejā]. Padomju Jaunatne, 1979, 13. janv., 4. lpp.
11 Borgs, Jānis. Kustības prieks : [par dizaineru Valda Celma, Artura Riņķa un Anduļa Krūmiņa darbu izstādi Rīgas Arhitektūras un celtniecības vēstures muzejā]. Māksla, Nr. 2, 1979, 13.–16. lpp.
12 Ēriks fon Dēnikens (Erich Anton Paul von Däniken, 1935) – šveiciešu autors, kas izvirzīja antīko astronautu hipotēzi, kuru zinātnieki noraidīja kā pseidovēsturisku un pseidoarheoloģisku; uzņēmis filmu Memories of the Future (1969). Sk.: Erich von Däniken [online]. Pieejams: www.daniken. com/e/index.html
13 Riņķis, Arturs. Mākslas dārza rašanās : [apraksts, 2013, 3. lpp.]. Glabājas E. Ansones arhīvā.
14 Riņķis, Arturs. Intervija 2012. gada 9. aprīlī. Pierakst. Elita Ansone. Audioieraksts E. Ansones arhīvā.
Atgriezties