Muļķu utopija


Kārlis Vērpe


Plašas pārdomas par ideālu eksistenci Tomasa Mora "Utopijas" un kādas biennāles kontekstā
Pie utopisku kinofilmu un tekstu ārkārtīgā naivuma vai muļķības palieku ikreiz, kad tiem pievēršos. Gribētos teikt – bērnišķības, bet tā es netaisni nievātu bērnības dzīles. Utopiskas filmas – tādas kā "Terminators", "Bada spēles", "Elizeja" u. tml. – skatos aiz plikas kāres pēc brīnumiem, spriedzes un atslēgšanās, savukārt tekstus ir nācies lasīt pavisam citas intereses dēļ. Piemēram, reiz veicu pētījumu feminisma kontekstā un atdūros pie lielā 19. gs. sapņotāja, franču sociālista Šarla Furjē, jo pa tīmekli klīst populāras un maldīgas runas, ka tieši viņš esot izgudrojis feminisma jēdzienu. Furjē tēlotajā nākotnes vīzijā Harmonijā ne vien sievietes būs atbrīvojušās un līdzvērtīgas vīriešiem, bet tiks audzēti apelsīni Varšavā, apūdeņots Sahāras tuksnesis un cilvēki dzīvos nepārtrauktam orgasmam līdzīgā stāvoklī. Sieviete Furjē utopijā, tiek norādīts, tomēr paliek seksuāla objekta lomā, un Harmonija atgādina Pleiboja radītāja Hjū Hefnera izpratni par seksuālu atbrīvošanos. Apspiestas seksualitātes iezagšanās un uzplaukšana ideālajā nākotnē ir tikai viena no amizantākajām naivitātēm, kas šajā pasaulē atbruņo ikvienu mēģinājumu domāt nopietni.

Muļķība bieži tiek aktualizēta, pārdomājot utopijas un to lomu Rietumu kultūrās. Mūsdienu pētnieki uzsver, ka reflektīvi tas tiek darīts jau tekstā, kas šai parādībai ir devis tik skanīgo nosaukumu – renesanses laikmeta angļu humānista un valstsvīra Tomasa Mora darbā "Utopija" (pirmoreiz publicēts 1516. gadā).1 Mors tekstu veidojis kā stāstītāja un viņa kolēģa satikšanos Antverpenē ar kādu svešinieku, Amerigo Vespuči pavadoni ceļojumos uz Jauno pasauli. Svešinieka vārds ir Rafaels Hitlodejs (Hythloday), un viņš abiem sarunbiedriem grāmatas lappusēs apraksta neticamo salu un tās iekārtu. Šajā valstī nepastāv privātīpašums, pat mājas Utopijas iemītnieki maina ik pēc desmit gadiem. Utopiešu izglītības pamatu veido zemkopība plus kāds papildus apgūts amats, piemēram, mūrnieka, kalēja vai namdara prasmes. Visi ģērbjas vienādi, vienīgās atšķirības iezīmē vīriešus un sievietes, precētos un neprecētos. Viņi strādā tikai sešas stundas dienā, jo neviens neslinko un ar to pietiek, lai sarūpētu visu dzīvei nepieciešamo. Zelts šajā sabiedrībā nenozīmē neko un tiek uzkrāts, lai ar tā palīdzību, sējot nesaskaņas, skaudību un savstarpēju konkurenci, apvestu ap stūri savus pretiniekus, ja nākas iesaistīties karā. Karu utopieši ienīst, un uzvara tajā ir necienīgākā no uzvarām, t. i., viņi karo atturīgi, tīras neizbēgamības dēļ, bez jebkādas idealizācijas.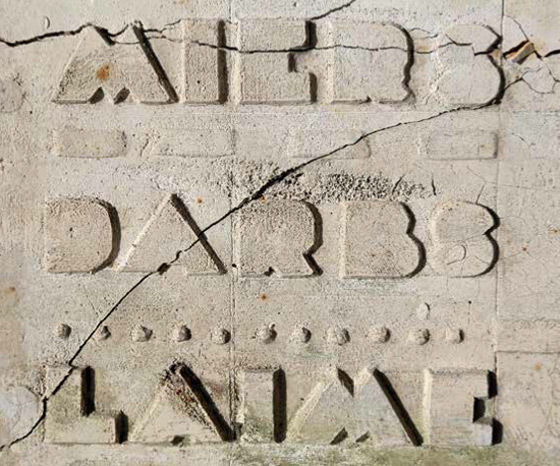 Vladimirs Jakušonoks, Vilnis Putrāms. Miers, darbs, laime. Instalācija, situācijas rekonstrukcija. 2014

"Pagājušā gadsimta 60. gados tēlnieks Leonīds Kristovskis radīja pasūtījuma darbu – apmēram 16 m garu un 3 m augstu cilni Daugavpils stikla šķiedras rūpnīcas kultūras namam. Cilnis ir veidots sociālistiskā reālisma garā ar attiecīgajam laika nogrieznim raksturīgajiem ideoloģiskajiem simboliem un priekšstatiem par ideālu sabiedrību un tā dzīvi. Darbs netika uzstādīts, jo atklājās, ka tēlnieka un arhitekta komunikācijas problēmu rezultātā tas izveidots tā, ka aizsedz durvis uz skatītāju zāli." Vladimirs Jakušonoks, Vilnis Putrāms. Izstādes Utopian City katalogs, 2014.
Tiek uzsvērts, ka izplatītākais "Utopijas" kā paradīziskas eksistences sapņojuma lasījums ir kļūdains.2 Tā netiek ievērota Mora ironija, laikmetīgo problēmu kritika un pašas utopiskās domāšanas iespēju refleksija. Grāmatas stāstnieku sauc tāpat kā tās autoru, un šī vārda latīņu forma – Morus – nozīmē arī "muļķis". Āksta vai muļķa figūra ir ierakstīta arī mīklainā svešinieka uzvārdā, kas grieķu valodā nozīmē "tas, kas runā nejēdzības". Savukārt ceļojumu fanstastisko stāstu struktūras izmantošana un pseidodokumentalitātes apspēle jau skaidri norāda, ka rakstnieks nav aizmirsis utopijas tīrās izdomas statusu.

Mors gan pašu utopijas žanru vai Rietumu kultūrās tik būtisko aspektu neieviesa, drīzāk nosauca vārdā. Laikmetīgās mākslas teorētiķis Ričards Nobls raksta, ka utopismu mēs varam saskatīt visās modernitātes politiskās ideoloģijās vai pat to atvedināt līdz ikvienai cilvēka nākotnē vērstai darbībai.3 Vēsturē ietekmīgāko politisko utopiju, komunismu, Latvijas iedzīvotāji ir pieredzējuši tiešā un nu jau arī pastarpinātā veidā. Laikā pēc Padomju Savienības sabrukuma ideālās nevietas (vārda "utopija" etimoloģiskā nozīme) ideja nebūt nav zaudējusi savu aktualitāti. Par to liecina kaut vai katru gadu saražotais lielais kinofilmu kvantums, kuras gan precīzāk būtu saukt par antiutopiskām vai drūmas nākotnes vīzijas mālējošām. Bieži vien gan antiutopijas netiek nošķirtas no utopijām, jo arī tās priekšstata vietu, kuras nav, vai ir paredzētas līdzīgai, tikai brīdinošai refleksijai par nākotnes scenārijiem. Dažkārt antiutopija tiek skaidrota vien kā monētas otra puse, bez kuras neiztiek neviena utopija. Piemēram, mediju teorētiķis Vilems Flusers trāpīgi raksturo valdošo noskaņojumu pēckara Eiropā. Viņaprāt, utopijas apogeja ir nacistiskās Vācijas koncentrācijas nometne.

Laikmetīgā māksla nav izņēmums. To apliecina, piemēram, 2014. gada Survival kit 6 izstāde "Utopiskā pilsēta". Savukārt pagājušogad tēma tika aktualizēta kustīgā attēla biennālē "Kontūra 7" (Countour 7), kas, kā ierasts, norisinājās nelielajā Beļģijas pilsētiņā Mehelenā. Biennāles moto bija "Muļķojot utopiju" (Fooling utopia), līdz ar to tā pavisam tieši pievērsās šī raksta sākumā ieskicētajam kontekstam – Tomasam Moram, "Utopijai", nākotnes neatliekamas projektēšanas, projektu iluzoruma, kā arī muļķības saspēlei. Izvēle par labu Moram kā sava veida biennāles patronam nav nejauša, jo, iespējams, tieši Mehelenā viņš savas Flandrijas diplomātiskās misijas laikā sarakstīja daļu darba. Kurators Nikolā Setari izstādes moto skaidro kā mēģinājumu notvert ne vien to, kā dažāda veida utopijas mūs apmuļķo, bet arī to, ka jebkurai sociāli angažētai radošai praksei ir jāprot apmuļķot savu utopismu, lai spētu strādāt ar pasaules reālijām. Piemuļķojot savas domāšanas un rīcības utopiskās tendences, arī ir iespējams apjēgt sevi muļķa vai āksta lomā. Setari izstādes koncepciju, šķiet, ir vēlējies ievirzīt apliecinošā (afirmatīvā) un optimistiskā gultnē – tiesa, āksta lomai atbilstoši to, vai tāds tiešām ir bijis viņa nolūks, atstājot tīru minējumu līmenī.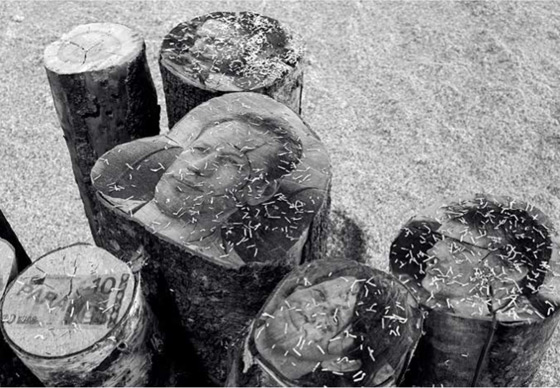 Inga Erdmane. Malkas nauda (instalācijas fragments). Survival Kit 6 izstāde Utopian City, 2014

"Apzinoties nepieciešamību pēc bezprocentu un no inflācijas brīvas naudas sistēmas, kas veicinātu cilvēcisku attīstību, nevis finanšu varu, apsēstu ar eksponenciālu izaugsmi, pērn Rīgā sāka veidoties interesentu grupa, kas piedāvā radīt pastāvošās valūtas alternatīvu. Ideja nav radikāli jauna, tā dažādi izpaužas daudzās valstīs, dažādās varas sistēmās un jau labu laiku Šveicē, Vācijā, Bolīvijā, Islandē utt. Katrā vietā alternatīvā valūta tiek pielāgota vietējām interesēm un īpatnībām. Šoreiz par atskaites un seguma vienību pieņemts koks..." Inga Erdmane. Izstādes Utopian City katalogs, 2014.
Nezinu, kādēļ, bet Setari vārdos izlasīju tādu kā solījumu piedāvāt jaunu, cerīgu utopijas un utopiskuma iestrādi. Tajā pašā laikā spēcīgākie darbi, kas iespiedušies atmiņā no izstādes, šo, iespējams, ļoti muļķīgo cerību pieviļ, jo drīzāk atsedz dažādu utopiju pavisam antiutopisko oderi vai atstāj bez skaidrām norādēm uz cerību. Šeit pieminēšu trīs darbus. Izstādi ievadīja iespaidīgs vācu mākslinieces Andrea Bitneres (Andrea Büttner) darbs "Klavieru iznīcināšana", kurā uz četriem lieliem ekrāniem tika izrādīti arhivāri videoieraksti. Tajos iemūžinātas dažādu gadu un kontekstu klavieru iznīcināšanas mākslas akcijas 20. gs otrajā pusē. Kā izrādās, šo akciju bijis neparasti daudz. Klavieres mākslinieki ir kolektīvi dauzījuši ne vien uz skatuves – ar cirvjiem, ar āmuriem taustiņos dzenot naglas –, bet arī tās ar helikopteru uznesot uz karjera krātera malas, lai flīģelis pēc tam dārdēdams gāztos lejup kā tāda no kraujas krītoša mašīna asa sižeta filmā. Uzkrītoši, ka starp akciju dalībniekiem varēja sazīmēt vien retu sievieti. Piektais ekrāns Bitneres darbu padarīja visai didaktisku, jo tajā harmoniskas klasiskās mūzikas pavadījumā varēja vērot dāmas, kas skaņdarbu atskaņo uz vairākiem flīģeļiem vienlaikus. Otrais darbs bija beļģu kinorežisores Anas van Dīnderenas (An van Dienderen) "Lilija". Videodarba galvenā varone Lilija ir China Girl – sieviete ar porcelānbaltu ādu. China girls bija meitenes, kas kopš 1920. gada tika izmantotas kino uzņemšanā un kuru vienīgais profesionālais uzdevums bija nosēsties kameras priekšā, lai pēc viņu ādas toņa varētu uzstādīt krāsu balansu.

Līdz ar to Dīnderenas darbs efektīgi aktualizēja kinoattēla rasistiskos, seksiskos un rietumcentriskos pamatus. Kā jau teicu, arī trešais darbs neuzmundrināja, toties efektīgi iespaidoja. Tas bija amerikāņu mākslinieka Mihaela Rakovica (Michael Rakowitz) "I'm good at love, I'm good at hate, it's inbetween I freeze". Darba nosaukums ir Leonarda Koena dziesmas citāts, un arī pats darbs vēsta par mākslinieka attiecībām ar Koena mūziku un mūziķa politiski problemātisko koncerttūri pa Izraēlu 1972. gadā. Tieši šis darbs bija visvairāk pietuvojies Setari konceptuālajam uzstādījumam, jo Rakovics mākslinieka jau tā problemātisko rīcību problematizē vēl vairāk, gan nepazaudējot cilvēcību. Koens iesaistās politiski uzlādētā situācijā, kurā burtiski sastopas antiutopijā izvērtusies un uz tās robežas balansējoša utopija – pēcholokausta ebreju pieredze un Palestīnu nīdējošā Izraēla. Galu galā svarīgi paliek tikai jautājumi par paša mākslinieka statusu un to, kā viņš savu lomu ir izpratis toreiz un tagad un ko pats domā par paveikto. Šos un citus jautājumus Rakovics vēstulē nosūta Koenam, kurš tā arī neatbild.

Jau tik konspektīvi atceroties šo izstādi (ticiet man, pārējie darbi nebūt nebija mīlīgāki), rodas aizdomas, ka, ja arī mana kāre pēc jaunā patiešām bijusi bērnišķīga, tad tomēr muļķis vai āksts ne tikai prot teikt patiesību, ko neatļaujas paust neviens cits, bet patiesība āksta sniegumā arī uzjautrina. Jo, ja padomā, tad neatliek nekas cits kā par dzīvi smieties. Citādi jānošaujas. Tiesa, humoru gan vismaz es neesmu sastapis ne (anti)utopiskās filmās, ne tekstos – ja vien tajos netiek līdztekus izsmieta pati uzburtā vīzija. Bet te mēs atgriežamies pie Mora darbā uzstādītā jautājuma, vai ironijas un patiesas muļķošanās caurausta utopija maz ir iespējama. Parasti utopijas un izteikti utopiskas mākslas akcijas ir nāvīgi nopietnas.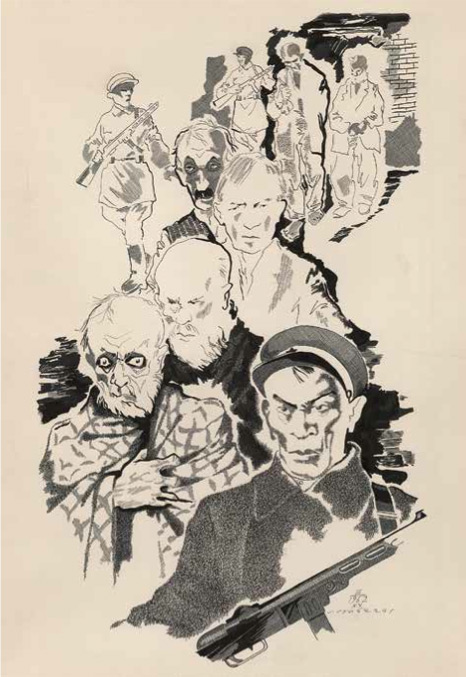 Sigismunds Vidbergs. Pretim laimīgai dzīvei. No cikla "Baigais gads"
Papīrs, tušas zīmulis. 42 × 30 cm. 1952–1953
Latvijas Nacionālais mākslas muzejs
Un tomēr, par spīti nopietnībai un naivumam, utopijas nezaudē savu pievilcību. Viens no tā iemesliem visdrīzāk ir utopiju daļēja īstenošanās. Mūsdienās par Furjē dzimumlīdztiesības pareģojumiem vīpsnātu ideju satura un izpildījuma, bet ne paša principa dēļ.

Kas attiecas uz sieviešu tiesībām, mēs jau dzīvojam daļējā utopijā, vietā, par kuru reiz sapņot uzdrošinājās tikai muļķi. Tātad mēs jau dzīvojam situācijā, kurā ir noticis kaut kas iepriekš nebijis. Bet utopiskums sevī slēpj arī slazdus, jo iedvesmo nepārtrauktām gaidām pēc kā cita, jauna. Arī manu biennāles apskati būtiski noteica šis mūsdienu mefistofeliskais dzinulis – vai izstāde piedāvās ko jaunu un svaigu. Un nepiedāvāja, kaut pats Setari par "jauno" nebilda ne vārda. Šīs gaidas ir vēl jo traģikomiskākas tādēļ, ka es nespēju atsaukt atmiņā šīm gaidām gana cienīgu reizi, kad būtu pieredzējis patiešām kaut ko jaunu, nebijušu. Bet jaunais man vienmēr ir saistījies arī ar kaut ko būtisku, kaut ko tādu, kas satricina un liek paskatīties uz pasauli citādi. Līdz ar to jauni modīgi džinsi vai dators, ko var aptīt ap roku, jau sen vairs nav kaut kas jauns. Arī pats laikmetīgās mākslas jēdziens sevī ietver šo bezcerīgo pavedinājumu. Vismaz Latvijā regulāri tiek iezīmēts nošķīrums starp laikmetīgo un klasisko vai pagātnes mākslu, jo laikmetīgā māksla runā par tagadnes aktuālajām problēmām. Bet pat šāds, ar jauno un pilnīgi citādo šķietami nesaistīts, uzstādījums to sevī ietver. Tas, kas nav vecs, ir jauns, aktuāls. Tā, nemitīgi gaidīdams ko jaunu, atrodi sevi muļķa stāvoklī, turklāt tagadnes brīdim tā īsti neatliek laika. Izstāde "Muļķojot utopiju" ļāva padoties utopiskām apcerēm par to, ka, iespējams, izeja no šī apburtā loka kā reiz ir muļķu vai nezinošo nodošanās utopiju projektēšanai, kurā ir pilnīgi vienalga, kas tajā jauns vai vecs. Svarīgs ir vienīgi tas, cik šīs vīzijas ir būtiskas. Vēl viens bīstams utopiskās domāšanas slazds ar salīdzinoši retiem izņēmumiem (tā pati Mora "Utopija") ir bijis tas, ka utopisti ir pārlieku paļāvušies uz savu zināšanu – ka viņi zina, kā ir labāk. Bet visdrīzāk nezina neviens. Un varbūt utopija ikreiz nav kaut kur citur, bet tepat – ar pārējiem muļķiem par to prātojot, zīlējot mākoņos, kā akliem iztaustot iespējamos scenārijus un ar pašapzinīga muļķa piesardzību īstenojot to, kas izrādījies būtisks.


1 More, Thomas. Utopia, London: David Cambell Publishers Ltd., 1992.
2 Baker-Smith, Dominic. Reading Utopia. In: Logan, George M. (ed.) The Cambridge Companion to Thomas More, pp. 141.–167.
3 Noble, Richard. Introduction // The Utopian Impulse in Contemporary Art. In: Noble, Richard. Utopias: Documents pf Contemporary Art, Cambridge, Massachusetts: MIT, 2009, p. 12.
Atgriezties