Šķērssvītra: starp normatīvo un fantāziju
Dalībnieki: Tom of Finland, Zakarija Drakere un Rīss Ernsts, Lukass Foletu-Selinskis, Atis Jākobsons, Alīsa Koene, Solvita Krese, Vladislavs Nastavševs, Benijs Nemerofskis-Ramsejs, Armīns Ozoliņš, Edgars Ozoliņš, Karols Radziševskis, Volfgangs Tilmanss, Vilnis Vējš.
Kurators – Kaspars Vanags
"kim?" laikmetīgās mākslas centrs 19.06.–02.08.15.
Inga Šteimane

Izstādes ievads vilina kā romāns. Galvenais varonis ir 80. gadu padsmitnieks. Viņš "dračī kulakā", šķirstīdams El Greko, un sarakstās ar Zentu Ērgli, noklusējot, ka viņam patīk Aļoša no grāmatas "Par mūsu sētas bērniem, indiāņiem un melno kaķi". Skolā viņu sākuši apcelt kopš reizes, kad bija atnācis mammas augstpapēžu kurpēs.

Kuratora Kaspara Vanaga izstādes ievada ainas ir laikam jau autobiogrāfiskas. Lai gan izstāde bija institucionalizētu aktīvistu pasūtījums – tās iniciators ir EuroPride –, saturu veidoja kuratora izvēlēts akcents "uz baudu, ko sniedz pārmiju situācijas". Citiem vārdiem – runa ir par brīvību un izvēli. Izstādē bija aplūkojami artefakti, ko radījuši 14 autori, un runa nav tikai par homoseksualitāti, bet par šķērsu (queer) tēmu loku, kas vieno seksualitāti, aizspriedumus un fantāziju. Izstāde, manuprāt, atbalsoja Mišela Fuko izvirzīto hipotēzi par apgaismības laikmeta nodarījumiem seksualitātei, kuros dzīvojam joprojām. "Sabiedrība, kas attīstījās 18. gadsimtā – kuru var saukt, kā vien labpatīk – par buržuāzisku, kapitālistisku vai industriālu –, nepretstatīja seksam fundamentālu atteikšanos to atzīt. Gluži pretēji (..). Tā ne vien daudz par to runāja un piespieda ikvienu par to runāt, bet arī uzņēmās formulēt saprātīgu patiesību par to. It kā šī sabiedrība turētu aizdomās seksu par kādu tajā esošu, dziļu noslēpumu," raksta Fuko (Fuko, Mišels. Seksualitātes vēsture: I: Zinātgriba. Rīga: Zvaigzne ABC, 2000, 49. lpp.).

Seksa noslēpumu ne reizi vien centās sagraut 20. gadsimts kā Rietumos, tā Austrumos. Cīņa par homoseksualitātes dekriminalizāciju ir daļa no tā. Tomēr seksa un seksualitātes noslēpums turējās uz pārāk spēcīgiem patriarhāliem pamatiem un to atražoja ne tik daudz abstraktās virsbūves ideoloģijas, cik sabiedrības pamatšūna – ģimene. Un joprojām seksualitātei kā pretarguments kalpo ģimene, kas norāda, ka saruna norit patriarhālā telpā. To uzskatāmi rāda neuzticība partnerattiecību jeb kopdzīves likumam daudzās valstīs, tostarp Latvijā, pret kura pielīdzināšanu ģimenei ir strikti iebildumi arī 21. gadsimtā.

Spilgts piemērs seksualitātes "dziļajam noslēpumam" 80. gadu Latvijā ir Jāņa Zālīša slavenā grāmata "Mīlestības vārdā", ko izdeva ar ilustrācijām, bet pēc tam ilustrācijas cenzēja. Zīmējumu autors Edgars Ozoliņš (1930–1987) ir šīs izstādes atspēriena punkts gan ar sava rokraksta uzsvērto seksualitāti, gan ar fantāziju pasauli, ko glabā viņa arhīvs. Tajā seksualitāte un politika atklājas kā vienlīdz intīmas jomas. Izstāde neatklāj vēstures faktus, kā Edgars Ozoliņš tika pie Zālīša grāmatas pasūtījuma, bet pats lēmums liecina par visai pārdomātu projektu, kā izmantot jau "institucionalizētu" seksualitātes izpaudumu publiskajā telpā, – Edgara Ozoliņa nekronētās "seksbumbas" tauta un birokrātija bija pieņēmusi. Būtu interesanti uzzināt, kāpēc projekts izgāzās.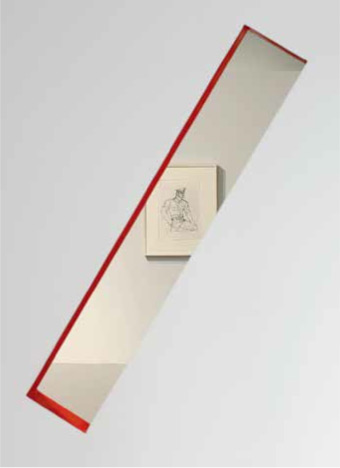 Tom of Finland. Bez nosaukuma. Papīrs, zīmulis
Tom of Finland Foundation īpašums
Publicitātes foto
Ekspozīcijas sākums norādīja uz vienas medaļas divām pusēm – heteroseksuālo un homoseksuālo, tuvinot Edgara Ozoliņa un Tom of Finland (Toms no Somijas, īstajā vārdā Touko Lāksonens (Touko Laaksonen, 1920–1991)) darbus. Tas bija ne vien telpiski, bet arī saturiski spēcīgs sākums izstādei, kas pretendēja uz komunikāciju par seksualitāti. Lai arī Tom of Finland pats izvēlas sižetus un tie nāk no homoporno subkultūras, bet Edgars Ozoliņš ilustrē tīņu literatūru, stilizējot heteroerotiskus tēlus, no abu zīmējumiem strāvo seksapīlu ķermeņu kults un apspīlēta apģērba erotizētā gaisotne, lai kurā dzelzs priekškara pusē tā atrastos. Abu autoru zīmējumos ir arī apzināti pārspīlējumi, kas tos padara nosacītus.

Vairāki darbi izstādē turpināja ievadā pieteikto atmiņu žanru. Kanādā dzimušā un strādājošā Benija Nemerofska-Ramseja (Benny Nemerofsky Ramsay) "Vēstules" (2008–2015) ir drukātas sietspiedē uz gaišzila papīra. Tās ir vēstules ar visai izplūdušu adresātu, ko konstruē atmiņa, kad prāts iejūtas bijušajā un atrod tajā pamatojumu tagadnei. Tās drīzāk ir abstraktas pateicības, nevis kaislīgas mīlestības vēstules, kurās seksualitāte saplūst ar garīgu pacēlumu, un nav atdalāmas cita no citas. Kā mazliet sentimentāls homoseksualitātes dekriminalizācijas un pirmsinterneta saziņas žests ir tualete ar iespēju atstāt savu adresi, lai saņemtu vēstuli.

Atmiņu žanrā bija veidoti divi "Artefakti ar vēsturi": Vladislava Nastavševa stāstu (2015) par kādu paziņu varēja klausīties, vērojot dažas mēbeles no viņa dzīvokļa, savukārt Solvitas Kreses stāsts (2015) par tēvabrāli tika atskaņots pie divfigūru skulptūriņas, kas arī nākusi no konkrēta dzīvokļa. Stāsts par slēpjamu homoseksualitāti un ieslodzījumu vientulībā piešķir šīm atmiņām kopīgu kontrapunktu, ko raksturo epizode no populārās padomju filmas "Mazā Vera" (1988) – jaunieši lasa dzimumattiecību pamācības, cita starpā to, ka nedrīkst ielaisties ar homoseksuāļiem.

Tikai divdesmit gadi šķir šo epizodi no 2008. gada, kad amerikāņu jaunie mākslinieki Zakarija Drakere (Zackary Drucker) un Rīss Ernsts (Rhys Ernst) uzsāka dokumentēt dzimuma maiņu: Ernsts no sievietes kļuva par vīrieti, bet Drakere – no vīrieša par sievieti. Šīs izmaiņas viņi veica kā mīlētāju pāris, un "Attiecības" (2008–2013) ir formā izsmalcināta fotosērija, kam piemīt kinematogrāfisks ritms "bez taukiem", kā profesionāli komentē Ernsts. "Attiecību" noskaņa krasi atšķiras no patosa, kas vērojams Orlānas daiļradē. Šoreiz ķermenis nav upuris. Lai arī Drakere un Ernsts protestē pret uzspiestajām dzimumu lomām mūsdienu sabiedrībā, "Attiecībās" valda fantastikas filmu futūristiskais vieglums. Mākslinieki sapņo, ka pēc simt gadiem tehnoloģijas ļaus katram izvēlēties, kas viņš grib būt un cik ilgi.
Vilnis Vējš, kā vienmēr, pamana situācijas traģikomisko aspektu, un tāda ir viņa trīs kanālu videoinstalācija "Recepte" (2015). Var izrādīties, ka starp normatīvo un fantāziju iespraucas nevis tikumiski un politiski, bet gan estētiski aizspriedumi. Tikai retos gadījumos seksualitāte un jaunība nav sinonīmi. Trīs minūšu audiocilpā, kas skan austiņās, kamēr trīs mazos ekrānos redzamas nekustīgas sejas, var klausīties stāstu par sejas skaistuma kopšanu. Nobeigumā dzirdama acumirklīgi iedarbīga, bet īslaicīga jaunības recepte – jēla ola, kas nekavējoties tiek īstenota ekrānos. Lieki piebilst, ka gan balss, gan trīs ekrānu sejas ir vīrieši. (Šis darbs mani izprovocēja pāršķirstīt Borisa Moisejeva videoklipus un aplūkot viņa grimu.) Turpat pretī bija skatāmas Kanādā dzīvojošās mākslinieces Alīsas Koenes (Aleesa Cohene) manipulācijas ar filmu industrijas produktiem ("Patīk, patīk", 2009). Divos blakus zaļi melni svītrainai sienai novietotos ekrānos bija vērojamas divas sievietes, kas pauž savas romantiskās jūtas, bet jūtu adresāts tā arī netiek parādīts. Vai viņas varētu sarunāties viena ar otru? Instalācija, šķiet, apšauba vispārpieņemto normu, ka jūtas – tas ir dialogs. Autore uzsver jūtu un dziņu izcelsmi konkrētā ķermenī. Alīsas Koenes instalācijas var sajust pa gabalu – tās saldi skan un smaržo.

Telpas centrā bija latvieša Armīna Ozoliņa instalācija "Jauna zīme" (2000) – T veida kinētiska abstrakcija: lieli sarkana auduma četrstūri ik pa laikam pārvietojās un atkal apstājās. Darbs lieliski izpildīja telpiskas šķērssvītras funkciju. Ja autora iecere bijusi abstrakta forma un ritms, tad izstādes konteksts ļāva šo darbu interpretēt kā kuratora akcentētās pārmiju situācijas metaforu. Arī kā slavenā vācieša Volfganga Tillmansa slaidšova "Laimīgais turpinājums" (2015) ievadu vai sabiedroto. Tillmansa attēli kustas līdzīgi ritmiski, tomēr ir ar naratīvu piesātināti. Viņa telpiskā izjūta ir tik niansēta, ka objektu un telpas attiecības fotogrāfijās nav grūti uzlūkot kā abstraktu stāstu – par spīti tam, ka dokumentēti konkrēti notikumi un cilvēki.

Komisku subversiju piedāvā poļu mākslinieks Karols Radziševskis (Karol Radziszewski) ar filmu "Zilie cīnītāji" (procesā no 2007) – tā ir kā ironisks protests pret labējo politiķu apgalvojumiem, ka homoseksuāli cilvēki grauj sabiedrisko kārtību. Filma rāda, kā varētu izskatīties un uzvesties iedomātās "geju bandas", neaizmirstot informēt, ka viņu sārtās maskas adījusi autora vecmāmiņa.

Latviešu mākslinieka Ata Jākobsona ogles zīmējumi Amor Pius (2015), kuros ir torsi bez galvām, šķiet kā antīko cīkstoņu un mūsdienu spēļu industrijas varoņu hibrīdi. Savukārt Brazīlijā dzimušais un Berlīnē strādājošais Lukass Foletu-Selinskis (Lucas Foletto Celinski) ar neokonceptuālo instalāciju "Sasiets krusteniski" (2014) rada saspringtas vienošanās situāciju. Tas ir labs nobeigums šim stāstam starp normatīvo un fantāziju. Iespējams, ka Foletu-Selinska izmantotās kreklu aproces un krusteniskie pavedieni starp tām, kas izstādē bija izstiepušies gari jo gari, ir kā zīme, ka rokas tomēr nav brīvas. Normatīvais dominē, bet fantāzijai ierādīta šaura vieta atsevišķās dzīves jomās.

Izstādes kontekstā aplūkojama arī daļēji Somijā dzīvojošās un strādājošās latviešu mākslinieces Ingas Melderes instalācija "Blaumaņa istaba" (2015) Jaņa Rozentāla un Rūdolfa Blaumaņa muzejā. Tā maigi interpretēja minējumus par Blaumaņa seksualitāti un pārvērta rakstnieka memoriālo istabu bāli krāsainiem kokvilnas audumiem rotātā "buduārā". Savu eļļas gleznu "Jauneklis" Meldere novietoja blakus fotogrāfijai, kurā Blaumanis ir kopā ar jaunajiem rakstniekiem, bet viņas "Marcipāna čūska" (tā Blaumanis zobojās par Aspaziju) atradās uz Blaumaņa rakstāmgalda. Glezna un skulptūriņa ir kā divas piezīmes vēstures lappušu malās. Jaunekli Meldere glezno mazliet naivā stilizācijā, bet čūska ir nešpetni kičīga.

Izstāde bija laba iespēja aplūkot aktuālu laikmetīgo mākslinieku darbus Rīgas izstāžu zāļu sienās. Arī iespēja novērtēt, kā strādāt ar vietējo nesenās mākslas vēstures materiālu, to sastatot ar korelējošām parādībām un negaidītiem kontekstiem. Šādas izstādes veicina kultūras veidošanos, jo aktivizē saikni starp artefaktiem.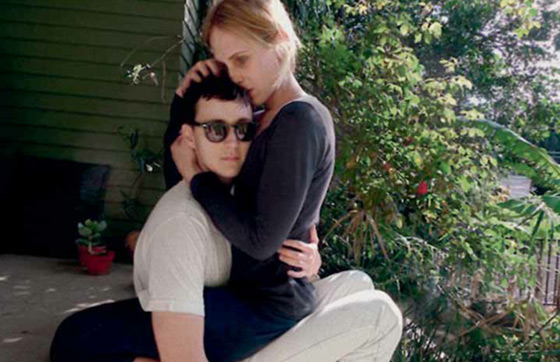 Zakarija Drakere un Rīss Ernsts. No sērijas "Attiecības". Krāsu foto izdruka. 2008–2013
Publicitātes foto
Kārlis Vērdiņš
Viegli teorētiskas piezīmes zem šķērssvītras

Izstāde "Šķērssvītra", tāpat kā citas nenormatīvajai seksualitātei veltītās mākslas izstādes, kas EuroPride 2015 laikā notika "kim?" laikmetīgās mākslas centrā, galerijā "427" un Jaņa Rozentāla un Rūdolfa Blaumaņa memoriālajā dzīvoklī, beidzot šo tēmu pilnvērtīgi iedzīvina Latvijas mūsdienu mākslas ainā – no margināla, atsevišķu mākslinieku darbos nolasāma aizplīvurota vēstījuma tā kļūst par izstāžu konceptuālo pamatu, kas turklāt iet roku rokā ar pilsonisko aktivitāšu izpausmēm. Šī gluži nav pirmā šāda izstāde Latvijā,1 tomēr "Šķērssvītrai" ir tas gods būt par vienu no jauna posma iezīmētājām Latvijas kultūrā – tas ir posms, kad seksuālā atšķirība un daudzveidība vairs nav tikai privāti apspriežama personas kvalitāte, kuras publiska iztirzāšana tiek uzlūkota ar neērtību (ak, šīs bezgalīgās sūdzības no sērijas "es negribu zināt, ar ko guļ Rinkevičs"!), bet arvien vairāk kļūst par leģitīmu refleksijas objektu mākslā, zinātnē un sabiedrībā. Turklāt "Šķērssvītra" piesaka arī jaunu nenormatīvās seksualitātes "lietussarga" jēdziena queer atveidojumu latviešu valodā – īpašības vārdu "šķērss" iemiesojošā šķērssvītra šeit kalpo gan par vizuālu zīmi, gan par tēlaini jēdzienisku skaidrojumu, kas, kā raksta Kaspars Vanags, divas blakus saliktas lietas gan vieno, gan atdala, kalpo par binārās pasaules šķīrējtiesnesi, laiktelpas savienības liecinieci un mulsinošu alternatīvu "un / vai" formātā.2

Nenormatīvās seksualitātes nosaukumi gadsimtu gaitā ir mainījušies tāpat kā attieksme pret pašu šo fenomenu. Zemēs, kurās izplatījās kristietība, homoseksuālas attiecības piederēja pie dažādu seksuālu noviržu kopuma, kuras vienoja apzīmējums "sodomija", ar ko apzīmēja arī dzīvnieku seksuālu izmantošanu un citas novirzes no šaurā, baznīcas akceptētā seksuālo izpausmju spektra – no aktivitātēm, kuru mērķis un attaisnojums bija prokreatīvā seksualitāte jeb iespēja, ka pēc dzimumakta iestāsies grūtniecība. Sodomijas vārdu laikposmā no viduslaikiem līdz 19. gadsimtam pamazām arvien vairāk attiecināja uz bestialitāti, savukārt vīriešu dzimumattiecībām tika lietots vārds "pederastija", kas senajā Grieķijā apzīmēja nobrieduša vīrieša un jaunekļa erotiskās attiecības.

19. gadsimta otrajā pusē medicīniskajā literatūrā izplatījās vārds "homoseksualitāte", viendzimuma iekāre starp vīriešiem, kas daudzās Eiropas valstīs tad bija krimināli sodāma un agrīno seksologu publikācijās traktēta kā "pretēja dzimuma sajūta" vai "trešais dzimums", kurš rodas, ja sievietes dvēsele tikusi iesprostota vīrieša miesā (un otrādi). Laikposms pēc Pirmā pasaules kara, no vienas puses, iezīmēja gan strauju sieviešu emancipāciju un seksuālu brīvību Eiropas metropolēs (arī Rīgā laikā no 1924. līdz 1929. gadam homoseksualitāte kļūst par publisku debašu un kultūras notikumu sastāvdaļu, atrodamas pat diskusijas par tās dekriminalizēšanu), no otras puses, dzemdināja totalitāros režīmus, kas homoseksuāļus tiecās apkarot vai pat iznīcināt. Pēc Otrā pasaules kara, kad izpostītā Eiropa atkal tika celta no gruvešiem, tās iedzīvotāju vidū valdīja alkas atgriezties pie normalitātes, respektīvi, pie konservatīvām vērtībām, kas nodrošinātu stabilu, prognozējamu dzīvi, tādēļ homoseksuāļu emancipācijas centieni pārsvarā palika nesadzirdēti.

Nozīmīgas pārmaiņas pienāca 60. gados, kad jaunā paaudze tiecās pārskatīt līdzšinējos sabiedrības pamatpieņēmumus: jaunu asumu ieguva diskusijas par sieviešu tiesībām (sevišķi aborta un kontracepcijas jautājumos), ASV uzplauka melnādaino pilsoņu tiesību aizstāvības kustība un antimilitārisma ideju atbalstītāju grupējumi, noritēja refleksija par Eiropas valstu koloniālo vēsturi. Šādos apstākļos arī homoseksuāļu kustība mainījās – 50. gados radušās homofilu organizācijas, kas apelēja pie sabiedrības žēlsirdības un atzina ārstu un citu "ekspertu" autoritāti, nespēja efektīvi aizstāvēt savas tiesības. Jaunā aktīvistu paaudze ASV sevi pieteica ar skaļākām un agresīvākām metodēm – pēc tā sauktā Stounvolas dumpja 1969. gadā Ņujorkā tiesību aizstāvji centās nostādīt sabiedrību fakta priekšā, ka homoseksuāļi ir politisks spēks, ar ko jārēķinās, turklāt medicīniskais apzīmējums "homoseksuālis" jau ir diskriminējošs pats par sevi, tādēļ par jauno identitātes izteicēju kļūst apzīmējums "gejs" – cilvēks, kurš apzinās savu seksuālo identitāti un lepojas ar to (šeit arī saknes praidu kustībai).

70.–80. gados, kad ASV geju un lesbiešu kustības metodes izplatās arī citviet Rietumu pasaulē, kļūst skaidrs, ka seksualitātes atšķirību spektrs ir plašāks un sarežģītāks nekā aktīvistu lozungos rakstīts: heteroseksuālais vairākums, kas vienprātīgi apspiež homoseksuālo mazākumu, ir visai nepilnīga un pavirša seksualitātes aina. Iezīmējas pretrunas gan starp gejiem un lesbietēm, gan starp dažādu šķiru un rasu homoseksuāļiem, sabiedrībai nākas akceptēt arī biseksualitātes fenomenu, kā arī transpersonu eksistenci. Rodas saīsinājums "LGBT" (lesbietes, geji, biseksuāļi un transpersonas), kas iezīmē dažādību, kura reprezentē cilvēku attiecības ar savu dzimti un seksualitāti.

80.–90. gados arvien lielāku ievērību gūst apzīmējums queer – agrāk lietots kā noniecinošs homoseksuāļu apzīmējums, tas kļūst par pašidentifikāciju, kas akceptē nevis homo / hetero binaritāti, bet teju neierobežotu iespēju spektru, kurā katrs, kas nejūtas piederīgs pie heteronormatīvo likumu pasaules, var atrast savu vietu.

Šo terminu mēdz izmantot gan kā apzīmējumu visām nestandarta seksualitātes un dzimtes izpausmēm, gan arī iekļaut kā vienu no daudzajām arvien plašumā augošās LGBT abreviatūras sastāvdaļām – viens no tās mūsdienu variantiem ir LGBTTQQIAAP (lesbian, gay, bisexual, transgender, transsexual, queer, questioning, intersex, asexual, ally, panssexual), kas pārmērīgajā iekļaušanas vēlmē, šķiet, kļūst mazliet absurds, jo rada priekšstatu, ka jebkura cilvēka identitāte ir absolūti atkarīga no viņa seksuālās prakses (un, kā rakstījis Boriss Groiss, šī daudzo seksuālo identitāšu rašanās arī ir daļa no patērētāju sabiedrības).

Ap 1990. gadu apzīmējums queer theory parādās amerikāņu akadēmiskajā vidē, tas strauji izplatās, pateicoties Džūditas Batleres, Īvas Kosovskas Sedžvikas un citu teorētiķu darbiem. Polemizējot ar psihoanalīzi, ietekmējoties no poststrukturālisma un dekonstrukcijas idejām, viņas tiecas revidēt ierastos priekšstatus par dzimti un seksualitāti – Batlere savā slavenajā monogrāfijā "Dzimtes nemiers" raksturo dzimti kā "atkārtotu ķermeņa stilizāciju, stingrā reglamentējošā ietvarā esošu atkārtotu rīcību kopu, kas sastingusi laika gaitā, radot substances, dabiska veida būtnes šķitumu"3, un atslēgas vārds tai ir "performativitāte" – cilvēks savu dzimti iemācās un atdarina.

Līdz šim Latvijas akadēmiskajā vidē jēdziens queer theory atveidots galvenokārt kā "zilo teorija" – šis lietojums pirmoreiz sastopams Džonatana Kalera grāmatas "Literatūras teorija" tulkojumā un pārņemts arī vēlākās publikācijās, tiesa, ne bez kritiskiem iebildumiem: lai arī no krievu valodas (голубой – gaiši zils, arī homoseksuālis) aizgūtajam vārdam ir tāda pati nievājoša pieskaņa kā agrāk angļu queer, to īsti nemēdz attiecināt uz sievietēm.4 Šī raksta autors pagaidām seko šai atveidojuma tradīcijai.5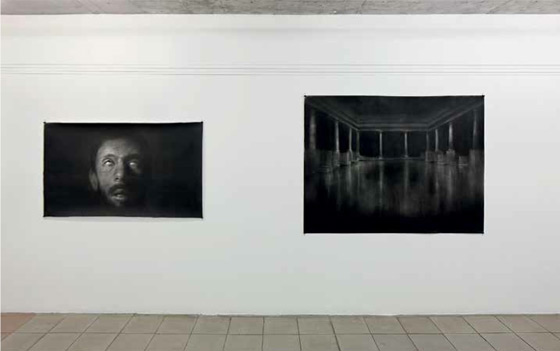 Atis Jākobsons. No sērijas Amor Pius. Papīrs, ogle. 2015
Publicitātes foto
Savukārt nesenais ieviesums "šķērss"6, lai gan kalpo par efektīgu vizuālu un verbālu metaforu, šķiet, tikai ar grūtībām varētu kļūt par reālu cilvēku identitātes apzīmējumu – izteikums "es esmu šķērss / šķērsais" cita starpā rada asociācijas, ka dzīvē kaut kas sagājis šķērsām. Taču šādai niansei ir savs attaisnojums – iestājoties pret LGBT kopienas pārmērīgu komercializēšanos un iekļaušanos amerikāņu vidusšķiras dzīvesveidā, daļa teorētiķu noraida pozitīvisma caurstrāvotās līdztiesības kampaņas un iestājas par tiesībām uz kļūdu un neveiksmi: piemēram, Džūditas Halberstamas monogrāfija "Zilā neveiksmes māksla" mudina domāt ārpus "panākumu tirānijas" rāmjiem un saskatīt zemajā, nenopietnajā un absurdajā ieročus pret konvencionalitāti.7

Lai arī zilo teorija iedvesmojas no LGBT aktīvisma, ne vienmēr teorētiķu un aktīvistu taktika un stratēģija sakrīt. Šajā sakarā minamas divas pieejas dzimtei un seksualitātei: esenciālisms (dzimtes identitātes un seksualitātes iedīgļi cilvēkā ir jau iedzimti, tiem ir bioloģiski iemesli, tādēļ tos mainīt un ietekmēt nav iespējams) un konstrukcionisms (dzimti un seksualitāti veido mūsu kultūras pieredze un apkārtējā sabiedrība, tādēļ to izpausmes ir atkarīgas no daudziem faktoriem, kas ietekmē cilvēku viņa dzīves laikā). Lai sekmīgi aizstāvētu LGBT kopienas intereses, piemēram, partnerattiecību vai laulības sakarā, aktīvisti mēdz izmantot esenciālisma argumentāciju, savukārt ir teorētiķi, kas uzskata, ka šī born this way (esmu tāds dzimis) ideja ir bīstama, jo bioloģiskie argumenti 20. gadsimtā kalpojuši totalitārajiem režīmiem, turklāt iekāre, kaut arī bioloģiski nosacīta, tomēr allaž ievirzās ceļos, ko tai piedāvā attiecīgā kultūra.8

Tā kā Latvijā zilais emancipācijas process sākās tikai 90. gadu sākumā un līdz pat 2005. gadam, praidu ēras sākumam, noritēja visai gausi un neproduktīvi, dienaskārtībā vienlaikus ir jautājumi, kuri Rietumos sabiedrības uzmanības lokā nonākuši pakāpeniski, – diskusijas par partnerattiecību likumu norisinās reizē ar sabiedrības izglītošanu par pašu homoseksualitātes fenomenu, kas tikai pēdējos gados pilntiesīgi piesaka sevi kā kultūras sastāvdaļa, kura sniedzas pāri fizioloģisko vajadzību apmierināšanai. Pati ideja, ka dažādas cilvēka identitātes šķautnes ir nozīmīgs pamats sabiedriskai vai mākslinieciskai darbībai, joprojām nav pašsaprotama lielākajai daļai Latvijas iedzīvotāju, kas par šādu pamatu spēj uzskatīt tikai nacionalitāti. Pēdējos gados arī Latvijā homoseksuāļu subkultūrā svarīgā coming out jeb iznākšana no skapja kļūst par dažādu sabiedrības grupu taktiku – tā noder gan sieviešu tiesību aktīvismā, gan cilvēkiem ar īpašām vajadzībām, gan jebkuram citam, kurš vēlas pavēstīt: te nu es esmu ar savām atšķirībām, ko jums pienāktos respektēt.

Izstāde "Šķērssvītra" uzjundī domas par visdažādākajiem ar nenormatīvo seksualitāti saistītiem jautājumiem, arī par tēmu, kas tika apspriesta LU Literatūras, folkloras un mākslas institūta rīkotajā konferencē Queer Narratives in European Cultures, kuras norise sakrita ar izstādes atklāšanu: vai zilā identitāte ir revolucionāra, dumpīga un savrupa, vai arī tai jācenšas par katru cenu integrēties sabiedrībā, pieņemot vidusšķiras vērtības un dzīvesveidu? Atbildi uz šo jautājumu mēs varēsim meklēt tikai tad, ja nenormatīvās seksualitātes iedvesmotajām kultūras aktivitātēm būs turpinājums arī pēc tam, kad EuroPride aktivitātes būs pagātne un tās pašsaprotami ierakstīsies Rīgas mākslas dzīves un visas sabiedrības ikdienā.


1 2001. gadā Medicīnas vēstures muzeja telpās notika neliela homoerotismam veltīta mākslas izstāde ar Armīna Ozoliņa, Viļņa Vēja un citu mākslinieku darbiem. Tā gan bija pieejama ierobežotam apmeklētāju lokam.
2 Vanags, Kaspars. Šķērssvītra: starp normatīvo un fantāziju. Rīga: kim?, 2015, 1. lpp.
3 Batlere, Džūdita. Dzimtes nemiers. Tulk. Dita Ābola. Rīga: Mansards, 2012, 53. lpp.
4 Sk.: Briedis, Jānis. Zilo teorija (queer theory): īss vēsturisks pārskats. Ceļš, Nr. 59, 2009, 31.–50. lpp.
5 Sk.: Vērdiņš, Kārlis. Zilo teorija. No: Mūsdienu literatūras teorijas. Sast. Ieva E. Kalniņa un Kārlis Vērdiņš. Rīga: LU LFMI, 2013, 377.–412. lpp.
6 Šķiet, pirmoreiz tas rakstos minēts intervijā: Groševs, Kaspars. Šķērss. Saruna ar mākslinieci Lieni Dobrāju. Studija, 2014, decembris / 2015, janvāris, 58.–69. lpp.
7 Sk:. Halberstam, Judith. The Queer Art of Failure. Durham and London: Duke University Press, 2011.
8 Sk., piemēram: Khan, Shamus. Not born this way. Aeon, 2015, July 23.
Pieejams: aeon.co/magazine/ society/why-born-gay-is-a-dangerous-idea.
Atgriezties