Prāgas kvadriennāle 2015
Anita Vanaga
Prāgas performances – dizaina un telpas kvadriennāles 2015 (PQ) epicentrs atradās Mansfelda baroka pilī tieši pie Kārļa tilta. Te uzstājās pasaules klases zvaigznes. Uz lekcijām bija iepriekš jāreģistrējas. Vietu skaits aptuveni 100. Tieši no lidostas gadījās trāpīt uz kanādiešu teātra, operas, kino un cirka režisora Robēra Lepāža lekciju, kuras saīsinātu tulkojumu piedāvājam "Studijas" lasītājiem. Vienu no Lepāža mediju mākslas virsotnēm Hektora Berlioza operu "Fausta pazudināšana" mums bija iespēja skatīties tiešraidē no Metropolitēna kinoteātrī Parex Plaza Rīgā 2008. gadā. Ar šo operu, izmantojot kino, savu scenogrāfa karjeru noslēdza Ludolfs Liberts 1937. gadā, bet tagad Parīzei to veido Alvis Hermanis. Prāgas lekcijā Lepāžs viegli aizķēra amerikāņu režisoru Robertu Vilsonu, pieminot, ka konkurents paliek tradicionālajos rāmjos.

Roberts Vilsons Prāgā zīmējās kā aktieris. Viņš iznāca cienīgi lēnīgi, baltā kreklā ar vaļēju apkaklīti, žaketi, kas aizpogāta ar vienu pogu.

Roka bikšu kabatā. 30 sekundes klusējot vēroja auditoriju. Tad teica – viņam pārmetot, ka viņš ir par lēnu. Vilsons skatījās kā grizli lācis, jo dzīvnieki vienmēr ilgi vēro un tad tikai kaut ko dara. Spalgi ieķērcās – tā enerģija aiziet pa tukšo. Demonstrēja, kā mātes reaģē uz raudošiem bērniem. Viņa plauksta uzturēja dominējošu žestu pār skatītājiem – pirksti viegli saliekti, zeltnesis mazliet izvirzīts uz priekšu. Viņš sev ļoti patika. Beigās viņš sāka riet un tā arī aizgāja vaukšķēdams.
Andra Freiberga lekcija
Foto: Laura Belēviča
Bet pusstundu pirms Vilsona savu uzstāšanos beidza Latvijas Mākslas akadēmijas emeritētais profesors Andris Freibergs. Tulkoja Latvijas Jaunā teātra institūta direktore, kuratore Gundega Laiviņa. Tobrīd tikai viņa zināja, ka Freibergam noslēguma ceremonijā tiks pasniegta PQ speciālā balva "Scenogrāfijas skolotājs".

Iepriekšējās kvadriennālēs pasaules valstu ekspozīcijas atradās zem viena jumta, taču šoreiz konkursizstāde "Sadalītā telpa: Mūzika.

Laika apstākļi. Politika" tika izkliedēta visā Prāgā. 78 valstu konkurencē PQ galveno balvu "Zelta triga" pelnīti ieguva Igaunijas teātris NO99. Jāpiebilst, ka uz šo balvu tika nominētas arī Latvijas un Somijas ekspozīcijas, un aizkulisēs esot izskanējis pārmetums par Eiropas reģiona izcelšanu. Igauņi aģitēja par politisko partiju "Vienotā Igaunija". Pirms filmas skatītāji iepazinās ar programmatisko uzstādījumu: nē – imigrantiem! Šī ir mūsu nauda! Tālāk jau filmā redzams, kā tiek veidots mārketings, grims, kaklasaites un kostīmi, publiskā stāja, žesti un runas, Tallinas ielās parādās īsti plakāti, kurus sabojā vīri maskās. Fināls norisinās slēgtā sporta arēnā 2010. gada 7. maijā, klātesot 7000 vēlētājiem. Politiskos līderus "izvelk" pēc loterijas principa ar iepriekš zināmu rezultātu. Partija svin absolūto uzvaru. Sajūsminātā auditorija saplūst ar vēlēšanu skatuvi pacilājošā dziesmā, un jaunais vadonis pasludina: "Jūs esat brīvi!" Aplausiem filmā pievienojas arī aplausi PQ ekspozīcijā. Aplaudē dažādu rasu skatītāji. Partijas "Vienotā Igaunija" autori režisors Tīts Ojaso (Tiit Ojasoo), scenogrāfe un kostīmu māksliniece Ene Līsa Sempere (Ene-Liis Semper) šoreiz ir arī galvenajās lomās. Sadevušies rokās, kadrā viņi demonstrē totālā teātra un politikas saplūsmi, kad demokrātiju aizstāj populisms. Šo vēlēšanu rezultātā partijai "Vienotā Igaunija" bija iespēja palikt un darboties politikā, taču NO99 no šī soļa atturējās.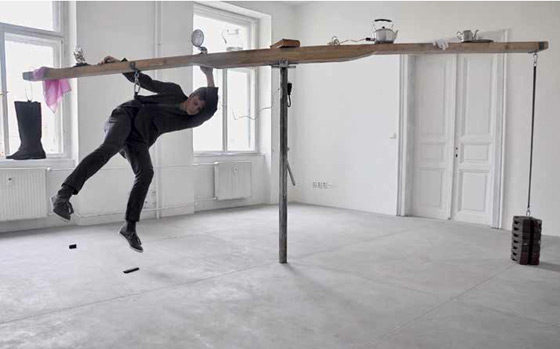 Skats no Vladislava Nastavševa izrādes "Jūlijas jaunkundze"
Foto: Laura Belēviča
Latvijas nacionālā ekspozīcija "Pakļaušanās"', kas bija skatāma Kaf kas mājā Kaf kas laukumā 3, saņēma Zelta medaļu – par "jaunu, patstāvīgu mākslas darbu". Par to, ka "priekšmetu, ķermeņu un skaņas līdzsvars telpā ir īstenots brīnišķīgā veidā. Katrs elements saglabā savu patstāvību, bet tajā pašā laikā ir meistarīgi integrēts darba veselumā." Ekspozīcijas pamatā bija režisējošā scenogrāfa Vladislava Nastavševa izrāde "Jūlijas jaunkundze", kas tika iestudēta Valmieras Drāmas teātrī 2012. gadā. Žūrijas spriedums esot radies lielā vienprātībā, atceras Katrīna Neiburga, kas arī darbojās žūrijā un par savu valsti bija spiesta klusēt.

"Jūlijas jaunkundzes" darbība rotē ķēķī. No lugas Nastavševs atvasināja plauktu – svārstu, kas griežas ap savu asi. Uz tā aktieri grupē ķēķa piederumus – kūpošu tējkannu, no kuras lej ūdeni krūzē, garstulmu zābakus, ko Žans pucē ar lupatiņu. Kā kustīgās sistēmas atsvarus, kas savalda instinktus, aktieri izmantoja arī savus ķermeņus. Katrīnai Neiburgai izdevās fiksēt skaistākos mīlas trijstūra mirkļus: "Kas to redzēja, bija laimīgi. Kāda garlaicības mākta meitene no skatītāju vidus iesaistījās divu aktieru performancē, cenšoties izjaukt kārtību. Meitene sāka pati pārvietot priekšmetus, koķetēt ar Raimondu Celmu, darīt pāri Marijai Linartei. Marija skaitīja baušļus: tev nebūs zagt, tev nebūs nogalināt, tev nebūs rekvizītus aiztikt! Meitenei vienalga. Tad Marija ēda ķiršus un spļāva kauliņus meitenei virsū. Beigās izsauca apsardzi un ieradās Nastavševs." Jaunajiem aktieriem tā bija pirmā starptautiskā debija. Performancē jābūt gatavam reaģēt uz negaidītiem ārējiem impulsiem. Vispārējais PQ piedāvājums orientējās uz skatītāja fizisku iesaistīšanu – hepeningiem, performancēm vai sarunām. Piemēram, Krievijas studenti sēdēja pie galda, un uzraksts uz viņu ekspozīcijas durvīm draudzīgi vilināja: If you want to speak about art in bad english you are welcome.

Andra Freiberga veidotā Latvijas Mākslas akadēmijas studentu – topošo scenogrāfu darbu izstāde "Sākums" ar savu slēgtās telpas uzstādījumu izrādījās izteikts pretmets vispārējai tendencei uz saplūšanu ar auditoriju. Te valdīja klusums, surdinēta pustumsa, nekam nebija jāpieskaras, nekas nebija jādara, neko nevarēja paņemt līdzi: ne zīmuļus, ne iespieddarbus – neko. No skatītāja tika sagaidīts viens vienīgs vērojums. Andra Freiberga "mazie uzdevumi" – Hamleta krēsls, Džuljetas balkons, kāpnes uz debesīm, caurvējš, nebijis priekšmets, lidojums, jūra – iedrošina topošos māksliniekus domāt ārpus teātra, it kā viss būtu iespējams. Uzdevumus risināja Māra Broka, Anna Ansone, Līva Puļķe, Einārs Timma, Dace Pudāne, Gerda Šadurska, Liene Pavlovska, Rūdolfs Baltiņš un Evija Pintāne. Katru darbu atsevišķi ierāmēja stikla kubs. No iekšpuses kubus izgaismoja smalkas spuldzītes.

Kopā ar uzdevumiem bija redzams arī Reiņa Dzudzilo maģistra darbs – sadarbībā ar režisoru Elmāru Seņkovu tapusī scenogrāfija Rūdolfa Blaumaņa noveles "Raudupiete" dramatizējumam Valmieras Drāmas teātrī (2013). Ekspozīcijas iekārtotāja Monika Pormale "Raudupieti" iecentrēja kā altārgleznu. Blaumaņa reālismu, smeltu no laikrakstiem, pārklāj Jaņa Rozentāla simboliskā "Nāve" (1897), ar sirpi aprīkota jauna sieviete baltā, kas, saliekta gerontoloģiskā leņķī, raugās uz zīdaini. Uz tās pašas altārsienas, kur atrodas "Nāve", atveras durvis, un pa tām telpā izbirst smiltis. Smaržo vijolītes no apakšas, teiktu ungāri. Nāves izkāpinājums piešķīra kapniecisku noskaņu arī mazajiem uzdevumiem, ieskaitot Rūdolfa Baltiņa saplēsto stikla kubu "Caurvējš": vējš pakļauj entropijai tukšu telpu. Somiem ir idioma – spert pa tukšumu. Tas nozīmē – nomirt.

Gals un sākums bez starpposma izrādījās tik tuvi, tik līdzīgi, tik vietām maināmi. Trešo reizi pēc kārtas PQ vēsturē LMA studenti saņēma Zelta medaļu.
Atgriezties