"Es esmu pasaules centrs, priecīgs un nepareizs..."
Liāna Langa
60. gadu pašā nogalē ballītē pie Aveniem Ņujorkā satiekas divas latviešu bēgļu atvases – staltais, stilīgi ģērbtais Sigurds Vīdzirkste un Daina Dagnija, kas tovakar uzvilkusi tumši violeta samta minikleitu. Viņi jau agrāk ir pamanījuši viens otra gleznas izstādēs. Ohh, he is great! teikusi Daina par Sigurda bildēm. Arī Sigurds izstādē pievērsis uzmanību Dainas darbiem, kas formas, kolorīta un tēmu ziņā spēcīgi izcēlās pārējo vidū. Tovakar sagadījies tā, ka uz ballīti Daina Dagnija ir ieradusies viena, bez vīra Jura. Sigurds nevilcinās viņu galanti aplidot. Savstarpēju pievilkšanos acumirklī izjūt abi. "Nevienu tās ballītes viesi īsti neatceros, tikai viņu," atzīstas Daina.

ASV un Rietumeiropā ir trauksmains sociālās un kultūras paradigmas nomaiņas laiks. Parīze pārdzīvo 1968. gada studentu nemieru atplūdus. Modē marksisms, ezoterika, zinātnes atklājumi un Austrumu reliģijas. Bītnieku paaudze nobriedusi, un tās pārstāvji Alens Ginsbergs, Gregorijs Korso un Džeks Keruaks ir atzīti literāti; Rīgas kafejnīcā "Kaza", tērpušies melnos svīteros un trubenēs, ap savu līderi Juri Zvirgzdiņu pulcējas "nenocenzētie"; bītlu uzstāšanās ASV (1964) un viņu iepazīšanās ar Bobu Dilanu un Elvisu Presliju jau šķiet tāla pagātne. Pārmaiņu vējos laiks iegūst tādu kā paātrinājumu – Sanfrancisko Ashbary Hights ielas rajonā batikotās brīva stila biksēs klīst garmatainie vainadziņos; ģitāras kliedz, smaržo marihuānas kāsīša dūms. Sociālās atbrīvošanās kustībā no bītniekiem stafeti ir pārņēmuši hipiji. 1969. gada franču režisora Anrī Verneja filmā "Sicīliešu klans" Parīzes interjeros un varoņu apģērbā atspoguļojas laika gara stils – kadros redzami daudz spilgti oranžu, ovālu gaismas ķermeņu, izgatavotu no modē nākušās plastmasas, funkcionālas, vieglas konstrukcijas mēbeles, bet gaišie lietusmēteļi un askētisku fasonu kleitiņas dāmām ir krietni virs ceļgala. Cilvēku saskarsmē modē ir spontanitāte, poēzija, mazrunīgums un dziļdomība.

Ņujorka šo gadu desmitu mijā burtiski kūsā, jo kļuvusi par pasaules mākslas centru. Džona Kenedija slepkavība 1964. gadā izraisījusi sprādzienu sabiedrības apziņā; tā viļņošanās nemitējas atbalsoties mākslās un kustībās. Fluxus jau piedzīvo norietu. Abstraktie ekspresionisti ir atzīti klasiķi – uz to norāda viņu gleznu pārdošanas cenas. Šā mākslas virziena ideologs un līderis Džeksons Polloks miris 1956. gadā. 1970. gada 25. februārī Vīdzirkstes novadnieks Marks Rotko, depresijas, nikotīna un alkohola nogurdināts, izdara pašnāvību. Endija Vorhola Campbell's zupas kārbas (1962) kļuvušas par aktuālo patērniecības nolieguma ikonu, un "Fabrikā" mākslinieks testē brīvības robežas jau "dzīvajā" – ar cilvēkiem. Lietuvietis kinorežisors Jons Meks uzraksta kino manifestu, kurā izaicina Holivudas komerciālismu. Mūsu "Elles ķēķa" latviešu zēni un meitenes elpo NYC pārmaiņu un revolūcijas gaisu. Viņi ir visu šo notikumu virpuļa centrā. Atliek iegriezties kādā no Griničvilidžas bāriem, un ir visai lielas izredzes tur izdzirdēt Džoanas Baezas eņģelisko balsi.

Ņujorkas "Elles ķēķis" tobrīd ir drīzāk proletārisks, ne bagātnieku rajons kā tagad. Sigurdu Vīdzirksti, līdzīgi kā lietuviešu kinorežisoru Jonu Meku un ebreju Marku Rotko, interesē radikāli jaunu, laikmetīgu mākslas ideju radīšana. Un viņš ir no retajiem latviešiem, kas to spēj. Ņujorkā tobrīd visaktuālākais glezniecības virziens līdzās popārtam vēl arvien ir abstraktais ekspresionisms, bet Vīdzirkste nekļūst par šo virzienu sekotāju kā daudzi tolaik un rada savu kibernētisko glezniecību paša izgudrotā autortehnikā, ko balsta uz savām teorētiskajām nostādnēm. Viņa kibernētisko gleznu kompozicionālo pamatu veido uz monohroma fona regulāri vai neregulāri izvietoti dažāda lieluma izciļņi, kam piemīt noslēpumains mirdzums. 1963. gadā viņš savu atklājumu glezniecībā pirmoreiz demonstrē draugu un paziņu lokam. 1968. gadā Vīdzirkstes darbi tiek izstādīti Ņujorkas galerijā Kipsbay, kas atrodas 2. avēnijā. Latviešu māksliniekam tas ir liels sasniegums.

Palasot tālaika trimdas presi, noskaidroju, ka apzīmējumu, līdz ar to arī pozicionējumu "kibernētiskā glezniecība" Sigurda darbiem piešķīrusi tieši Kipsbay galerija paziņojumos par viņa izstādi. 1968. gada 16. februāra laikrakstā "Laiks" mākslas kritiķe Eleonora Šturma par to ir mazliet izbrīnīta un raksta: "Par cik šiem abstraktajiem gleznojumiem sakarība ar kibernētiku, grūti spriest. Drīzāk gan jāpieņem, ka apzīmējums ir galerijas vadības izdomājums, lai izstādei rastu kādu pamattēmu jeb lai darbus attiecīgi kategorizētu, tādējādi pievēršot laikmetīgās mākslas pētītāju uzmanību kādai jaunai modernās mākslas kategorijai. Saprotams, šādai galerijas pieejai ir rezultāti, un modernās mākslas interesenti ar dedzību apspriež, kādas iespējas varētu pastāvēt šo divu lauku – glezniecības un kibernētikas sakarībā. Ja ar kibernētiku vēlamies saprast šauras, automatizētas tehnoloģijas lauku ar elektroniskajām smadzenēm, to "programmēšanu" un sagaidāmās informācijas saņemšanu kā spilgtāko priekšstatu, tad pagrūti rast sakarību ar gleznu, kas nekādā ziņā, vismaz Vīdzirkstes gadījumā, neatgādina automatizētas tehnoloģijas rezultātu ar tajā nepieciešamo paredzamības nosacījumu. Saprotams, ir iespējams šo sakarību risināt tālāk gluži filozofiskā plāksnē, jo kibernētikas lauks ir plašs, vispārināts un sevī ietver kontroles un komunikācijas norišu pētīšanu ne tik vien tehnoloģijas, bet arī dzīvās radības pasaulē. Mākslas klasificēšana un tīša saradošana ar modernās tehnoloģijas attīstību tagad liekas izvērtusies par nepieciešamību, lai rastu filozofisku bāzi un izskaidrojumu daudzām mūsdienu mākslas parādībām. Vīdzirkstem gan, šķiet, svarīgāk par viņa darbu apzīmējuma izvēlēšanu ir bijis izteikt sevi savā īpatnā valodā. Šim nodomam viņš sekojis neatlaidīgi un mērķtiecīgi, bez jūtamākas novirzīšanās no nospraustā ceļa kopš viņa pirmās patstāvīgās izstādes 1964. gadā."

Tālāk Šturma raksta, ka Vīdzirkstes audeklos "saskatāma matemātiska pieeja, un tiem ir zināma sakarība ar seriālismu laikmetīgā mūzikā," bet šās kritikas noslēgumā viņu dēvē par domātāju.

ES ESMU
PASAULES CENTRS
PRIECĪGS UN NEPAREIZS
TĀLAB ES GRIBU
AIZGRIMT UN APMALDĪTIES
TĀ KĀ TILTI TĀ KĀ
PUĶES TĀ KĀ ŪDEŅI

Šo Vīdzirkstes pierakstītu pantiņu-ziņojumu viņa rokrakstā lasu šāgada 22. jūlija vēlā vakarā, kad mājās pie Dainas Dagnijas atveram kasti ar viņa lietām, glabātām kopš mīļotā pāragrās nāves 1974. gada 17. jūlijā 46 gadu vecumā. Mirklis ir emocionāls. "Kaut mēs būtu satikušie desmit gadus ātrāk," Sigurds viņai vairākas reizes esot teicis.

Pēc kārtas pierakstu pirmās desmit lietas, kuras no kastes izceļam un aplūkojam, jo, manuprāt, tās raksturo Vīdzirkstes pasauli, to, kas viņam bijis pietiekami svarīgs, lai dzīves laikā neizmestu:

1. Aploksne ar viņa pierakstiem un fotogrāfijām.

2. Skiču albums ar abstraktām, spēcīgām kompozīcijām.

3. Pilnīgi nodzeltējis 1969. gada 21. jūlija New York Times eksemplārs, kura pirmo lapu rotā sensacionāli virsraksti Men Walk On Moon. Astronauts land on plain; collect rocks; plant flag. Voice from Moon: Eagle has landed.

4. Kartona lapa ar ekspresīviem, nesalasāmiem pierakstiem, kuros redzami skaitļi, ķīmiskas formulas un atsevišķi burti.

5. Tumši violetā samta kleitiņa, kurā bija tērpusies Daina, kad satika Sigurdu.

6. Apavu kaste ar fotogrāfijām un slīdītēm, kurās pārsvarā redzamas ainavas.

7. Piezīmju grāmatiņa ar birstošām lapām. Tajā pieraksti par ķīmiju un ķīmijas formulas.

8. Dagnijas speciāli Vīdzirkstem batikots krekls.

9. Ļoti grūti salasāma Vīdzirkstes vēstule, datēta ar 4.21.51. (gadu pēc ierašanās Ņujorkā – aut. piez.) Tajā izburtoju vienu teikumu: "Alus ir labs, iedzert nav grūt'."

10. Žurnāla Scientific American 1973. gada decembra laidiena eksemplārs.

Sigurds dzīvoja divistabu dzīvoklī, viena telpa bija atvēlēta darbnīcai. Spriežot pēc fotogrāfijām, darbnīcas istaba ir plaša, gaiša un askētiski iekārtota. Ik rītu pirms došanās uz banku, kurā viņš daudzus gadus strādāja par audiovizuālo speciālistu, viņš iegājis darbnīcā, lai aplūkotu savas gleznas. Atzinis, ka "nevar un nespēj būt svētdienas gleznotājs". Nepieciešamība pelnīt iztiku maizes darbā, atraujot laiku mākslai, viņā veidojusi dramatisku konfliktu, bet tāds liktenis piemeklēja daudzus trimdiniekus pirmajā un otrajā paaudzē. Amerikāņu māksliniekiem, lai izsistos sūrajā konkurencē, bija nepieciešams ne vien talants, bet arī finansiālie atbalstītāji un sakari amerikāņu mākslas vidē. Vietējiem ar dziļākām saknēm, saprotams, tādus atrast bija vienkāršāk.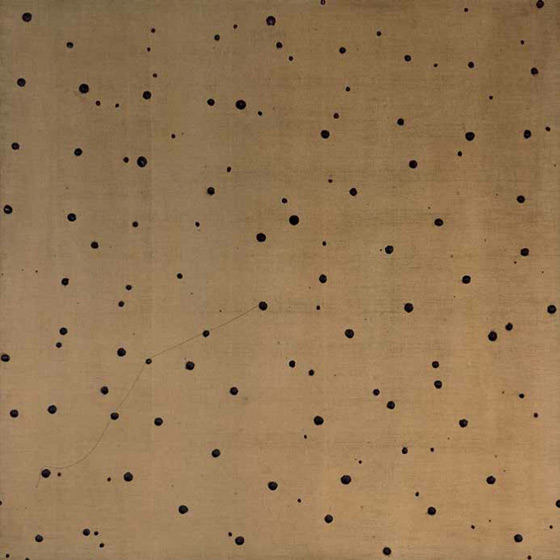 Sigurds Vīdzirkste. Bez nosaukumaAudekls, autortehnika, diegs183 x 183 cm. 1968
Privātkolekcija
Šogad Rotko centrā norisinājās Sigurda Vīdzirkstes izstāde "Melnā saule", kas, manuprāt, bija labākā no trim līdz šim Latvijā notikušajām. Nezinu, vai Rotko centrā ir īpaša, viņa glezniecībai labvēlīga gaisma un gleznu izkārtojums vai kādi citi iemesli, bet es beidzot ieraudzīju Vīdzirkstes darbus vispārākajā jaudā. Tostarp tik interesanti abu mākslinieku dzimtajā Daugavpilī bija apskatīt Vīdzirkstes gleznas kontekstā ar Marka Rotko darbiem, skaidri un nepārprotami ieraugot – būtu mūsu Sigurdam cits liktenis un fortūna, latvieša darbi šodien atrastos prestižākajos pasaules modernās mākslas muzejos.

Voldemārs Avens īsi pēc Vīdzirkstes nāves rakstīja: "Ar saviem rūpīgi nostrādātajiem audekliem Sigurds Vīdzirkste varēja droši nostāties blakus amerikāņu tālaika ievērojamākiem glezniecības meistariem, bet pietrūka tā mistiskā dzinējspēka, kas pārgrūstu apdāvināto latvieti pāri līnijai, kas mūs vienmēr šķīrusi no pasaules slavas un atzīšanas. Potenciāls bija, bet Sigurda kibernētiskā mākslas izstāde, ko sešdesmito gadu sākumā sarīkoja amerikāņu galerija, neguva vajadzīgo atsauksmi." Dagnija atceras, ka pats Vīdzirkste bez kompleksiem apzinājies savu lomu un vietu lielajā pasaules mākslā. Bijis mazliet nepatīkami pārsteigts, kad ieraudzījis laikabiedra, cita "punktotāja", tagad jau optiskās mākslas novirziena pasaulslavenā amerikāņu mākslinieka Lerija Pūnsa (Larry Poons) spilgti krāsainos darbus. Tomēr pietiek uzmest aci abu gleznojumiem, lai redzētu, cik tie ir krasi atšķirīgi, nelielas līdzības ir vien tehniskajā izpildījumā.

Sigurdu Vīdzirksti Rīgas pilsētas parauga pamatskolā ietekmējis zīmēšanas skolotājs, arī riju un arklu meistars Jānis Kalmīte. Mērbekas bēgļu nometnē Vācijā viņš mācījies gleznot pie profesora Valdemāra Tones. Deportēto personu nometnē iemīlējies, bet viņa izredzētās tālākie ceļi veduši uz Austrāliju, kur viņa drīz vien apprecējusies. 1950. gada Ziemassvētkos viņš ierodas Ņujorkā, kur studē ķīmiju un klausās lekcijas filozofijā. Glezniecību apgūst turpat, kur vēlāk Daina Dagnija, – Mākslas studentu līgā (Art Student League) pie pazīstamā amerikāņu abstraktās glezniecības pedagoga Vila Bārneta (Will Barnett). 1965. gadā pilda militāro dienestu ASV flotē, tostarp uz lidmašīnu bāzes kuģa Vidusjūrā.

Ir viens no retajiem armijas puišiem, kas labprāt kāpj visaugstākajos kuģa mastos. Bankā, kurā viņš nostrādā piecpadsmit gadus, priekšniecība viņu augsti novērtē kā izcilu uzskates tabulu un diagrammu zīmētāju. Vairākus gadus dzīvo Spānijā un Maljorkā, iepazīst spāņu modernistus, arī Antoni Tapjesu. Bet pats apzināti izvēlas strikti savrupu mākslinieka ceļu, kurā atbilstīgi laikmeta prasībām un savai izpratnei par tām glezniecībā sintezē jaunākos zinātnes atklājumus ar jaunu glezniecisko valodu, nonākot pie pumpurotām gleznām. Dzejnieks Gunars Saliņš par viņa audekliem savulaik teicis, ka tās esot "mērena pilskalna biezumā".

Pēc mākslinieka nāves Voldemārs Avens raksta: "Sigurds Vīdzirkste nekad necentās izpatikt skatītāju vairākumam. Šai ziņā konsekvents līdz pēdējam, viņš neakceptēja nekā, kas bija otrās šķiras. Pat audekla labums un lina šķiedru kvalitāte bija faktors, kam Sigurds piešķīra lielu vērību. Viņa gleznu virsas apdare bija rituāls un alķīmija reizē. (..) melnā un pelēkā krāsa tika manipulētas, sasniedzot vissmalkākās nianses. Brīžiem likās, ka viņa meklējumi pietuvojas kādai universa mistērijai. (..) Viņa gleznas ar smalki izsvērtiem dzelzs skaidiņu pauguriem it kā peld kādā vāri notonētā izplatījumā. Katram izcilnim ir atrasta noteikta vieta, un apkārtnē izveidota attiecīga subtila krāsu vibrācija." Pastāv leģenda, ka paša izgudroto un ieviesto ķīmisko formulu, kas metāla skaidiņām, savienotām ar krāsu, lika un vēl arvien liek gleznu izciļņiem / pumpuriem mistiski mirdzēt, viņš nav nevienam atklājis un to paņēmis sev līdzi kapā.

Kad Dagnija izšķiras ar vīru, viņa ar Sigurdu daudz laika pavada kopā, apceļojot Ziemeļamerikas Austrumkrastu ar nakšņošanu teltīs (vienu nakti viņi blakus teltij dzirdējuši lāci, Sigurds jau satvēris nazi, bet lācis bija aizgājis) vai vakarējot abu mājās – klausoties mūziku un sarunājoties. "Viņu iedvesmoja zinātne un laikmetīgā mūzika, īpaši Karlheincs Štokhauzens, bet no klasiķiem mīlēja Luidži Bokerīni. Viņa glezniecība lielā mērā ir veltīta tieši ritmiem," stāsta Daina. "Mums ar Sigurdu nebija vajadzības kopā skraidīt pa muzejiem vai galerijām, to darījām reti, jo tolaik Ņujorkā tā bija ierasta dzīves sastāvdaļa," stāsta Dagnija. "Viņš daudz strādāja un bija arī bohēmietis kā tobrīd visi, kas apgrozījās "Elles ķēķī". Tāds bija laika gars. Reizēm viņam patika iedzert, un parasti viņš to darīja bārā, kas atradās viņa mājas pirmajā stāvā. Kad Vīdzirkste mani bildināja, man tas šķita tik nelaikmetīgi... kāpēc jāprecas, ja ir mīlestība? Reiz Sigurds man atzinās, ka pastāvīgi jūtoties kā "cilvēks bez ādas"." Abi Dainas puikas – Rolands un sevišķi jaunākais, Adriāns, – pieķeras Sigurdam. Dēliņš ir apveltīts ar spilgtu mākslinieka talantu. Daina datē un saglabā visus Adriāna zīmējumus. Tikai daudzus gadus vēlāk, tos caurskatot, Dagnija atrod Adriāna zīmējumu, kas tapis apmēram trīs mēnešus pirms Vīdzirkstes nāves, – tajā redzams cilvēka skelets ar spārniem un Sigurda galvu. "Tas bija absolūts mana puikas gaišredzības akts," stāsta Daina. Viņa atceras, ka par Vīdzirkstes nāvi dēliem pastāstījusi pāris nedēļu pēc bērēm. Četrgadīgais Adriāns teicis: "Sigurds ir miris, un viņam būs dzimšanas diena!"

1974. gada 18. jūlija laikrakstā "Laiks" publicēta nāves ziņa: "Miris gleznotājs S. A. Vīdzirkste. Zaudējums modernajai latviešu mākslai. Ņujorka. Trešdien, 17. jūlija vakarā, uz kāpnēm savas studijas namā 10. avēnijā miris atrasts 46 g. v. gleznotājs Sigurds A. Vīdzirkste. Nekādas vardarbības pazīmes pie viņa nav atrastas, un spriežams, ka mākslinieks piedzīvojis triekas lēkmi. Viņu pēdējā gaitā izvadīs 23. jūlijā plkst. 8 vakarā no Kempbela bēru nama." Sigurda nāves dienā Daina Dagnija ar bērniem ciemojusies pie saviem vecākiem Mičiganā. Tonakt ļoti slikti gulējusi. Nākamās dienas vēlā vakarā kāds paziņojis pa tālruni, ka Vīdzirkste atrasts miris. Gleznotāja mirstīgās atliekas pārpelnoja un apbedīja latviešu kapos Katskiļos.

"Vīdzirkstes bērēs bija daudz cilvēku," atceras Daina Dagnija. "Gunars Saliņš nolasīja "Melno sauli". Zārku apklāju ar baltām lauku puķēm, ko salasīju pļavā, un "brūti" (Dainas Dagnijas tekstila kolāža – aut. piez.). Vīdzirkstes vecāki atstāja visus viņa darbus manā ziņā – mēs ar Gunaru un Ausmas Macates vīru tos pārvedām pie manis. Nekāds "S. Vīdzirkstes fonds", kaut tika minēts (plānots – aut. piez.), nekad neizveidojās. Neviens ne pušplēsta vārda nebilda, ne pirkstu nepacēla, lai tāds būtu. Pēc tam divdesmit gadu laikā es trīs reizes pārvācos no vienas dzīvesvietas uz citu ar visiem viņa un maniem darbiem..."

Kad Latvija atguva neatkarību, Dagnijas dēls Rolands izgatavoja īpašas kastes lielformāta gleznu transportēšanai un Sigurda Vīdzirkstes darbi nonāca Latvijas Nacionālā mākslas muzeja krājumā.

Es lūdzu Dainai iespēju iepazīties ar vismaz vienu vēstuli no abu privātās sarakstes, un viņa man nolasa Astrīdes Ivaskas dzejoli:

"Un nevienam nav tiesību taujāt, / Un nevienam nav tiesību sekot, / kad savu raktuvju dzīlēs / es nokāpju meklēt tevi. / Kad tumsā nokāpju viena, / tālāk un dziļāk ik nakti. / Un nezinu, gaismai svīstot, / vai pietiks spēka to sasniegt."

Pār mums – vēl baltā saule. Rotko centrā nolemts ierīkot Sigurda Vīdzirkstes istabu. Abi glezniecības lielmeistari un mistiķi Rotko un Vīdzirkste satiksies Daugavpilī post mortem – sākuma punktā, savās pirmajās debesīs.
Atgriezties