Cauruļvadu mehāniskais komforts
Jana Kukaine, Jānis Taurens
Vairs tikai neliels laika sprīdis mūs šķir no brīža, kad 1917. gads iegūs simtgadīgas pagātnes jubilejas statusu, kas vedinās uz vēsturisku refleksiju, kā tas noticis ar pirmo pasaules karu. Tas ne tikai būs iemesls atskatīties uz boļševiku veikto valsts apvērsumu (citā terminoloģijā – lielo oktobra sociālistisko revolūciju) netālajā pēterburgā: 1917. gads – nedaudz mākslīgi – ir kļuvis arī par atskaites punktu diskusijā par mākslas robežu radikālu paplašināšanu. negaidot apaļo jubileju, londonā bāzētajā mēnešrakstā the Art Newspaper tika publicēts raksts, kas no jauna apšaubīja tradicionālo, uz marsela dišāna stāsta balstīto mākslas vēstures versiju, kura "vēl arvien tiek mācīta katrā lekcijā un atkārtota katrā grāmatā".1 raksta autori – džūlians spoldings un Glins Tompsons – šo versiju atzīst par meliem: "liecības, ka marsels dišāns varētu būt nozadzis dzejniecei savu slavenāko darbu "strūklaka", ir bijušas pieejamas atklātībā daudzus gadus, bet mākslas pasaule savā vienotībā – muzeji, mācību iestādes un mākslas tirgus – ir nemitīgi atteikusies atzīt šo faktu." dzejniece ir baronese Elza fon freitāga-loringhofena (elsa von Freytag-Loringhoven, 1874– 1927), un, pēc autoru ieskata, daudzajiem muzejiem, kuros atrodas "strūklakas" kopijas (oriģināls, kā zināms, nav saglabājies), būtu jāmaina to "šiltītes", norādot, ka marsels dišāns ir piesavinājies baroneses Elzas fon freitāgas-loringhofenas oriģināla repliku.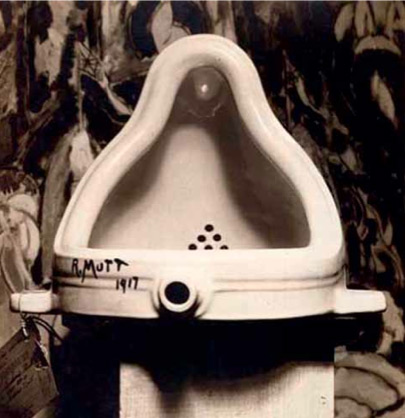 Marsels Dišāns. Strūklaka. 1917
Par labu hipotēzei, ka "Strūklakas" autore ir baronese Elza, runā virkne apsvērumu, ko detalizēti savos darbos jau analizējušas feminisma teorētiķes irēna Gamela un amēlija džonsa. literatūrzinātniece Gamela darbā "baronese Elza: dzimte, dada un ikdienas modernitāte" (2002) apraksta baroneses neparasto personību, tostarp tieksmi kolekcionēt dažādus tehniskas izcelsmes priekšmetus, savukārt nozīmīgā laikmetīgās mākslas teorētiķe džonsa izmanto baroneses Elzas figūru, lai no jauna uzrakstītu ņujorkas dadaisma vēsturi (grāmatas nosaukums ir intriģējošs tāpat kā tajā sniegtā informācija: "iracionālais modernisms: ņujorkas dadaisma neirastēniskā vēsture", 2005). šajā darbā džonsa "strūklaku" salīdzina ar citu – mazāk zināmu Elzas darbu "dievs", kas arī tapis 1917. gadā, iespējams, sadarbībā ar mortonu šambergu (morton Schamberg) un veidots no metāla cauruļvada sifona, kurš piestiprināts koka leņķu zāģēšanas kastei. džonsa raksta: "ja amerikai ir tikai cauruļvadi un tilti, ko piedāvāt, estētiski runājot, tad "strūklaka" un "dievs" ir amerikas mākslas galējība. (..) "dievs" apzīmē bēdīgi neveiksmīgo amerikas teilorisma / fordisma sistēmas maskulinitāti. "strūklaka"? Vīrišķo māniju savā nedrošībā čurāt citiem virsū." un turpat tālāk džonsa atsaucas uz pašas Elzas aprakstu: dišāns "ieradās šajā valstī – aizsargāts, slavas nests –, lai lietotu tās cauruļvadu sistēmu – mehānisko komfortu".2

Tas gan nav vienīgais komforts, ko dišāns baudījis un bauda joprojām – viņa leģendas veidošanā un stiprināšanā ir ieguldīts ne mazums pūļu, tostarp saistot viņu gan ar konceptuālās mākslas izveidi amerikā, gan postmodernisma pirmsākumiem. šis mīts ir tik noturīgs, ka pētījumi, kas to apšauba, tiek ignorēti, tādējādi uzrādot mākslas pasaules patriarhāli izslēdzošo attieksmi ne tikai pret sievietēm māksliniecēm, bet arī mākslas zinātniecēm un pētniecēm, ja viņu sakāmais nesaskan ar valdošajiem priekšstatiem. interesants ir fakts, ka baronese Elza "strūklaku" (uz sāniem sagrieztu pisuāru) izstādē varētu būt iesniegusi, lai paustu savu sašutumu, kad 1917. gada 6. aprīlī amerika pieteica karu viņas dzimtenei – Vācijai, savukārt paraksts r. mutt vācu valodā var tikt nolasīts kā "nabadzība, trūkums". domājams, šādu vērtējumu baronese vēlējusies sniegt gan neatkarīgo mākslinieku savienībai, kas nespēj nošķirt mākslu no ikdienas priekšmeta, gan, ņemot vērā pisuāra "intīmo" saiti ar vīrišķā spēka simbolu, maskulīnajai pasaulei un tās apsēstībai ar karu un vardarbību. jaunais skatpunkts uz kanonizēto "strūklaku", kas pastāvošajā mākslas diskursā tiek vērtēts kā laikmetīgās mākslas "pirmavots", ļauj saskatīt, ka dadaiskā žesta pamatā bija nevis pašpietiekama spēle ar formu vai mākslas definīciju, bet sievietes protests pret vīriešu veikto destrukciju, citiem vārdiem, maskulīnās "cauruļvadu" vērtību sistēmas kritika. šāds sievišķās subjektivitātes gājiens izrādījās izšķirošs, lai pieliktu punktu arī tradicionālajai mākslas paradigmai, kas balstās uz mītu par maskulīno radošo ģēniju, paverot ceļu tiem sarežģītajiem un bieži vien pretrunīgajiem mākslas ceļiem, kuru liecinieki šodien esam arī mēs.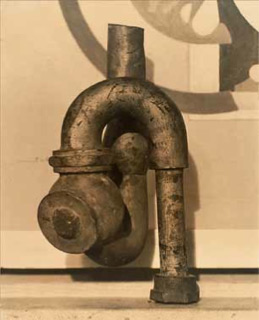 Elza fon Freitāga-Loringhofena. Dievs. 1917
Pārlasot kopīgā raksta uzmetumu, mums izvērsās saruna par "strūklaku", kas, iespējams, paskaidro tās lomu 20. gadsimta mākslas vēstures ainā un šī šķietami nenozīmīgā darba, žesta, redīmeida – lai kā to saucam – leģendāro statusu.

– Un tomēr, kas tad pielika punktu "tradicionālajai mākslas paradigmai"? Elzas "strūklaka" – bet viņas autorība arī ir tikai hipotēze, lai gan pārliecinoša un interesanta – vai dišāna redīmeidi, kas taču bija tapuši (gan pats termins, gan atbilstošie artefakti) dažus gadus iepriekš? Vai svarīgāka nav dišāna konsekventā iestāšanās par mākslu, kas domāta prātam, nevis tikai acij, izvairīšanās no jebkādas estētiskās patikas, izvēloties ikdienišķus priekšmetus saviem redīmeidiem, ko, starp citu, viņš atkārto mūža beigās kelvinam Tomkinsam sniegtajās un nesen izdotajās intervijās3?

– Kāpēc gan par šādu atskaites punktu nekļuva Elzas "dievs"? Tu labi zini, ka nozīmīgāka par pašu objektu bija atteikšanās parakstīto pisuāru pieņemt izstādē, kuras organizatori bija paziņojuši par brīvu izstādīšanās iespēju visiem, kas samaksās nelielo sešu dolāru dalības maksu, un tai sekojošā diskusija par mākslas darba statusu, kura aizsākās jau tūlīt pēc tam dadaistu izdevumā the Blind man, kas gan pastāvēja tikai īsu brīdi. Tieši diskusija, nevis artefakts kā tāds radīja pamatu 60. gadu avangarda virzieniem, to skaitā konceptuālismam, kas savukārt, kā raksta tavs iemīļotais autors pīters osborns, ir pamatā laikmetīgās mākslas postkonceptuālajam stāvoklim. Vai osborns savā pēdējā grāmatā4 piemin Elzu freitāgu-loringhofenu?

– Varu pārbaudīt personu rādītājā, bet diezgan droši varu apgalvot arī tāpat, ka grāmatā nav ne vārda par Elzu, taču vairākkārt piesaukts dišāns.piekrītu, ka, zīmējot vēsturiskas atbalsta shēmas mūsu tagadnes situācijai, notiek vienkāršošana: tā ir izdevīga gan teorētiķiem, gan tiem, kuru apziņā no visa sarežģītā vēstures auduma nosēžas tikai atsevišķas frāzes.

– Tādas kā košuta "visa māksla pēc dišāna ir konceptuāla". ja nebūtu Elzas "strūklakas" saceltā skandāla, kas aizsāka diskusiju par mākslas darba statusu, tad 50. un 60. gados dišāna darinātās replikas, piesavinoties šo darbu, kuras ietilpa mīta veidošanas stratēģijā, nepadarītu viņu par konceptuālisma un kā tik vēl ne "tēvu". (Vai tiešām apsēstība ar patriarhālo ģenealoģiju vēl nav sevi izsmēlusi?!)

– Košuts vēl ir dzīvs, viņam var palūgt pārrakstīt dažas "mākslas pēc filozofijas" vietas. bet tas, protams, ir joks – kurš gan ķersies klāt klasiskam, vairāk nekā pirms četrdesmit pieciem gadiem tapušam darbam. Turklāt iespējams, ka šis gadījums, ja būtu skaidri zināms, ka pisuāru iesniegusi baronese Elza, pret kuru, kā raksta amēlija džonsa, ņujorkas literārā un mākslinieciskā maskulīnā vide izturējās ļoti noliedzoši, vispār nebūtu bijis tik nozīmīgs un nebūtu atstājis tādas pēdas mākslas vēsturē. dišāns šajā gadījumā ir palīdzējis baronesei, lai tagad, kad situācija ir vairāk vai mazāk nobriedusi, aizsāktos refleksija par pagātni. šeit nav iespējams viens dekrēts, kas visu sakārto un noliek savās vietās. ieradums – arī ieradums domāt par dišānu kā vienu no būtiskākajām figūrām 20. gadsimta mākslas vēsturē – ir tas, kas vairumā gadījumu nosaka mūsu apziņu.

– Tātad tu saki, ka dišāns palīdzējis baronesei? kāda augstprātība! lai gan... izklausās pēc pazīstama scenārija, kurā atklājas dzimumu nevienlīdzība: lai sieviete gūtu atzinību, tai jāpārģērbjas par vīrieti vai vismaz jāsadarbojas ar viņu, tādējādi piekļūstot varas resursiem, kas citādi viņai nav pieejami. atceries, ka dzejnieces intence, iesniedzot pisuāru mākslas izstādē, radikāli atšķīrās no nodoma, kāds varētu būt bijis dišānam. Tā nav vienkārši māksla, kas domāta prātam... un ko mēs saprotam ar prātu? rietumu filozofijā ar to mēdz apzīmēt abstraktu, universālu lielumu, kas neieinteresēti spēj vērot apkārt notiekošo, vienmēr saglabājot piedienīgu distanci un "objektīvu" spriestspēju, neļaujoties emocijām un ķermeniskām kaislībām. šī iluzorā prāta atsvešinātība ir feministiskās kritikas objekts, un, domāju, arī Elzas "pisuāram" piemīt šis kritiskais potenciāls: viņas darbs ir demonstratīva interese, iesaistīšanās, galu galā – kaislība... iespējams, mums ir atšķirīgi skatījumi uz "tradicionālo mākslas paradigmu," kas šajā brīdī sagrīļojas.

– Iespējams...

– Tevi līdz ar osbornu un citiem teorētiķiem vairāk interesē pāreja no acs pie prāta, toties mani – no prāta pie ķermeņa, kas ietver interesi arī par šī ķermeņa seksualitāti, dzimumu, vēsturisko atmiņu, piesaisti noteiktai kultūrai u. tml. kaut arī barta eseja, kurā viņš formulē ideju par "autora nāvi", iznāk krietni vēlāk – angļu tulkojumā 1967., oriģinālā 1968. gadā –, domāju, to iedvesmoja procesi, kas jau bija sākušies. laikā, kad baltais rietumu vīrietis ir nogājis no skatuves, iespēja nokļūt starmešu gaismā beidzot pavērusies arī pārējiem vēstures aktieriem, pārvarot uzspiesto klusēšanas un citādības zīmogu.


1 sk.: spalding, julian and Thompson Glyn. did marcel duchamp steal Elsa's urinal? the Art Newspaper, issue 262, november 2014. raksts pieejams internetā: www. theartnewspaper.com/articles/Did-marcel-Duchamp-steal-elsas-urinal/36155. nākamajā – decembra numurā publicētas divas vēstules, kas turpina diskusiju par šo tematu. Tā kā latvijā tikai nesen lekcijās un grāmatās sācis parādīties šis stāsts par dišāna pisuāru, atkārtosim tā kopsavilkumu no minētā raksta: "dišāns apgalvoja, ka viņš nopircis pisuāru J. L. mott iron Works veikalā ņujorkā, parakstījis to ar pseidonīmu r. mutt un iesniedzis neatkarīgo mākslinieku savienības izstādei, nosaucot to par "strūklaku". pisuāru noraidīja, neraugoties uz dišāna bagātā drauga Valtera ārensberga iebildumiem, kurš argumentējis, ka savienībai jāgodā pašas pieņemtie noteikumi un jāizstāda jebkas, kas tiek iesniegts. pisuārs ir mākslas darbs, viņš uzstājis, jo mākslinieks to izvēlējies."

2 jones, amelia. irrational modernism: A Neurasthenic History of New york Dada. cambridge (ma); london: The miT press, 2004, p. 157.

3 saunas ar kelvinu Tomkinsu notikušas 1964. gadā. sk.: Tomkins, calvin. marcel Dichamp: the Afternoon interviews. new York: badlands unlimited, 2013, pp. 54–55. izdevniecībā "neputns" tiek gatavots to tulkojums latviešu valodā.

4 sk.: osborne, peter. Anywhere or Not At All: Philosophy of contemporary Art. london; new York: Verso, 2013.
Atgriezties