Šķērss
Kaspars Groševs, mākslinieks
Oktobra beigās "kim?" laikmetīgās mākslas centrs rīkoja kuratora kaspara Vanaga lasījumu un festivāla Homotopia Liverpool direktora un kuratora gerija evereta (Gary everett) prezentāciju, uzsākot sadarbību ar lgbt un viņu draugu apvienību "mozaīka" gaidāmā europride2015 kultūras programmas ietvaros. nacionālās apvienības (na), kuras pārraudzībā ir kultūras ministrija, izplatītais paziņojums, ka na neatbalsta "kim?" pasākumus europride2015, krietni veicināja notikuma publicitāti, un 22. oktobra vakarā "birojnīcas'' telpu piesildīja prāvs skaits interesentu. liene dobrāja pirms pāris gadiem devās uz Ņujorku, lai mācītos Ņujorkas universitātes tiša mākslas skolā, un tur dzīvo joprojām, ražīgi darbojoties kostīmu mākslas jomā, taču palaikam pagūst pazibēt arī rīgas ielās. bet feisbuka sienās es lieni satieku daudz biežāk, nereti uzzinot ko jaunu par tiem, kuri cīnās par savām tiesībām. lai piemestu kādu pagali neseno notikumu uzkurtajai liesmai, svētdienas vakarā tiekos ar lieni skaipā. esmu gadījies Viļņā un dzeru vakara alu, bet liene Ņujorkā dzer rīta kafiju.

Kaspars Groševs: Kā iet?

Liene Dobrāja: Labi. Vai Viļņā foršāk nekā rīgā?

K.G.: Mākslas jomā, šķiet, ir vairāk notikumu. Tas kaut kā vēsturiski salicies.

L.D.: Viņiem arī operā vairāk kas notiek. Vairāk sīku notikumu, kā mums trūkst.

K.G.: Šķiet, arī ballīšu te ir vairāk.

L.D.: Un mēs deviņdesmitajos visu atstājām...

K.G.: Rīgā tagad visi sēž, reklāmisti satiekas un bīda balto apkaklīšu lietas.

L.D.: Mēs kaut kad ar draudzeni runājām par to, ka reklāmistiem liekas – viņi ir labāki par citiem.

K.G.: Nu, bet visiem jau šķiet, ka viņi ir labāki par citiem. Mums varbūt, piemēram, šķiet, ka esam labāki par asenizatoriem.

L.D.: Vai amerikāņiem.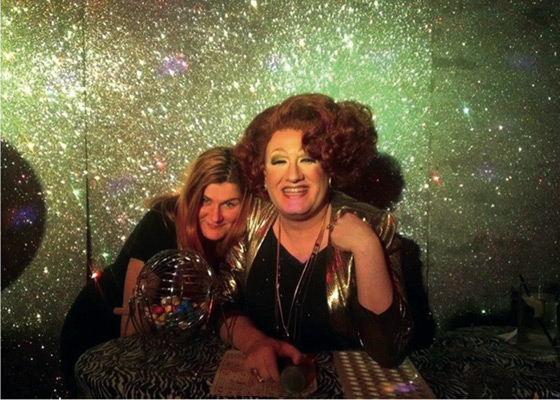 Liene Dobrāja un Vodka Stinger bārā Pieces Ņujorkā
Foto no Lienes Dobrājas personiskā arhīva
K.G.: Jā, vai tev šķiet, ka tu esi labāka par amerikāņiem?

L.D.: Protams, ne! Viņi jau nav vienota masa, viņi ir visādi – ir muļķi, un ir ļoti gudri. Ļoti daudz muļķu.

K.G.: Bet man šķiet, ka zināmā mērā vidējais latvietis ir līdzīgs vidējam amerikānim, es domāju – tipiskam republikānim.

L.D.: Es piekrītu. konservatīvisms, nevēlēšanās pēc pārmaiņām, turēšanās pie sev izdevīgām kristīgajām vērtībām tā, it kā tā būtu bufete. dieva piesaukšana jau arī saistīta ar naudu – uz dolāra zīmes rakstīts "mēs ticam dievam".

K.G.: Bet latvietis pievēršas kristietībai reizi trijos gados. Tad, kad ir praids. Man ir aizdomas, ka nākamgad visi atkal ticēs Dievam.

L.D.: Taču ziemassvētkos latvieši ir naski arī uz pagānismu.

K.G.: To tagad sauc par latvisko dzīvesziņu... Bet mūsu sarunas atsauces punkts, šķiet, būtu jāmeklē nesenajā lekcijā, kurā Kaspars Vanags visai brīvā formā mēģināja pieskarties jautājumiem par identitāti, tostarp seksuālo. Galu galā NA izplatītais paziņojums raisīja daudz lielāku publicitāti nekā citi "kim?" rīkotie pasākumi, kas, jāsaka, mēdz būt arī krietni interesantāki. Tādēļ nolēmām, ka šo tēmu tomēr nedrīkst novērtēt par zemu. Kā tev tas viss izskatās no zināma ģeogrāfiska attāluma?

L.D.: Es pietiekami bieži braucu atpakaļ, lai būtu lielā mērā saistīta ar latviju. manuprāt, tas ir skumji. nesaprotu, kādēļ latvijā viss notiek atpakaļgaitā. jo igaunijā, ko visiem riebjas piesaukt kā pozitīvo piemēru, viss ir krietni pavirzījies uz priekšu. es atbraucu uz Ņujorku, jo gribēju iegūt labu izglītību, bet vēl viens iemesls, kādēļ man vienmēr bijis grūti latvijā dzīvot, ir neiecietība pret citādiem cilvēkiem. man ar to ir ļoti grūti sadzīvot. man šķiet, ka tās ir elementāras lietas – tās pašas kristīgās vērtības. jēzus mācību visi zina: mīliet citus kā sevi pašu.

K.G.: Bet Bībelē arī teikts, ka nedrīkst ēst garneles.

L.D.: Nu, tā jau ir Vecā derība. taču latvijā nekāda dialoga nav bijis kopš padomju savienības sabrukšanas.

K.G.: Tomēr iedomājies, ka vēl pirms 25 gadiem tevi teorētiski varēja ielikt cietumā. Protams, arī Igaunijā, šķiet, bija tāpat.

L.D.: Es saprotu. homoseksuālās attiecības legalizēja tikai 1992. gadā.

K.G.: Varu iedomāties, piemēram, savu onkuli, kurš dzīvo Zvejniekciemā un kuru visdrīzāk izbrīnītu pirmais melnādainais Zvejniekciema iedzīvotājs. Līdzīgi ir ar homoseksuālismu – viņš nespēj tam uzlikt cilvēcīgu seju, nepazīstot nevienu homoseksuālu cilvēku personīgi. Tāpēc vieglāk ir iedomāties nezin ko. Tas ienāca prātā, pāršķirstot Ritas Rudušas grāmatu "Pagrīdes citādība. Homoseksuāļi Padomju Latvijā", kurā diezgan vienkāršā literārā valodā ir dažādi stāsti no padomijas un kura piešķir šo cilvēcisko sasaisti ar reāliem piemēriem.

L.D.: Nu jā, bet tas ir vienkāršas empātijas spējas trūkums. tu nespēj iejusties cita cilvēka ādā. tas attiecināms arī daudz plašāk. tu nevari iejusties ukraiņa ādā, un tu nevari iejusties kāda, kam iet sliktāk, ādā.

K.G.: Tajā pašā Kaspara Vanaga lekcijā man šķita interesants viens no piemēriem, ar ko lekcija sākās, – Zentas Ērgles grāmata "Uno un trīs musketieri".

L.D.: Tā man bija ļoti mīļa grāmata!

K.G.: Man arī tīri labi patika, galvenokārt Edgara Ozoliņa ilustrāciju dēļ. Grāmata stāsta par zēnu grupu, kam pievienojas mistiskais pašpuika Uno, kurš grāmatas beigās izrādās meitene. Vienlaikus Vanags bija ticis pie skicēm no Ozoliņa slavenās seksa pozu kolekcijas, kurā dažas pozas gala versijā netika iekļautas, jo redaktoram nelikās pārāk reālistiskas. Lai vai kā, man šķita, ka grāmatas "Uno un trīs musketieri" tēma – meitene, kas izliekas par zēnu, – daudz neatšķiras no "skandalozā" izdevuma "Diena, kad Kārlis bija Karlīna". Tajā pašā laikā tā tomēr ir padomju laiku bērnu literatūras klasika.

L.D.: cilvēki kā kopums paliek svētulīgāki, seksuāli noslēgtāki. cilvēki cits citam vairs neuzticas. agrāk tu varēji kaimiņu bērnus aizvest uz bērnudārzu, bet tagad uz tevi skatītos šķībi. taču mums jau ir līdzīgi: paskaties uz jarānu un porgantu – skaidrīti un mildiņu.

K.G.: Arī Krievijas popmūzikas pārstāvji bieži šķiet atrodamies starp diviem dzimumiem. Vai arī tā tev nešķiet savveida dzimuma identitātes nojaukšana?

L.D.: Domāju, ka krievijas attiecības ar dzimuma identitāti ir ļoti skaidras, to parāda arī bēdīgi slavenais bērnu aizsardzības un lgbt propagandas likums. tas, ka jau kādu laiku nav skaidrs, kuram dzimumam pieder Ļeontjevs un moisejevs, visticamāk ir plastisko operāciju un ļoti apspiestas seksualitātes rezultāts. Cross dressing (kā vīrietis sieviešu drēbēs) var būt bīstams, ja tas tiek darīts dēļ izklaides. tas nojauc robežas, kur tu sāc cilvēkus uztvert frivoli. es domāju, ka krievija ir labs piemērs tam, kā tiek veidoti stereotipi – kaut vai, ja paskatās Comedy Club: vīrieši, pārģērbušies kā sievietes, tēlo vājus, stulbus, kašķīgus elementus, ko varētu apzīmēt ar nicīgo vārdu "bābisks". bet "uno un trīs musketieros" tu nevelc pretējā dzimuma drēbes dēļ izklaides. uno grib dabūt kaut ko.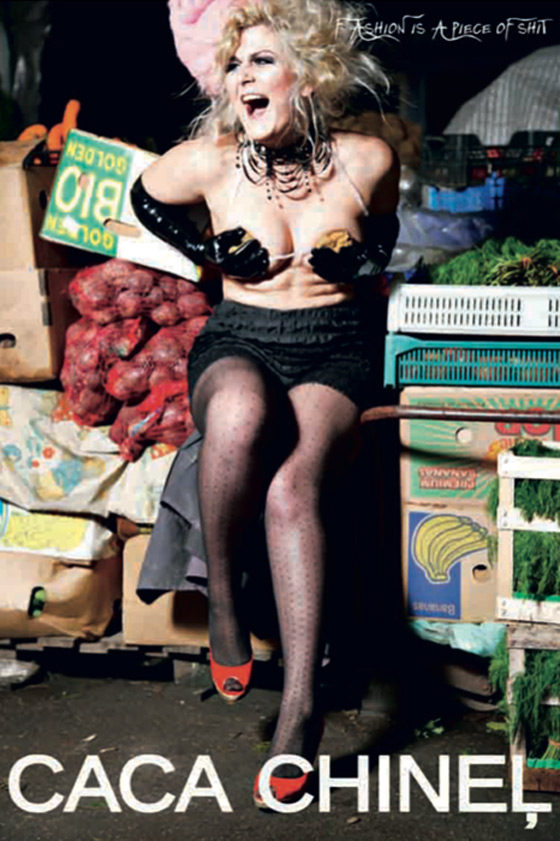 Liene Dobrāja. Caca Chinel digitāldruka. 2009
Foto no publicitātes materiāliem
Pateicība māksliniecei
K.G.: Bet, protams, tas akceptējams arī tādēļ, ka meitene grib būt zēns. Visi grib būt zēni, neviens negrib būt meitene. Stāsts par meiteni, kas grib kļūt par vīrieti, ir diezgan klasisks popkultūrā. Vēl viena padomju laiku klasika taču ir filma "Džezā tikai meitenes" jeb transvestītu ienākšana kino.

L.D.: Bet tas būtībā ir vilks, kas pārģērbjas par aitu, lai dabūtu to, ko grib. tas, ka tā ir daļa no izklaides, varbūt ir labs veids, kā cilvēkus pieradināt pie dzimumu robežu nojaukšanas, taču tas nav pietiekami.

K.G.: Šķiet, lekcijā pazibēja mēģinājums latviskot queer, aizstājot to ar vārdu "šķērss". Kā tu saproti queer jēdzienu?

L.D.: Queer apzīmē seksuālās un dzimuma minoritātes, kas neiekļaujās binārajā dzimumu dalījumā. šķērss nav slikts apzīmējums, ņemot vērā, ka binārais dzimumu dalījums ir ļoti stīvs un "taisns" – no punkta a uz b, un queer kā tāds varens spēks šķērsām iet pāri šim nemodernajam un realitātei neatbilstošajam dalījumam. man patīk!

K.G.: Jāatceras, ka minētā lekcija notika kā zināms ievada pasākums izstādei nākamgad, kuras viens no varoņiem būs Finlandes Toms.

L.D.: Kā vari iedomāties, man ļoti patīk viņa darbi. bet es, protams, nebrīnīšos, ja uz izstādi nāks nikni pūļi.

K.G.: Protams, sabiedrības reakcija varētu būt iepriekš paredzama. Tomēr – kas man šķiet interesanti un ko Kaspars Vanags arī minēja – vienu pašu Finlandes Tomu rādīt ir bīstami. Vēsturiskais konteksts var viegli pazust; šie zīmēti tēli kaut kādā ziņā ir kļuvuši par stereotipiem, tādēļ to vajadzētu parādīt plašākā mērogā par seksualitāti un dzimuma identitāti. Sasaistīt to ar queer kontekstu.

L.D.: Ņujorkā dzīvojot, kur bijusi Stonewall riots – geju atbrīvošanās kustība, manuprāt, tas būtu jāskatās vēsturiskā kontekstā, ņemot vērā AIDS epidēmiju un to, ka homoseksuālisms reiz tika uzskatīts par mēri. tie nav tikai erotiski zīmējumi, viņa daiļrades sākotnējie cienītāji vismaz to tā neuztvēra. pats finlandes toms nebija kaut kāds geju tiesību cīnītājs, bet tajā pašā laikā viņa darbi ir kļuvuši par nozīmīgu ikonu.

K.G.: Es domāju, Finlandes Toms cilvēkam, kas nezina kontekstu, var būt kā tracinošs stereotips. Tajā pašā laikā ir viegli piemirst, ka pirms viņa zīmētajiem pārspīlēti maskulīnajiem vīriešiem geja tēls popkultūrā bija drīzāk tāds sievišķīgs sissy. Kā tu vērtē šo stereotipu pārtapšanu? Vai abiem – sievišķīgajam un supermaskulīnajam – nepiemīt zināmi trūkumi?

L.D.: Finlandes toma zīmējumi ar visiem supermaskulīnajiem baikeriem un malkas cirtējiem pēc otrā pasaules kara kļuva tik populāri arī tāpēc, ka tie bija protests ļoti konservatīvajam un konformistiskajam dzīvesstilam ASV, – finlandes toma tēli bija radikāļi, tādi džeimsi dīni; pirms viņa pāris gadus agrāk šo tendenci uzsāka gleznotājs etienne, kurš nomira no AIDS 90. gadu sākumā. tas, ka pirms šiem māksliniekiem homoseksuāls vīrietis (starp citu, vai esi ievērojis, ka šī saruna ir pārsvarā par vīriešiem un viņu dzimuma pašnoteikšanās problēmām? hmm...) tika attēlots kā sissy, kā antimaskulīns, kā tēls, kam piemīt visas "sievišķīgās" un tāpēc nicīgās iezīmes, bija daudz bīstamāk, jo kultivēja ne tikai homofobiju, bet arī seksismu. man vispār šķiet, ka lietot tādus jēdzienus kā "sievišķīgs" un "vīrišķīgs" attiecībā uz rakstura iezīmēm, izskatu vai ko citu, kas nav ģenētisks, ir dumji un veicina stereotipus.

K.G.: Zīmīgs ir Terres Temlicas (Terre Thaemlitz) piemērs. Viņa ir transseksuāla amerikāņu mūziķe, kas dzīvo Japānā un aktīvi raksta par identitātes problēmām. Nesen lasīju kādu viņas vēstuli par izvairīšanos no sevis definēšanas – vai viņa ir transpersona vai gejs, vai lesbiete, vai heteroseksuālis. Viņai patīk noteikts cilvēcisku īpašību kopums, kam nav saistības ar orientācijas stereotipiem.

L.D.: Es pilnīgi piekrītu. man šķiet, tas ir tas, uz ko sabiedrībai būtu jāiet. džūdita batlere (Judith Butler), fantastiskā feministe un queer teorijas pamatlicēja, saka, ka seksualitāte ir drīzāk sociāla konstrukcija, un es tam absolūti piekrītu. tas, cik lielā mērā mēs šīm konstrukcijām pakļaujamies, ir katra paša ziņā. seksualitāte ir fluīda, tāpēc es pilnīgi saprotu temlicu. un sevis pozicionēšana par queer vai straight – tas varbūt ir nepieciešams mums pašiem: šie nosaukumi, ko mēs savai seksualitātei piedēvējam – queer, gay, bi, cis, trans utt. – atvieglo komunikāciju ar apkārtējo pasauli.

K.G.: Bet vai gadījumā tu savā profesijā zināmā mērā nepiedalies šo sociālo konstrukciju būvēšanā?

L.D.: Mans darbs tomēr ir atkarīgs no literatūras. es, protams, nemēģinu kultivēt stereotipus. bet, ja režisors grib kaut ko konkrētu, piemēram, finlandes toma matrozi, un ja es redzu, ka tā lugas kontekstā ir ņirgāšanās, man tas nebūtu pieņemami, es mēģinātu ar režisoru runāt, vai mēs varam to darīt citādāk.

K.G.: Vai tev tā ir gadījies?

L.D.: Drīzāk Latvijā, pirms es aizbraucu, bet ne amerikā. Ņujorkā par visu var izrunāties. ir arī pašsaprotamas lietas – tas, ka tu neizmantosi indiāņu atribūtiku.

K.G.: Man šķiet, nesen visi valkāja indiāņu galvasrotas.

L.D.: Es nezinu, dzīvojot šeit, to uztveru jūtīgāk. es saprotu, ka vēlos visu par daudz un daudz ātrāk. bet šeit man nav nācies saskarties ar cilvēkiem savā darbā, kuri kultivētu dzimuma stereotipus. tas, ka tie eksistē gan uz skatuves, gan kino pasaulē, ir fakts, taču man pagaidām ir ļoti veicies – nācies strādāt ar brīnišķīgiem režisoriem, kas sakritības dēļ lielākoties ir sievietes. bet gan jau kādu dienu nāks kāds negatīvs piemērs, esmu tikai karjeras sākumposmā.

K.G.: Kā tērpu dizainere tu pagūsti darboties gan operā, gan izklaides industrijā. Kā tu pozicionē savu attieksmi pret "augsto" un "zemo"? Ņemot vērā, ka izklaides industrija tomēr aizvien jaudīgāk piedalās "identitātes fantāziju uzburšanas" procesā.

L.D.: Nepiekrītu, ka izklaides industrija arvien jaudīgāk piedalās šajā procesā. es domāju – tieši pretēji. noteikti esi pamanījis, ka arvien vairāk ir filmas, izrādes, seriāli, kas šo ļoti daudzšķautņaino seksualitātes fenomenu apskata no visām pusēm. tikko iznācis seriāls transparent, kur galvenajā lomā ir ģimenes tēvs, kurš sava mūža "labākajos" gados nolēmis veikt dzimuma maiņas operāciju; seriālu producē gigants Amazon. seriālā Orange is the New Black konkrēti parādīts, cik dažādas mēdz būt lesbisku sieviešu seksualitātes. tas pats notiek arī uz skatuves. es nedomāju, ka ir tāda augstā un zemā izklaide. opera tas pats reivs vien ir, tikai ar labākām kurpēm.

K.G.: Runājot par tavu darbu Caca Chinel – vai tev nešķiet, ka tas bija queer darbs?

L.D.: Es taisīju to kā sociālu komentāru par to, kā jūtos pasaulē, kur modei piešķirta liela nozīme un kur dominē ļoti kaulaini ķermeņi.

K.G.: Tomēr kaut kāda deva camp jau tur bija.

L.D.: To esmu dzirdējusi diezgan daudz. tas notika drīzāk neapzināti. man vienmēr ļoti patikuši spīguļi, arī šobrīd tas pilnīgi neapzināti iezogas manos darbos. bet darbs drīzāk ir par to, kā es jūtos pasaulē, kurā netieku uzskatīta par skaistu.

K.G.: Es, piemēram, esmu liels RuPaul's Drag Race TV šova cienītājs, bet esmu sastapis cilvēkus, tieši homoseksuāļus, kam šis šovs ne pārāk patīk, jo tas nostiprina konkrētu stereotipu kopumu par transvestītu. Man šķiet interesanta šī stereotipu pakāpeniskā augšana un veidošanās.

L.D.: Es zinu, ka drag komūna ļoti dalās. piemēram, daļai transvestītu nepatīk vārds tranny, bet daļa to lieto ar lepnumu. es domāju – jo vairāk šie atzari tiks apskatīti, jo vairāk tie sazarosies. man šķiet, ka tās ir ļoti veselīgas diskusijas.

K.G.: Starp citu, esmu izdomājis, kā latviskot tranny – traņķis. Tomēr RuPaul ir kļuvis par daļu no popkultūras. Par šī šova ballītēm mēdz rakstīt pat Latvijas klaču mediji. Arī nesenais piemērs ar Končitas Vurstas (Conchita Wurst) uzvaru "Eirovīzijā".

L.D.: Noteikti. un tādā ziņā tas ir apsveicami, ka viņi ir iekļuvuši masu rotācijā un ir redzami. taču stereotipi ir labs sākums, lai sabiedrību pieradinātu, parādot, ka šādi cilvēki ir, viņi ir normāli un viņiem ir tādas pašas tiesības kā pārējiem.

K.G.: Nu te atkal ir runa par cilvēcīgumu.

L.D.: Protams, neraugoties uz ārprātīgo grimu un parūkām, un mākslīgajām krūtīm.

K.G.: Bet šis šovs ir neprātīgi izklaidējošs salīdzinājumā ar citiem ASV šoviem. RuPaul šovā allaž var dzirdēt dažādus dzīvesstāstus – šova pirmajos gados tie lielākoties bija skumji stāsti par ģimenes problēmām, homofobiju u. tml. Savukārt pēdējos gados ienāk jaunā paaudze, kuru tas, šķiet, vairs neskar. Te arī šovs piedāvā šo personisko kontaktu ar homoseksuāļiem, kas katrs ir citādāks.

L.D.: Tur ir daudz vairāk personību.

K.G.: Ko tu, piemēram, darītu, ja dzīvotu Krievijā?

L.D.: Nezinu, brauktu prom. es cīnītos no ārpuses. droši vien tā ir gļēvulība, bet es brauktu prom un cīnītos no ārpuses.

K.G.: Bet vai tev šķiet, ka Latvijas gadījumā, ja visi aizbrauc prom, kaut kas mainās uz labo pusi?

L.D.: Es piekrītu, nemēģinu sevi attaisnot. neattaisnoju arī tos, kas aizbrauc meklēt labāku dzīvi.

K.G.: Piemēram, Māris Sants sakravāja apakšbikses filmā homo@lv un aizbrauca.

L.D.: Iedomājies, kāda viņam bija dzīve te. man bija citādāka situācija, man nebija nekādu problēmu. es aizbraucu daudz savtīgāku iemeslu dēļ. es viņus cilvēciski pilnīgi saprotu.

K.G.: Bet man šķiet, ka jaunieši ir kļuvuši daudz atvērtāki, – es to novēroju skolā, kur pasniedzu.

L.D.: Es, piemēram, palasīju "sviesta cibu" pēc rinkēviča paziņojuma. ak dievs, tur apgrozās sakarīgi, izglītoti cilvēki, mūsu vienaudži. bet pavērās īsta pandoras lādīte – tāda čerņa nāca laukā. tas pats arī feisbukā – "delfu" komentētāji vairs nav anonīmi. tā pat nav homofobija, bet tāds mērens naids: "man nav nekādu iebildumu, bet nelieniet manā guļamistabā." es domāju, ka tas ir visaplamāk – "negribu dzirdēt, negribu redzēt" attieksme.

K.G.: "Es neesmu homofobs, bet..."

L.D.: Jā, "es neesmu rasists, bet..." – pēc tam parasti seko kaut kas stulbs.

K.G.: Es neesmu drošs, vai sociālo tīklu diskusijas ir īstas.

L.D.: Bet tur tāpat otrā pusē sēž cilvēki, kas raksta visu to. arī tie anonīmie komentētāji. un varbūt mēs nekad viņus nesatiksim.

K.G.: Visdrīzāk mēs viņus satiksim. Iespējams, Gaismas pilī. Jo tur ir bezmaksas internets.
Atgriezties