Frīka metamorfozes Ingmāra Usas darbos
Laine Kristberga, ekrānmediju un mākslas zinātniece
Par mākslinieku un ilggadējo Jaņa Rozentāla Rīgas Mākslas vidusskolas pasniedzēju Ingmāru Usas rakstīts nav daudz, un lielākoties viņa darbos sastopamā tēlu valoda recenzijās tiek raksturota ar apzīmējumu "groteska". Cilvēka ķermenis šķiet deformēts un pat kroplīgs un ķēmīgs; tā dzimte un seksualitāte bieži ir nenosakāma; bērni atgādina kādreiz fotosalonos uzņemtās bildes, kur tie izbijušies raugās objektīvā; pieauguši, ar apmatojumu un tetovējumiem klāti vīrieši spēlējas ar bonbongām vai rokās tur spēļu ponijus; pankiem līdzīgi klauni un klasiskā skaistuma un harmonijas principiem neatbilstošas pusapģērbtas sievietes tikpat labi iederētos arī kāda šausmu trillera epizodēs. Bet vai tiešām neglītais ir tik neglīts, monstrozs un nepievilcīgs, ka to var tikai un vienīgi pielīdzināt mākslinieciskā pārdzīvojuma formām, kam raksturīgas bailes, nemiers un nežēlība? Kā atzīst Umberto Eko pārskatā par neglītuma vēsturi, mākslas darbi, kas darināti kiča, trash un jo īpaši camp estētikā, "radās kā pazīšanās zīme intelektuālajai elitei, kura jutās tik pārliecināta par savu izsmalcināto gaumi, ka varēja atļauties atbrīvot no nosodījuma to, kas iepriekš bija uzskatīts par sliktas gaumes paraugu"(1). Es gan šoreiz atturēšos spriest par tik ambivalentu jēdzienu kā "gaume", taču piedāvāšu ieskatīties pamatstraumes estētikā bieži nesastopamās niansēs, analizējot Usas darbus caur frīka koncepcijas prizmu.

Amerikāņu literatūrzinātnieks Leslijs Fīdlers (Leslie Fiedler) savā 1978. gadā izdotajā grāmatā Freaks: Myths and Images of the Secret Self ("Frīki: apslēptās patības mīti un tēli") sniedz frīka definīciju, norādot, ka "frīks pārkāpj konvencionālās robežas starp vīriešu un sieviešu dzimti, dzimumu un bezdzimumu, dzīvnieku un cilvēku, lielu un mazu, sevi un citu un pastāvīgi robežas starp realitāti un ilūziju, pieredzi un fantāziju, faktu un mītu"(2). Jaunākajos pētījumos dažādi autori, piemēram, Mārgrita Šildrika (Margrit Shildrick), Rozmarija Gārlenda Tomsone (Rosemarie Garland Thomson) un Reičela Adamsa (Rachel Adams), balstoties uz Fīdlera argumentu, secina, ka frīka koncepcija ir plūstoša un pastāvīgi attīstās kultūras normu ietekmē.(3) Šī definīcija rezonē arī ar dzimtes pētnieces Džūditas Batleres (Judith Butler) performativitātes teoriju, kurā tiek izvirzīta tēze par dzimtes mainīgumu, proti, ka neeksistē stingri binārs, bioloģiski noteikts dzimtes dalījums vīrišķajā un sievišķajā, bet drīzāk dzimte ir performance – tas, kā cilvēki uzvedas dažādās situācijās.(4) Nepastāv arī frīka ķermeņa stingri noteiktas pazīmes, jo gluži vienkārši nav iespējams raksturot ķermeni, kas eksistētu pirms diskursa, kas to rada.(5)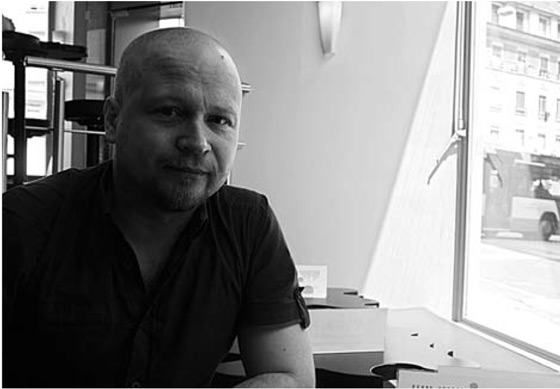 Ingmārs Usas. 2013
Foto no Ingmāra Usas personiskā arhīva
Diskurss vai institūcija, ko varētu uzskatīt par atbildīgu frīka radīšanā, ir frīkšovs (freak show). Kā raksta Fīdlers, vēsturiski frīki vienmēr ir bijuši publiskai apskatei un izklaidei izstādīti objekti un bija bieži sastopami Eiropas tirgus laukumos un gadatirgos līdz pat 18. gadsimta beigām, kad tolaik par monstriem dēvētie cilvēki jeb cilvēki ar iedzimtiem, anatomiskiem defektiem tika nogādāti uz tādām jaundibinātām iestādēm kā anatomijas klīnikas, kur tos varēja pētīt pašos pirmsākumos esošās eksperimentālās biomedicīnas ietvarā. Tādējādi arī tika radīti pamati teratoloģijas zinātnei, kuras mērķis bija studēt cilvēka un dzīvnieku embrija attīstības anomāli- jas, lai evolūcijas teorijas gaismā izprastu monstrozu būtņu ģenēzi.(6) Pēc etimoloģiskās izcelsmes teras grieķu valodā nozīmē "monstrs" vai "brīnums", kas norāda uz paša termina neviennozīmīgumu: tas vienlaicīgi ir kas atbaidošs un brīnišķīgs, novirze no normas un apbrīnas objekts.

Filosofe Rosī Braidoti (Rosi Braidotti) ir sīki pētījusi monstrozā diskursu, tostarp arī feministisko teoriju kontekstā, un pauž viedokli, ka šis diskurss aktualizē jautājumu par atšķirīgo un citādo.(7) Sekojot Žaka Deridā un citu mūsdienu franču filosofu racionālajam domas pavedienam, var apgalvot, ka Rietumu ideju pasaulē pastāv bināro opozīciju loģika, kas aplūko atšķirību kā akceptētās normas pretstatu.(8) Šajā duālistiskajā sistēmā monstrozais tiek uztverts kā negatīvais pols, un no tā arī neizbēgami izriet fakts, ka citādība var tikt attēlota tikai kā kaut kas anormāls, patoloģisks un negatīvs. Tādējādi rodas jautājums – vai mēs varam atbrīvot atšķirīgo no šīm normatīvajām konotācijām, un vai mēs varam iemācīties domāt citādi par citādo?(9)

Braidoti hipotētiski izdala trīs periodus monstrozā diskursā: grieķu un romiešu periods (klasiskā mitoloģija), 16.–17. gadsimts (punduri un galma āksti) un 19. gs. vidus – mūsdienas (zinātniskā diskursa attīstība). Salīdzinot šos trīs laikposmus, Braidoti secina, ka mūsdienās brīnumainā un fantastiskā monstra dimensija ir zudusi jauno tehnoloģiju un medicīnas zinātnes attīstības ietekmē.(10) Ķermeņa perfekcijas un anomāliju novēršanas medicīniskie sasniegumi iezīmē fascinējuma zudumu par dzīvu organismu, tā noslēpumiem un funkcijām. Braidoti jautā, kur pazudusi agrāko laiku kaislība uz brīnumu un kas notika ar citādā apbrīnu, kad monstrozie ķermeņi tika ieslodzīti moderno alķīmiķu laboratorijās.(11)

Savukārt Fīdlers saskata ciešu saistību starp monstru zinātnis- košanu 20. gadsimtā, to ģeneratīvo noslēpumu medicīnas pētījumiem un monstra kā frīka, tas ir, apskatei izstādīta objekta, padarīšanu par preci. Mūsdienu kultūrā novirzes no normas tiek raksturotas kā frīkainas (freaky), un jau kopš 60. gadiem visa jauniešu subkultūra ir attīstījusies ap frīkiem, īpaši uzsverot ģenētisku mutāciju kā non- konformisma pazīmi un revolucionāru veidu, kā sacelties pret sociālajām normām. Tādos popkultūras žanros kā zinātniskā fantastika, šausmu romāni un filmas, pagrīdes komiksi un cyberpunk centrālo lomu spēlē mutanti. Salīdzinājumā ar agrāko laiku grotesku mūsdienu tēlu valodā frīki ir androīdi, kiborgi, bioniskās sievietes un vīrieši. Arī visa rokenrola scēna ir viens vienīgs groteskas teātris, kurā figurē frīki un androgīnas būtnes, kā arī neglītuma, ārprāta un nežēlības estētika.(12)

Šajā kontekstā varētu apgalvot, ka Ingmāra Usas darbi – tāpat kā reiz monstrozais – vienlaicīgi gan fascinē, gan atbaida, un vidējā skatītāja neizpratne par neglītā un šausmu estētikas piemērošanu mūsdienās (nevis, piemēram, 20. gadsimta sākumā) pat liekas sapro- tama. Tomēr pats Usas uzsver, ka viņa nolūks nekad nav bijis šokēt skatītāju vai radīt par sevi provokatīva mākslinieka vīziju. Ja arī darbos redzamie cilvēki vai cilvēciskās būtnes šķiet groteskas vai pat kroplīgas saskaņā ar vispārpieņemtajām normām, tas nenozīmē, ka mākslinieks ir centies attēlot neglīto, balstoties uz neglītiem prototipiem. Arī 20. gadsimta sākumā, vērojot Pikaso gleznotu sievie- tes seju, vidējais mietpilsoniskais skatītājs uzskatīja to par neglītu īstenības attēlojumu, nevis neglītas sievietes portretu. Tātad mūsdienu skatītājam vajadzētu būt vismaz tiktāl izglītotam, lai spētu atšķirt neglītuma kā tāda izpausmes (pretīguma sajūtas izraisošas parādības un lietas, piemēram, vaļējas brūces, ekskrementi, pūs- toša maita), formālā neglītuma izpausmes (līdzsvara trūkums organiskajās attiecībās starp veselumu un tā daļām) un māksliniecisko neglītumu (abu iepriekšējo neglītuma formu māksliniecisks atveidojums).(13)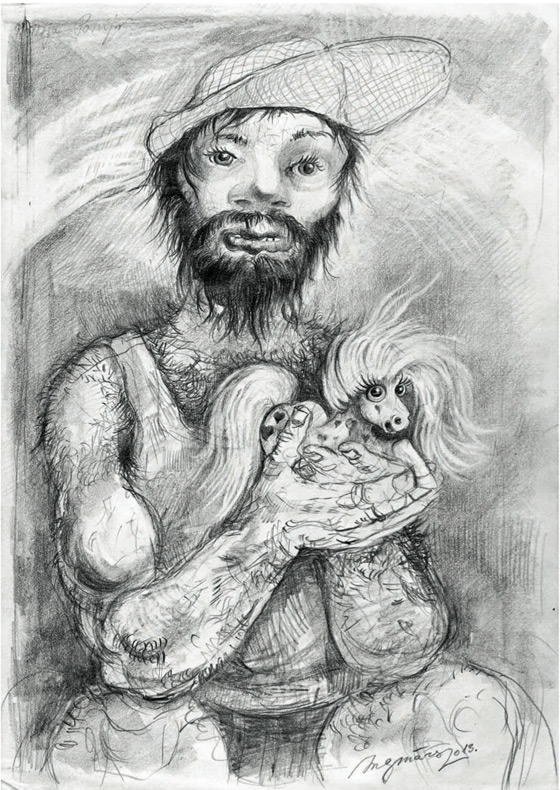 Ingmārs Usas. Ronija ponijs. Papīrs, zīmulis. 30x21 cm. 2013
Foto no publicitātes materiāliem
Pateicība māksliniekam
Ja uz Usas darbos sastopamajiem tēliem attiecina frīka jēdzienu, kas konceptuāli ir daudz maigāks apzīmējums nekā "monstrs", var secināt, ka tie balansē uz kiča un camp robežas, tomēr nekad nekļūst līdz smieklīgumam kariķēti. Camp ir jēdziens, kas radās 20. gadsimta sākumā, taču 60. gados tika kontekstualizēts kā uztveres un estētikas veids, sākotnēji postulējot to kā antiakadēmisku, popkultūru un zemo mākslu aizstāvošu gaumi.(14) Sūzena Sontāga esejā Notes on Camp ("Piezīmes par camp", 1964) nošķir camp galvenos elementus, tostarp samākslotību, frivolitāti, naivu vidusšķiras pretenciozumu un "šokējošu" pārspīlējumu. Camp estētika ir piemērota tādās trash filmās kā Pink Flamingos (1972, rež. Džons Voterss) un Hairspray (1988, rež. Džons Voterss). Pie slavenībām, kas parasti tiek asociētas ar camp, var pieskaitīt drag izpildītāju Divainu (Divine), aktrisi Marlēnu Dītrihu, dziedātāju Lēdiju Gāgu un citus. Tā kā camp attīstās līdz ar popkultūru, tas ir pastāvīgā mainībā un nekad nav stingri noteikts. Jāpiebilst, ka mākslas analīzē camp noteikti nedarbojas kā kategoriskais imperatīvs, tas drīzāk vērtējams kā palīginstruments un Sontāgas vārdiem definējams kā "citāds – papildinošs – mākslas (un dzīves) vērtēšanas kritēriju komplekts"(15).

Kā norāda Sontāga, camp objektam noteikti piemīt kaut kas pārspīlēts un margināls, kā arī zināma deva vulgaritātes pat tad, kad tas tiecas pēc izsmalcinātības. Camp ir mīlestība uz ekscentrisko, uz visu kas-nav-tas-kas-ir, un labākais piemērs ir jūgendstils, kura objekti gaismas ķermeņus pārvērš par ziedošiem augiem.(16) "Camp ir hermafrodītiska stila triumfs (cits citā var pārtapt "vīrietis" un "sieviete", "cilvēks" un "priekšmets")."(17) Šajā aspektā noteikti var skatīt dažus no Usas darbos redzamajiem tēliem: hermafrodītus un transvestītus darbos Rosa ("Roza") no sērijas Join the Club(18) ("Pievienojies klubam", 2007), Sweet Life 1 ("Saldā dzīve 1", 2007) un Sweet Life 2 ("Saldā dzīve 2", 2007), kā arī cilvēku – amfībiju zinātniskās fantastikas sērijā "Ihtiandrs" (2010–2012). Kā hermafrodīts vismaz ārēji izskatās arī tēls darbā The Jellyfish Trainer ("Medūzu dresētājs", 2005), tomēr Usas norāda, ka šajā gadījumā tāda nav bijusi iecere. Jau minēto dzimtes performances aspektu, ko Batlere ir analizējusi ar drag show palīdzību, var saskatīt drag atribūtikā un neviennozīmīgajā dzimtes identifikācijā darbā The Little Liar ("Mazais melītis", 2013).

Par zīda zeķēm groteskāki atbribūti, iespējams, šķiet asie pīķi, kas rotā atsevišķu tēlu ķermeņus, piemēram, darbos Sebastian ("Sebastians")(19), Thinker ("Domātājs") no sērijas Join the Club, Let's Speak About God ("Parunāsim par Dievu", 2011) un Scars 08 ("Rētas 08", 2003). Kā atzīst Usas, šajos darbos gan tiešā, gan metaforiskā nozīmē viņš apcerējis rētu tēmu. Saskaņā ar mākslinieka teikto rētas gan piesaista, gan atgrūž. Tās tiek uzskatītas par svētām ciešanām, kas īpaši novērojams baznīcas sakrālās doktrīnas glezniecībā, un tās var šķist neglītas un atbaidošas. Tajā pašā laikā rētas var tikt padarītas par fetiša objektiem un modes tendenci. Pievēršanās šai tēmai rezonē ar iepriekš apskatīto frīka koncepciju un monstrozā diskursu. Kā pretpols normalitātei un normativitātei frīks un monstrs gan fascinē, gan izraisa šausmas, tomēr reizē aktualizē jautājumu par citādo un atšķirīgo, tādējādi šie koncepti var kalpot arī kā politiski instrumenti, apšaubot un pat apgāžot iedibināto un normatīvo kārtību. Protams, pārnestā nozīmē rētas simbolizē cilvēka iekšējos pārdzīvojumus un pārciestās emocionālās traumas, bet tas jau īpaši nebūtu jāskaidro.

Rezultātā nav grūti secināt, ka frīka koncepcija pati par sevi ir skatāma ārpus pamatstraumes kategorijām. Būtisks šajā aspektā šķiet Braidoti uzdotais jautājums: vai mēs varam iemācīties domāt citādi par citādo? Tomēr, no mūsdienu perspektīvas un jo īpaši no postmodernās pieredzes raugoties, jāuzsver frīks kā popkultūras produkts un prece. Tāpat kā piederēt pie kādas no mūsdienu subkultūras izpausmēm – vienalga, gotiem, pankiem vai hipsteriem –, arī būt frīkam ir stilīgi, un šo stilīgumu var īstenot kā mārketinga stratēģiju. Frīks var atļauties būt pārcukuroti banāls, teatrāls vai groteski atbaidošs. Frīks var mainīt dzimumu un ļauties plastisko operāciju vilinājumam, frīks jebko var pasludināt par modes tendenci, pat mainot etnisko piederību kā Maikla Džeksona gadījumā. Frīks tikpat labi ir tas, kurš šīs pasaules gaismu ieraudzījis mākslīgās apaugļošanas rezultātā laboratoriskos apstākļos. Tas ļauj rezumēt, ka frīka koncepciju var elastīgi piemērot dažādām identitātes konstrukcijām, akceptējot nevis stingri bināru loģiku – normālais un nenormālais, bet gan atšķirīgus eksistences veidus.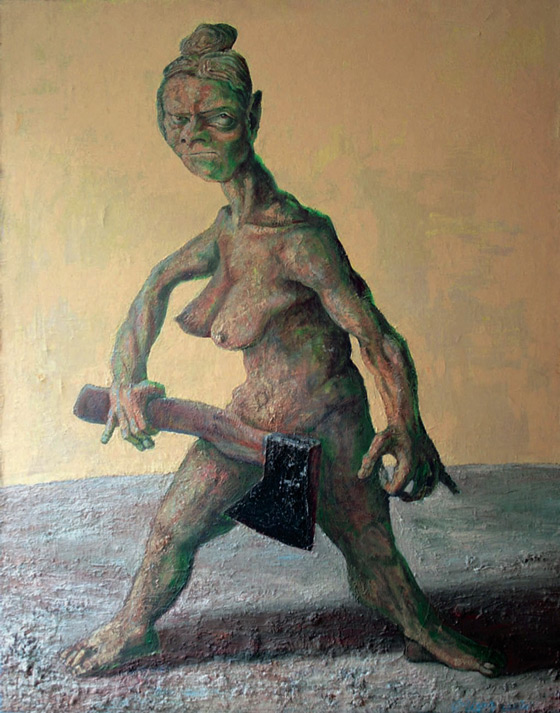 Ingmārs Usas. Judīte. Audekls, eļļa. 155x122 cm. 2001
Foto no publicitātes materiāliem
Pateicība māksliniekam
Usas darbu gadījumā jāuzsver gan neglītuma reprezentācijas vēsturiskais aspekts, gan frīka un monstrozā zinātniskie diskursi, kas radās 20. gadsimtā un tiek sīki pētīti joprojām, – par to liecina daudzās konferences un akadēmiskajos rakstu krājumos iekļautās publikācijas, kas veltītas šai tēmai. Turklāt arī dzimtes un feminisma studiju kontekstā citādā un identitātes jautājumi ir īpaši aktuāli, un tas pasvītro šīs tēmas laikmetīgumu. Usas darbus iespējams arī aplūkot krievu filosofa un literatūrzinātnieka Mihaila Bahtina filozofiskā instrumentārija ietvarā, analizējot grotesko un karnevālisko saskaņā ar Bahtina 1940. gadā uzrakstīto un tikai 1965. gadā publicēto disertāciju par Fransuā Rablē daiļradi. Tomēr, vērtējot Usas māksliniecisko veikumu, nozīmīgs šķiet fakts, ka frīks ne vienmēr ir citādais un marginālais. Tikpat labi tas slēpjas katrā no mums, un, pat ja ne, tas tomēr var būt tepat līdzās – parastajā cilvēkā.(20) Un šis, manuprāt, ir Ingmāra Usas darbu fascinējošais, nevis atbaidošais faktors.


(1) Eko, Umberto. Neglītuma vēsture. Rīga: Jāņa Rozes apgāds, 2008, 408. lpp.
(2) Fiedler, Leslie. Freaks: Myths and Images of the Secret Self. New York: Anchor Books, 1978, p. 24.
(3) Richardson, Niall. Transgressive Bodies: Representations in Film and Popular Culture. Burlington: Ashgate Publishings, 2010, p. 8.
(4) Sk.: Batlere, Džūdita. Dzimtes nemiers. Rīga: Mansards, 2012. Batleres galvenā metafora šajā kontekstā ir drag. Uzvelkot pretējās dzimtes pārstāvju drēbes, drag izpildītāji apgāž idejas par dzimtes normām un vēršas pret kategorijām, kas dzimti ievieto identitāti veidojošos ietvaros. Sākotnējas vai primāras dzimtes identitātes jēdziens tiek parodēts drag identitātes seksuālās stilizācijas praksē. Tādējādi drag performance uzsver šķīrumu starp izpildītāja anatomiju un dzimumu, ko viņš vai viņa atveido. Dzimtes parodijas jēdziens nepieņem, ka pastāv viens oriģināls, ko imitētu šādas parodiskas identitātes.
(5) Richardson, Niall. Transgressive Bodies, p. 8.
(6) Braidotti, Rosi. Mothers, Monsters, and Machines. In: Conboy, Katie. Medina, Nadia. Stanbury, Sarah (eds). Writing on the Body. New York: Columbia Univ. Press, 1997, pp. 71–72.
(7) Turpat, 62. lpp.
(8) Sk.: Derrida, Jacques. L'écriture et la différence. Paris: Seuil, 1967.
(9) Braidotti, Rosi. Mothers, Monsters, and Machines, p. 62.
(10) Turpat, 71. lpp.
(11) Turpat, 73.–74. lpp.
(12) Turpat, 75. lpp.
(13) Sk.: Eko, Umberto. Neglītuma vēsture, 19. lpp.
(14) Camp ieguva sevišķu popularitāti 80. gados, kad tas tika analizēts postmodernisma teoriju ietvarā.
(15) Sontag, Susan. Notes on Camp. www.math.utah.edu/~lars/Sontag:: Notes%20on%20camp.pdf (sk. 13.08.2013.)
(16) Turpat.
(17) Eko, Umberto. Neglītuma vēsture, 412. lpp.
(18) Ingmāra Usas darbu Saint Adrian ("Svētais Adrians", 2007) no sērijas Join the Club kolekcijas papildināšanas nolūkos iegādājās Latvijas Nacionālais mākslas muzejs.
(19) 2005. gadā Ingmāra Usas darbs Sebastian konkursa kārtā tika izraudzīts no vairāk nekā 8000 darbiem un izstādīts starp 100 darbiem finālistiem izstādē "Renesanse", kas bija veltīta traģiskās zemestrīces atceres pasākumiem Kobē, Japānā.
(20) Sk. Ingmāra Usas sēriju The Invincible Jack ("Neuzvaramais Džeks", 2002). Par šiem darbiem 2006. gadā Usas saņēma Onassis fonda prēmiju.
Atgriezties