Realitātes kodumu rētas mākslas miesā
Krista Burāne, māksliniece
Šim rakstam ir trīs sākumi. Hronoloģiskā secībā lasāmi. Pirmais atrodas uz mana un arī jūsu vēdera. Tā ir naba. Pierādījums, zīme, dokuments tam, ka dzīve kož, ka rēta ir tās pirmā dāvana ikvienam, kas nolemj dzīvot. Otrais atrodas plānā zaļā burtnīciņā, kurā mans tēvs 1974. gadā, mēnesi atrodoties Polijā, aprakstīja apmēram seš­ desmit redzētās filmas un teātra izrādes. Tāda kā mākslas darbu hronika veikta ar PSRS cenzūras piemeklēta cilvēka acīm, kurš pēk­ šņi skatījis citu realitāti un nu mēģina to dokumentēt burtu formā­ tā. Trešais ir šajā gadā Latvijas un Somijas laikmetīgās mākslas laukos piedzīvotais: Survival Kit 4 izstādes, Kiasma izstāde Reality Bites, teātra festivāli Homo Alibi Recycled un Baltic Circle, radošās apvienības "Nomadi" izstāde – izrāde "Atmiņu istabas", Katrīnas Neiburgas personālizstāde "Lietu atmiņa", Jāņa Baloža un Valtera Sīļa izrāde "Nacionālais attīstības plāns".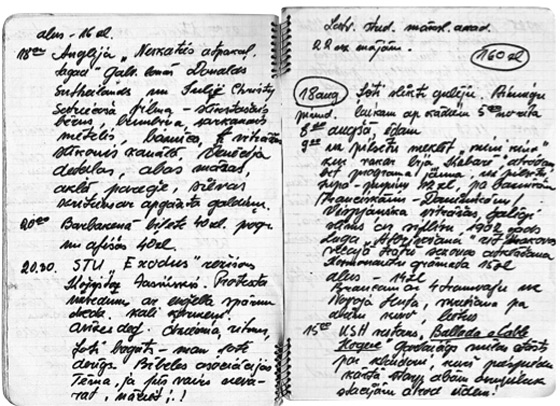 Inta Burāna dienasgrāmata. Fragments. 1974
No Kristas Burānes personiskā arhīva
Tātad šis ir raksts par realitātes kodumu atstātām rētām, kas, labāk vai sliktāk sadzijušas, veido mūsdienu mākslas miesu. Lai ne­ ieviestos kādas sapratnes kļūdas, lūdzu sekot "Raksta lasīšanas instrukcijai".

Raksta lasīšanas instrukcija

1. Aizver acis un iedomājies visus iespējamos dokumentus, ar ko esi sastapies savā dzīvē. Saskaiti tos.

Izdevās? Ja tu atvēri acis pēc minūtes vai divām, domāju, ka tavā sarakstā iekļuva pase, dzimšanas apliecība, laulības vai šķiršanās dokumenti, transporta biļetes, pavadzīmes, izziņa no ģimenes ārsta un citi līdzīgi nieki. Pavisam noteikti tu neesi pieskaitījis visus zvē­ rus, ko nācies nebarot zooloģiskajā dārzā, visus priekšmetus, kam nedrīkst pieskarties muzejos, un visus debesu objektus, ko var ap­ lūkot NASA veiktajos Visuma fotoattēlos. Tomēr kopš 20. gs. vidus, pateicoties informācijas pētniecei Sūzenai Braietai (Suzanne Briet), jēdziena "dokuments"(1) izpratne pārcelta no rakstīta teksta kā pierā­ dījuma un apstiprinājuma uz analīzes kontekstu(2). Tieši viņa pirmā pajautāja un uzreiz arī atbildēja: "Vai zvaigzne ir dokuments? Vai olis, ko veļ straume, ir dokuments? Vai dzīvnieks ir dokuments? Nē, bet zvaigžņu katalogi un fotogrāfijas ir dokumenti, akmeņi minera­ loģijas muzejā un dzīvnieki, kas ir kataloģizēti un tiek rādīti zooloģiskajā dārzā, ir dokumenti."(3)

2. Paņem tīru papīra lapu un zīmuli. Numurējot pēc kār­ tas, uzraksti trīs savus mīļākos konceptuālās mākslas darbus, kam ir kāds sakars ar dokumentiem vai dokumentēšanu. Fo­ tografē vai filmē to, kā tu mēģini atcerēties šos darbus, kā meklē to nosaukumus mākslas vēstures grāmatās vai internetā, kā tev nolūst zīmulis, u. c. svarīgas lietas. Sarakstu paraksti, nofotografē un kopā ar tā tapšanas vizualizāciju ieliec sava mīļākā sociālā tīkla vietnē ar parakstu "Manu mīļāko dokumentu dokuments un tā tapšanas dokumentējums."(4)

Kā izskatās mans saraksts, var redzēt šeit: http://ikdiena.nomadi.lv/2012/12/manu-milako-dokumentu-dokuments-nr-1/.

Tiem, kas godīgi pilda šā raksta lasīšanas instrukciju, noteikti vairs nav noslēpums, ka dokumentalitāte un dokumenti mākslas teorijas redzeslokā nonāk pagājušā gadsimta 60. gados līdz ar kon­ ceptuālisma attīstību, Fluxus kustību un performanču mākslu. Tas ir laiks, kad iezīmējas divi mākslas un dokumentu attiecību veidi:

1) dokumentu un dokumentācijas izmantošana kā mākslinie­ ciska stratēģija;

2) mākslas darbu dokumentēšana kā to vienīgā pastāvēšanas laikā iespēja, jo mākslas formas kļūst nemateriālas un tāpēc to pierā­ dījumam un tālākai eksistencei ir nepieciešama dokumentācija.

Lai tikko teikto dokumentāri pierādītu, atsaukšos uz Toniju Godfriju (Tony Godfrey), kas raksta, ka dokumentācija ir viena no konceptuālās mākslas formām līdzās ready-made, valodai un intervencei.(5) Konceptuālās mākslas darbu (konceptu vai darbību) dokumentācija fotogrāfiju, pierakstu, tabulu un citos iespējamos veidos bieži kļūst par vienīgo šo darbu formu un pierādījumu. Gan tāpēc, ka, "tā kā neviena forma nav būtiski pārāka par citu, tad mākslinieks vienlīdz labi var lietot jebkuru formu – no vārdiskas izteiksmes (uzrakstīts vai izrunāts) līdz pat fiziskai realitātei"(6), gan tāpēc, ka "ja mākslinieks realizē savu ideju un darina to redzamā formā, tad šajā procesā ir svarīgi visi soļi. (..) Visas starpstadijas – kricelējumi, skices, zīmējumi, neveiksmīgi darbi, modeļi, studijas, domas, sarunas – ir būtiskas. Tās dažkārt ir interesantākas nekā pats galaprodukts, jo parāda mākslinieka domāšanas procesu."(7)

3. Tagad noliec žurnālu, izģērbies kails un nostājies spoguļa priekšā. Palūdz kādam tuvam draugam apvilkt tava ķermeņa kontūru spogulī. Pēti sevi un atzīmē uz spoguļa vietas, kuras tavā ķermenī ir mākslīgas (zobus, matu krāsu, solārija iede- gumu u. c. uzlabojumus, varbūt tev ir paveicies un ir mākslīgā sirds vai kāja). Ļauj, lai draugs šo procesu filmē. Pagriezies pret kameru un skaļi atbildi uz jautājumu – vai tu esi īsts vai mākslīgs, vai tu esi oriģināls vai kopija? Un kas ir tas zīmējums spogulī – dokuments vai mākslas darbs?

Ja esi atgriezies pie instrukcijas lasīšanas mazliet samulsis, tad paskaidroju, ka konceptuālajā mākslā dokumentēšanas stratēģija uzdeva jautājumu par mākslas būtību un iespējamību, bet šobrīd mākslas un dokumentācijas attiecības risina jautājumu par dzīvi biopolitikas apstākļos, kad tiek uzdoti jautājumi par pašas dzīvības būtību un iespējamību oriģināla un kopijas attiecību kontekstā.

Pateicoties zinātnes un tehnoloģiju attīstībai, dzīvība zaudē unikalitāti un oriģinalitāti, tā kļūst aizstājama un konstruējama, tā tiek simulēta – ir iespējams ne tikai pārstādīt svešus orgānus, bet ģenētiski radīt dzīvu organismu kopijas. Mēs dzīvojam laikā, kad dzīve savā būtībā ir kļuvusi mākslīga un aktuāls kļūst jautājums par to, kas dzīvi padara par dzīvi, kas piešķir tai ilgstamību un ek­ sistenci vēsturē, kas dara to īstu.

Filozofs un mākslas kritiķis Boriss Groiss Documenta 11 katalogā esejā "Māksla biopolitikas laikmetā: No mākslas darba uz mākslas dokumentēšanu" raksta, ka tieši dokumentācija, kurai pateicoties objekti iegūst savu vēsturisko eksistenci, ir tā, kas piešķir tiem arī dzīvi kā tādu. Dzīve, pēc viņa domām, nav tas pats, kas dzīva būtne pati par sevi, – tā ir dzīvas būtnes ierakstīšana dzīves kontekstā, dzīves mirklī un dzīves telpā.(8) Tieši tas, ko tu kopā ar draugu tikko izdarīji, veidojot savu portretu spogulī. Arī mākslā dokumentācija kļūst par vienīgo mākslas procesa rezultātu, kas tiek saprasts kā dzīves forma, t. i., kā ilgstamība un eksistence vēsturē, kurai, ru­ nājot Valtera Benjamina vārdiem, piemīt sava aura. Borisam Groisam piekristu arī sociālfilozofs Mauricio Ferrariss (Maurizio Ferraris), kurš savā dokumentalitātes teorijā9 uzsver, ka mūsu laikā sociālā eksistence balstās uz pieraksta darbību, kas kalpo kā vēsturiskās atmiņas un identitātes veidotāja starp divām dzīvām būtnēm. Un mākslas darbi ir šādi dokumenti jeb pieraksti. Tādējādi var apgal­ vot, ka dokumentalitātes un laikmetīgās mākslas attiecības ana­ lizējamas vismaz trīs aspektos (šā raksta robežās):

1) dematerializēto mākslas darbu dokumentēšana (tava por­ treta spogulī tapšanas video);

2) dokumentācija kā mākslinieciska stratēģija (tavs mākslas darbu saraksts un tā tapšanas dokumentācija);

3) mākslas darbs kā dokuments, kas veido sociālo esamību (šā raksta lasīšanas instrukcija, kura veidojusi un, iespējams, radījusi dokumentus, kas fiksē attiecības starp mani un tevi).

5. Bet tagad atpūties, lasot fragmentus no dokumentiem un mākslai veltītas dienasgrāmatas, kurā es centos pierakstīt savas atmiņas par piedzīvojumiem, klejojot mākslas laukos Latvijā un citur. Ņem vērā, ka tā ir atcerēšanās dienasgrāmata ar ļoti personisku loģiku. Aiz katra no ieraksta veikšanas laika mēģi­ nājums to kataloģizēt.

19.12.2012. plkst. 2.53 (Mākslinieks – sociālā laika un telpas hronists)

Atceros Jāņa Baloža un Valtera Sīļa izrādi "Nacionālās attīstī­ bas plāns" Dirty Deal Teatro decembra sākumā. Divdesmit piecus gadus jauns dramaturgs tur rokās pusslepenu dokumentu "Latvi­ jas nacionālās attīstības plāns 2013.–2020. gadam", kas veidos visu mūsu nākamo dzīvi tā, lai mēs kļūtu laimīgi. Tas determinē laiku un telpu, kurā vienīgais oficiālais laimes rādītājs ir IKP pieaugums. Jānis uzdrošinās to apšaubīt un būvē emocionāli spēcīgu, uz pētījumu ekonomikā un politikā balstītu stāstu, soli pa solim sasaistot katra skatītāja dzīvi ar kapitālisma filozofijas diktēto notikumu sekām: ja Latvija grib būt tikpat bagāta kā Zviedrija, mums ir jārēķinās ar to, ka nāksies "izdrāzt" visus, kas par mums vājāki. Izrāde – operācija sirds rajonā, kura mākslas un dokumenta attiecības paceļ valstiskā mērogā. Tās dēļ atceros arī kādu necilu, sarullētu lupatu paklājiņu, ko it kā nejauši atstutētu pamanīju pie Kiasma izstāžu zāles sienas un kas atritināts lieliski iederētos lauku mājas priekšnama interjerā. Somu mākslinieks Miko Kuorinki (Mikko Kuorinki) to darinājis no Eiropas Savienības valstu karogu strēmelēm. Cieši savīti cits pie cita, tie kājslauķa formātā jautā par to, kas ir šī savienība, kurā dzīvojam, un kurā brīdī esam vai neesam lupatas.

21.12.2012. plkst. 11.45 (Mākslinieks – personīgā laika un telpas hronists)

Atceros kā Kiasma baltajās sienās ilgi vēroju somu mākslinie­ ka Karri Kuopalas (Karri Kuoppala) videodarbu "Helsinku melnā grāmata". Piecos televizoru ekrānos melnbaltu aitu maskās tērpti grafiti mākslinieki stāsta par Helsinku Domes antigrafiti kampaņu "Nulles tolerance", kuras rezultātā mākslinieki dažādos veidos kļu­ vuši par varas pārstāvju vardarbības upuriem vai lieciniekiem: viņu realitātes kodumiem ir īstas rētas dzīvās miesās. Tie ir do­ kumentāli stāsti un notikumi, kurus Karri Kuopala izmanto, lai jautātu par cilvēka izteiksmes brīvības iespējām demokrātijas ap­ stākļos un lai rakstītu sava laika melno hroniku.

Tumšākas un gaišākas tās raksta arī četri skatuves mākslinieki teātra festivāla Baltic Circle laikā – Janne Sārakala (Janne Saarakkala, Somija), Elīna Petersdotira (Elin Petersdottir, Islande), Ivo Briedis (Latvija) un Nīna Larisa Baseta (Nina Larissa Basset, Dānija) šoreiz apvienojušies, lai radītu izrādi "Pārpalikumi no kara laika"10. Viņu skatuve ir Somijas Nacionālais muzejs, sākot ar pagrabu un beidzot ar tumši auksto torni. Muzeja plašā ekspozīcija kļūst par īstiem (visās nozīmēs) izrādes rekvizītiem, kas palīdz katram no iesaistītajiem aktieriem stāstīt savas ģimenes vēsturi. Skatītājs pārmaiņus seko līdzi visiem izrādes varoņiem, kas lēnām atklāj dokumentu pēc dokumenta, liecinot par sevi ne tikai šobrīd, bet vairāku gadsim­ tu garumā – tik, cik ģimenes vēsture ļauj atcerēties. Izrāde, kuras laikā muzejs kā visdažādāko dokumentu krātuve tiek apvienots ar mākslinieku ģimenes hroniku performancēm, atdzīvina katra skatītāja pieredzi visos jutekliskajos veidos, ļaujot ne tikai klejot laikā, bet arī to sagaršot, sataustīt, ievilkt nāsīs, par dzirdēšanu un redzēšanu nemaz nerunājot. Lūk, piemērs tam, kā dokuments pilda ne tikai atmiņu glabāšanas, bet arī to atdzīvināšanas funkciju! Sva­rīgi, ka izrāde saglabā noslēpumu, ko uzminēt dots tikai tiem, kuri to redz četras reizes, sekojot realitātes nagu atstātajām garajām rētām uz autoru vēstures muguras.

21.12.2012. plkst. 1.04 (Mākslinieks – personīgā laika un telpas arhivārs)

Muzeja kā dokumentu krātuves izmantošana man liek atce­ rēties divus citus mākslas notikumus, pieredzētus Rīgā, – radošās apvienības "Nomadi" veidoto starpdisciplināro mākslas projektu "Atmiņu istabas" Kaņepes kultūras centrā februārī un teātra festivāla Homo Alibi Recycled piedāvāto izrādi 4EST. Pirmajā Mārtiņš Eihe, Māris Ruskulis, Edgars Rubenis un es, Krista Burāne, radījām Latvijā pirmo muzeju / memoriālo istabu aktierim Leonam Leščinskim, kas tajā strādāja par gidu, stāstot apmeklētājiem savas dzīves un Latvijas pēdējo piecdesmit gadu vēsturi. Projekta "Atmiņu istabas" kompozīcijas centrā bija jautājums par patiesību, kas tika risināts, nojaucot robežas starp izmantotajām mākslinieciskajām formām (izstāde un izrāde) un saturu (dokumentalitātes patiesība un fik­ cijas patiesība). Savukārt 4EST komanda Reinis Suhanovs, Jānis Znotiņš, Rūdolfs Bekičs un Jēkabs Nīmanis radīja nevis atmiņu, bet savu ilgu muzeju, kurā iekļautā mēnešiem vāktā vēstures atkritumu un pārpalikumu ekspozīcija, daļēji pārstrādāta skanošos mūzikas instrumentos, dokumentēja viņu sapņus par vīrišķīgās dvēseles atbrīvošanos no lineārā sabiedriskā laika un normām, lai atgriez­ tos pie dabas cikliskās un varbūt tāpēc brīvākas esamības. Savu­ kārt Katrīna Neiburga ar izstādi "Lietu atmiņa" sievišķīgā veidā ar neobligātiem, mirklīgiem un neskaidriem savas ģimenes sieviešu ikdienas dokumentējumiem apgalvoja, ka no laika izrauties nav ie­ spējams un viss, kas paliek no dzīves, ir tās mirkļu arhīvi atmiņā. Realitātes rētas šajos latviskajos darbos drīzāk līdzinās nevis suņu kodumiem, bet mūždien noberztiem un nedzīstošiem papēžiem.

21.12.2012. plkst. 2.02 (Mākslinieks – sociālā laika un telpas arhivārs)

Laikam romantisko personīgā laika arhivāru iespaidā tagad gribas atcerēties cita rakstura darbus ar realitātes kā sargsuņa ko­ dienu rētām.

Somu mākslinieks Oto Karvonens (Otto Karvonen) darbā "Imig­ rantu piļu putnubūrīšu kolekcija" vāc bēgļu nomitināšanas vietas Eiropā, fotografē tās un, balstoties uz to arhitektūru, veido putnu­ būrīšus ar restēm, dzeloņdrāšu žogiem un cietumu fasādēm. Par to, kā mēs paši sevi ieslogām zelta būrīšos, stāstīja dokumentālais Artūra Puntes darbs "Bankas sveiciens dzimšanas dienā", kurā viņš izstādīja sava datora ekrāna kopiju ar Swedbank sveicienu dzimša­ nas dienā līdzās iespaidīgai parāda summai kontā.

Savukārt Kurdistānas mākslinieks Džamils Kamangers darbos "Visas viltotās pases vienmēr ir roku darbs" un "Vīzas" filigrāni jautā par brīvību ceļot. Viņš darinājis ceļošanas dokumentus kā smal­ kus izšuvumus. Katra viņa pērļotā vīza līdzinās krāšņam lidojošam paklājiņam un atgādina par to, ka daudzviet pasaulē pārvietošanās brīvība ir tikai pasaka vai sapnis.

21.12.2012. plkst. 2.44

Atceros, ka raksta lasīšanas instrukcijas 5. punktā bija dota norāde atpūsties, lasot šos dienasgrāmatas fragmentus. Bet šobrīd jau top skaidrs, ka tie pārtop sarakstā, ko varētu papildināt vēl un vēl, un vēl – ar māksliniekiem, darbiem un mēģinājumiem to visu doku­ mentēt. Bet vai var atpūsties, lasot sarakstu? Drīzāk jau aizmigt. Tāpēc izlasi pēdējo raksta lasīšanas instrukcijas punktu.

6. Pabeidz lasīt rakstu, aizver žurnālu un ej gulēt. Kad pa­ modīsies, necenties atcerēties sapņus. Priecājies, ka tev ir bijis laiks, par ko nav nekādu dokumentu.



1 Jēdziens "dokuments" cēlies no latīņu vārda documenta, kas savukārt atvasināts no docere – mācīt, dot piemēru, instruēt.
2 Hacklin, Saara. Lesson, testimony, spicemen: the many incarnations of the document in contemporary art. In: Reality Bites: Document in Contemporary Art: Kiasma Collections: [Museum of Contemporary Art Kiasma, 2.11.2012–10.3.2013]. Helsinki, 2012, p. 16.
3 Briet, Suzanne. What is Documentation? Lanham, Maryland: The Scarecow Press, 2006, p. 10.
4 Ja tu patiešām izpildi šo instrukcijas punktu, atsūti, lūdzu, linku man uz e-pastu krista@nomadi.lv. Kas zina, varbūt topošais Latvijas Laikmetīgās mākslas muzejs šo mūsu dokumentu kolekciju iekļaus savā kolekcijā un mēs būsim radījuši četrkārtēju dokumentu. Iedomājies, ja to vēl kāds nofotografēs vai uzrakstīs par to, tad mēs būsim Dokumentu Dokumenta autori!
5 Godfrey, Tony. Conceptual Art. London: Phaidon, 1998, p. 7.
6 Levits, Sols. Paragrāfi par konceptuālo mākslu. Teikumi par konceptuālo mākslu. Rīga: kim?, 2010, 11. lpp.
7 Turpat, 7. lpp.
8 Groys, Boris. Art in the age of biopolitics: From artwork to art documentation. In: Documenta 11, Platform 5: Exhibition Catalogue. Ostfildern-Ruit: Hatje Cantz, 2002, p. 114.
9 Dokumentalitātes teorija ir teorija, kas par sociālās realitātes pamatu uzskata dokumentus.
10 Vairāk par izrādi lasi un stāstus klausies: http://leftoversfromthewar.com.
Atgriezties