This is Rupert!
Dita Birkenšteina, Art critic
A place within approximately a fifteen minutes' ride from the Vilnius centre, in a neighbourhood which, on riga's scale, could be equalled to berģi, is home to rupert. when people ask me, i tell them that this is one of the most attractive and internationally active contemporary art institutions in the baltic region. to find out what rupert actually is and why it gets so much attention from artists across the globe, i invited a curator and manager of rupert arts and education centre, justė jonutytė, for an interview.

Dita Birkenšteina: As an institution, Rupert is still really young, though it seems to me that in these few years' time it has managed to do a lot of interesting things. Maybe you could tell me exactly what Rupert works with and how it has changed over these three years?

Justė Jonutytė: Just two years ago rupert consisted of only one thing, the alternative education programme, and things have changed a lot. over a year ago, after we moved to the new building in summer of 2013, two new significant programmes were added on: residencies and exhibitions. since then the focus of rupert remains within the field of alternative education and residencies. it's been especially exciting to watch the expansion of these two programmes, which over such a short amount of time have managed to attract to Vilnius dozens of very interesting artists, curators and thinkers from around the world and spread new ideas locally and internationally. our purpose is to work with the participants involved in those two programmes and provide them with practical and theoretical help in implementing their projects. we have also expanded our audience and community a lot over the past couple of years, and if in its first year the programme was primarily aimed at its participants and a small professional art audience, our events are now open to a much wider audience and also people not directly related to the arts.

D.B.: This is probably one of the top questions you keep getting asked: Who is Rupert?

J.J.: You know, it's a bit of a mystery to me, too, because i joined rupert a few months after it had already been named. from what i know, the name might have come up over a glass of wine and a conversation between some of our advisors. since it was clear that it was not going to be a traditional institution, they needed a personal name. so, rather than naming it something along the lines of "centre for art and education", they decided that it's best to name it after a human, though it's still a bit of a mystery why rupert and not someone else. in the first year of the programme, when there was no building, rupert was the person inviting and gathering alternative education programme participants for various collective events, and that's when it gained its meaning; it's obvious, though, that this meaning has somewhat changed since moving to the new building last summer. i guess now he's also the person living in the building together with the residents.

D.B.: You've worked for Rupert for a bit more than a year and a half now, which is quite a lot if we consider that the institution is rather young. How did this start out for you, what brought you to Rupert?

J.J.: It may have been rupert himself who found me. i was working abroad as an independent curator at that time. until that point, my focus had primarily been on contemporary art exhibitions, and i couldn't have guessed that alternative education and residencies would become the main focus of my curatorial practice. i guess that from the very beginning rupert has been this person proposing unexpected ideas to everyone who's willing to accept the challenge, same as with its participants. rupert is a very dynamic place to work, and not a single day here has been monotonous. it is an institution equally grown by its participants and residents, just as much as by the team, and therefore our projects are mainly born from discussions with our community.

D.B.: Why Rupert, if I may ask? You mentioned that a while ago you had not considered working with the topics Rupert is concerned about, yet here you are, appointed as the director just recently.

J.J.: As a curator i had already been in charge of rupert's artistic programmes for over a year, but this new position adds a more administrative side. now i have to develop fundraising strategies and take care of many other practical things that concern all not-for-profit institutions. programme-wise, i'd like rupert to keep its experimental nature and its independent profile and constantly allow a space for new things to emerge (especially as proposed by participants in our programmes).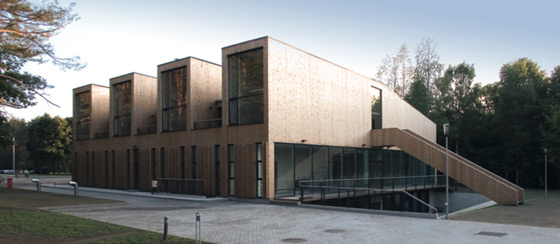 Rupert Centre for Art and Education, Meškeriotojų gatvė 33, Vilnius. 2013
Publicity photo
Courtesy of Rupert
D.B.: What do you mean by experimental?

J.J.: By that i mean that i want rupert to allow space for changes midway rather than expecting participants of our programmes to stick with their project goals from the very beginning to the end. guests and speakers at our programmes come in to propose new ideas and points of view, and they inevitably trigger new ideas in our participants' projects through this exchange, so young artists shouldn't be afraid to change things along the way. i'm also interested in rupert's exchange with initiatives, thinkers and institutions that are not directly related to arts and can be from entirely different fields, including technology, science, literature and so on, where interesting dialogues between different subjects can be born.

D.B.: When it comes to art education, there are plenty of opportunities for studies. In your opinion, what's the best education for a contemporary artist?

J.J.: I don't think there is a universal answer to this question. there are many possible ways to become an artist, and i couldn't say that some are certainly better than others. of course, it's useful to learn the craft, but there are also possibilities to enter the field from different backgrounds, whether it's history, politics, literature or biology. what really helps is to be active and persistent, to never cease to implement your ideas, even when facing some challenges. another thing especially important for young artists is not only to concentrate on the production of new works of art, but to constantly reflect and communicate them – not only to art professionals, but to a wider public. to try and build this "bridge" between the artworks and their potential audience is the most important thing, in my opinion. it's just as important as making works of art...and more important than academic artistic training.

D.B.: What about Rupert's Alternative Education? What is this programme providing and how is that different from academic training?

J.J.: In part, it can be considered as a very practical programme that can through its community, network and other tools help young individuals to implement quite ambitious projects. to give you an example, if someone wants to shoot a film or open a contemporary art book store or establish a new arts magazine, they get connected with individual mentors who can advise them and help them along the way. rupert has always supported a collaborative working environment, and by enrolling in this educational programme the participants become a part of a small group, which is constantly encouraged to work not only on their individual projects but collectively as a group. together with the rupert team, programme guests and residents line up a community that constantly provides structured criticism and gives feedback for the ideas proposed. the programme provides young artists with an international professional network of art professionals who can support them in many ways. while practical and peer learning is an important aspect of rupert's educational programme, we are also interested in introducing current issues of contemporary art and art history, and therefore we frequently invite leading international thinkers to the programme, including past and upcoming visits by guests such as claire bishop, fionn meade, joshua simon and many others.

D.B.: How is the programme curated, and how do you select which guest speakers to invite? Is the programme created before the open call or afterwards, when participants have been selected?

J.J.: It's a little bit of both. we invite some speakers quite early on, well before the admissions, in order to give potential applicants an idea of the topics we will be exploring that year. after we've selected the participants and know exactly what their interests are, we invite additional speakers and tutors who we think can benefit the group that is doing the course that year. we always seek out people who have the ability to inspire and motivate young people regardless of what field they are from. the programme also offers some unexpected pairings. we often think that a tutor from an entirely different background to that of the participant can provide very interesting insights into each project.

D.B.: What happens after those nine months, when the Alternative Education Programme is done? Is there an outcome you expect from the programme as the head of this institution? And how do you evaluate if the programme has been successful?

J.J.: We've been discussing this topic with colleagues from parallel alternative education structures, and what we've all agreed upon is that the idea of failure is often undermined. i think it is more important to focus on what you can learn along the way rather than to stick to a result that you want to achieve. both successes and failures are something to learn from, especially in alternative education. you just have to remember that no matter whether the project is completed as planned or not, it is a part of personal development. most of the time, though, it's quite unbelievable what projects the participants manage to do within such a short amount of time and with limited resources. aside from a personal project, at the end of every year we decide together with the participants what the final group project will be. an exhibition is not necessarily the only possible format – it could be a publication or a film or anything else the group wishes to embark on together. this year we decided to work on processual work, which we're doing in collaboration with Komplot in brussels.1 it's a multi-layered project in which different occurrences along the way – starting from accidents that happened to participants during to the minivan trip from Vilnius to brussels, to locations where apples were picked and furniture was picked up along the streets of Vilnius and brussels and remade – into a mutual work of art all blend and event/showcase at Komplot and continue their life after brussels.

D.B.: Since you've mentioned Komplot, which also allows artists to work in residency, we could make a transition to the topic of residencies. As a part of the contemporary art mechanism, what is a residency? What's it good for, who is it for?

J.J.: That's a very complex question. every residency centre around the world has its own profile, interests and reasons for doing what it does, and the same goes for the artists who choose to do residencies. how they benefit from doing a residency is that they are given this opportunity to step aside from their day jobs or other commitments and to devote a certain amount of time to their artistic practice and try out their ideas in different contexts as well as work with new audiences. even though i work with residencies myself, i am also aware of the potential risks of this new phenomenon of residencies. sometimes they may become a new form of tourism, which doesn't have to be considered solely as a drawback; however, if residency is treated just as a place to stay at in another country, the matter becomes quite complicated. in my opinion, production and experimentation should remain crucial aspects of residencies.

D.B.: Which are the residency centres or programmes that you yourself find the most interesting?

J.J.: It's difficult to name them all, but there are many relevant residencies around the world that can offer their artists an opportunity to advance their careers. from bigger ones such as Wiels in brussels, Iaspis in stockholm or Gasworks in london, who can offer their artists a lot of exposure and a good network and facilities, to smaller ones such as the Baltic Art Centre, which work very individually with each resident to commission exciting new works. i'm also curious to see other residencies that combine elements of alternative education, such as Open School east in london.

D.B.: From your perspective, what are the qualities that make a residency centre or programme a good one?

J.J.: It really depends on each centre's interests and profile. there are residencies that are stronger at securing funding for production or providing artists with opportunities to meet curators and ensuring good exposure for their work. in the case of rupert, we work very closely with our residents and extensively discuss their ideas to make sure we can put them in touch with people or local institutions that may help add some relevant points to their research or production. we support resident events where they can test their ideas and share things they've been working on publicly.

D.B.: We have got an idea about Rupert's residency profile that makes me wonder how you select the people who join the programme. When looking for residents, do you have specific criteria in which Rupert is interested?

J.J.: Most importantly, original and relevant project ideas. every open call becomes increasingly more competitive, and at the end of the day it's the interesting proposal and the personal motivation to be in Vilnius to implement a project that distinguishes someone from a large number of highly experienced applicants. we try to evaluate how the project will benefit the local community and how much sense it makes to do this particular project within the context of Vilnius and, on the other hand, how much this residency can benefit the applicant. we're always looking for interesting and innovative, unorthodox approaches.

D.B.: Do you know what is the motivation that brings people from all around the world to a residency in Lithuania?

J.J.: There are as many different motivations to be here as there are residents. some are interested in the lithuanian art scene, for example, its post-conceptual stream; many have heard of lithuania through internationally active lithuanian curators. sometimes even the fact that we're located rather remotely, in a forest by the river, sparks interest in our institution. however, we primarily attract those who are interested in the exchange between alternative education and residency programmes, and also those who operate outside of a strictly contemporary art context.

D.B.: How does the local art scene benefit from having Rupert here in Vilnius?

J.J.: For young artists we've managed to create this support system, which is helping them at a very early stage of their professional careers to create a context for their work and build an international network. rupert has brought to Vilnius many leading art theorists, curators and artists from all over the world to help these young professionals, provide them with feedback and help launch their careers locally and internationally. the residency programme has brought a lot of interesting foreign artists, curators and writers to Vilnius who have introduced new ideas to the region. usually there's quite a lot of exchange and interaction with local artists, and this has brought new research topics to the artistic map of Vilnius. we've seen a lot of occasions where residents have started a project together with other artists or curators, and i think this has made the Vilnius art scene more diverse and international.

D.B.: I know you've also spent quite some time abroad yourself, and there's no doubt you're very well informed about the current situation in contemporary art. Besides, running an international institution puts you in a position where you're constantly surrounded by observations and ideas by artists coming from all around the world. What does that make you think about the local art scene?

J.J.: I think the scene is as diverse and complex as anywhere else. obviously, there are huge gaps between artists from different generations and areas of interest. i could talk about it for a long time, but i think the young generation of artists is operating increasingly more internationally, so it's not so easy to distinguish them from the international art scene.

D.B.: At Rupert, how do the Residency and Alternative Education Programmes go along? Do the participants of both programmes collaborate, or do you try to keep the programmes separate?

J.J.: Most of the time artists and curators in these two different programmes are at different stages in their careers. the alternative education programme participants are just starting to work within their field, whereas the residents usually have had a lot more experience by the time they come to rupert. so, in some cases residents become indirect mentors of the educational programme participants, who, on the other hand, have the opportunity to introduce international residents to the local context and guide them through it. we don't impose any structures for how they should relate to each other, but it just happens naturally; they all attend lectures, workshops, research trips and reading groups together, so there's a common discussion between them all the time.

D.B.: As the new director, what's your vision for Rupert in the future?

J.J.: I'd like rupert to be a home for discussion and production and to remain an institution that is equally grown by artists, curators and thinkers within its community, just as much as by its team.


1 Rupert at Komplot: Apples in a State of tax Levy with the participation of artists Vytenis burokas, tim kliukoit and augustas serapinas joined by curators justė jonutytė and maya tounta took place at Komplot on november 14, 2014.
go back