Kate Krolle
Dita Birkenšteina, Art Academy of Latvia
Artist Kate Krolle (born 1984) graduated with a Master's degree in Graphic Arts from the Art Academy of Latvia. On finishing her studies, she moved to Paris, where she has lived and worked for the last few years, but still keeping in touch with the art scene in Latvia. The artist has a considerable number of exhibi­ tions under her belt: she started exhibiting in 2004 and since then her experience has been continually growing. Some of the more conspicuous projects in which she has participated are 'Urbanology' (2007) at Andrejsala, 'Metabolism: Contemporary Graphics' (2009) at the White Hall of the Latvian National Mu­ seum of Art, a project curated by Zane Dātava Private Time: 4 Episodes (2012) at LACE in Los Angeles, Speed of Darkness (2012) at KUMU, Estonia, as well as exhibitions of the festival Survival Kit. A joint work by Kate Krolle and Atis Jākobsons, the video installation Patiesība ir vienkārša ('Truth is Simple') presented at last year's Survival Kit 4 was nominated for the Purvītis Prize.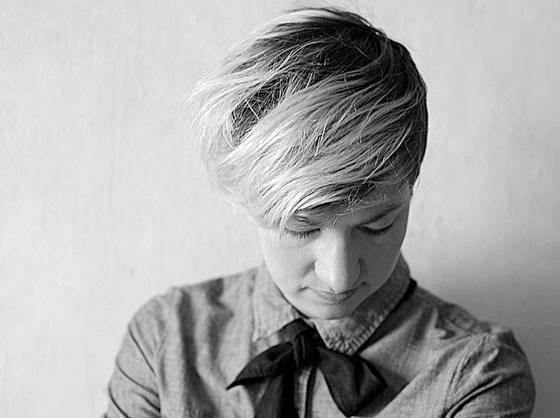 Kate Krolle. 2012
Photo: Una Bergmane
Photo from the private archive of Kate Krolle
Kate Krolle sees herself as an instrument through which the work of art creates its own physical form. She works with various art media and techniques, and the resulting work mostly con­ sists of objects, installations and video. She has not neglected her skills as a graphic artist – alongside the graphic art that is incorporated in the installations, Krolle has also contributed to our own illustrated magazines. Her works can be seen in the first edition of Popper Magazine and in 3x3, the special supple­ ment of the comic magazine kuš!. Quite recently, just this spring, the artist created a wall illustration for the Kino Bize cinema at the Kaņepe Centre of Culture.

In terms of the contents, Kate Krolle's works can be inter­ preted as poetical notes stemming from contemplation about reality and its relationship with the imagination, visualizing puz­ zling mise-en-scènes generated by the human subconscious. Exploration of the self serves as a starting point for artistic pro­ jects, and the artist makes an effort to dissociate herself from the blind assumptions and stereotypes existing in society about non­material values; she allows for doubt and takes a critical view in order to learn to comprehend and to come to an under­ standing with herself: beautiful, awful, good, evil – what is it? What is fear or joy, what do I understand by these words? At the same time, the artist tries to distance herself from giving a name to the feelings, allowing her works to speak for them instead. The ever­present alienation from reality in Krolle's works evokes sadness and an infinitely lonely, at times, even eerily existential mood. The artist courageously bares herself to the viewer and selflessly shares even deeply personal experiences. For exam­ ple, the video installation Vasara ir beigusies, bet mēs vēl nee- sam glābti ('The summer has ended and we are not yet saved', 2009) is a sensual work, depicting a level of intimacy that is out of bounds even for those closest to us. Ghostly sounds, whis­ pers and sobbing accompany the capers and bizarre dancing of a half­naked masked person, erasing the boundaries between the human being and its animalistic nature. The video is hidden behind a glass sheet that is constantly misting over. To see what is happening behind it you need to wipe the glass, but just as well you can maintain a distance and observe the happenings as if through a thin fog. This may be a story about the human being as a closed reality and the coexistence of these parallel micro­universes in the same physical space. The boundary that separates the world of the mysterious person from objective reality makes us question to what extent we can get to know another person, and after all get to know ourselves.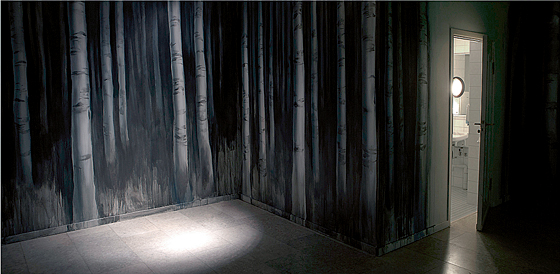 Kate Krolle. Dreaming wolves. Unknown pleasures. Installation. 2012
Publicity photos
Courtesy of the artist
The exhibition Private Time: 4 Episodes devised by Zane Dā­ tava was a collaboration between Los Angeles electronic musi­ cians and sound artists and the Latvian artists Linda Konone, Kate Krolle and Krišs Salmanis. The musicians were commis­ sioned to create scores for video works by the artists. Krolle took part in this project with a work called We Used to Live a Private Life (2012), for which the audio track was composed by experimental musician Kyle Parker, whose performing name is Infinite Body. The video features the longings and fantasies of a teenage boy when meeting his dream image – a girl. The scene is set in a space between reality and dream, and when leaving, the boy carefully hides, that is, wraps up his treasure. The audiovisual exhibition was available for public viewing last November for one day at the LACE gallery in Los Angeles.

Private Time: 4 Episodes is neither the first nor the only time that Kate Krolle has collaborated with musicians. In 2010 she directed the video for Edgars Žilde's single Mūsu politika ('Our Politics'), part of his solo project Augusts IV. An interest in cinema and filmmaking has led the artist into making short films. She participated in the production of Elīna Eihmane's short feature film Gutenmorgens and Jāņu diena ('Midsummer's Night'), as well as Laura Zemvalde's Ģimenes portrets ('Family Portrait').

Last autumn, Krolle and the Berlin­based Latvian artist Atis Jākobsons took part in the festival Survival Kit 4 with a joint project Truth is Simple (2012), offering their version of the theme of downshifting1, and it did not leave the jury of the Purvītis Prize indifferent2. The video installation Truth is Simple reveals how both artists view nature as the foundation and measure of all things, to which to return in order to get the closest to one's self. The work is not only aesthetically appealing and suggestive, but also meditative, and harmonized well with the motto of the festival, and could offer refuge to those individuals who have not yet been able to find time for downshifting.

In 2010 Kate Krolle started collaborating with the theatre directors Valters Sīlis and Andrejs Polozkovs. At the Dirty Deal Teatro theatre they jointly staged performances of Hipnotizē mani ('Hypnotize Me', 2010), Jēkabs (2011) and Atpakaļ uz zemi ('Back to Earth'), the latter premiered at the close of the 2011/2012 season. The plays were developed as interdiscipli­ nary art projects. Krolle not only created the stage design, but co­authored the contents and dialogues, and also took part in the show as an actor. The artist emphasizes that working togeth­ er with representatives from the other creative professions is a refreshing experience, and the mutual exchange of ideas does not allow her to lose focus in her own creative work.


Translation into English: Vita Limanoviča

1 Downshifting – the motto of the contemporary art festival Survival
Kit 4. The festival organizers defined this as a globally popular notion that emphasizes the necessity of keeping a balance between leisure and work.

2 Jānis Borgs writes about the joint work of the two artists in the art and culture portal Arterritory.com: "A particularly beautiful work which stops time and makes one forget about it. This video stood out at festival Survival Kit not only with its promise of simplicity in the revelation of truth, but also with the aesthetics of purity and simplicity characteristic of nature, and probably borrowed from it. The work fascinates with its magic of mystery and makes one believe that there might be other layers of reality behind the "simplicity" propagated by the artists."
go back