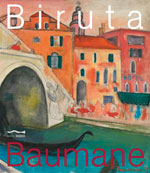 The nature of creative ecstasy


Dace Lamberga, Art Historian


Book Biruta Baumane. Painting by Anda Treija (Riga, 2010)

In an extensive album of art reproductions Biruta Baumane. Painting (artist Juris Petraškevičs), published by the Daugava Gallery, the impressive accomplishments of this Latvian classic painter from the 1940s until the beginning of the 21st century have been brought together in 364 reproductions. The compiler and author of the text, art historian Anda Treija, in a way unintentionally justifies herself to the reader for the painful selection process, as 1230 (!) works in total were photographed. But even this third of the artist's works reflects fully the true diversity of achievement in Baumane's creative life, allowing us to enjoy, in chronological order, both the development of her means of expression as well as the consistency of the basic themes she has chosen. There is a view that even the best quality reproduction will never reach the heights of the original. However, leafing through the pages of this respectfully put together, chrestom¬athic collection of works allows us to get to know the deter¬mined searches for form of a creatively vital personality. I have always been fascinated by the Boriss Bērziņš phenomenon – every one of his works, from a painting to a simple ball-point pen drawing, forms a complete, unified whole. This album of reproductions leads us to conclude that Biruta Baumane's personal style, too, embodies this truly God-given convincingly integral grasp of idea, composition, drawing and colour, which only few artists possess. I remember from childhood how my father, at an exhibition, characterized Baumane as a distinctly masculine painter, and since then the visual image created in the artist's canvases by the black contour dominant, considered very innovative and daring for her time, the expressively sinuous bodies and materially saturated colour range have remained as if impressed in a matrix. I found hundred percent confirmation of this in the collection of 364 works as well.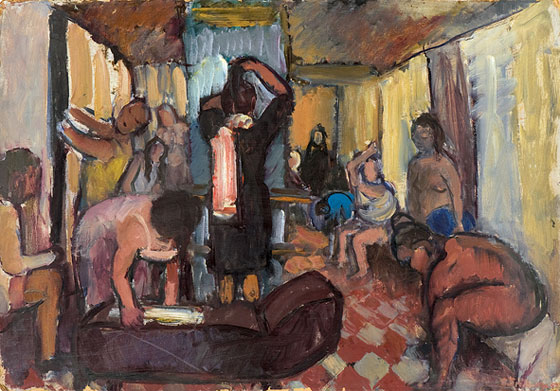 Biruta Baumane. In the bathhouse. Oil on cardboard. 62x81 cm. 1946
The comprehensive album starts with previously unseen youthful works from the 1940s, full of expressionistic passion and sombre earth colour tones, testifying to the influence of early 20th century Flemish masters much favoured in Latvian painting in the 1930s. Biruta Baumane has rephrased this into individual, temperamental brush work. Despite the conditions of war, this period of growth was a fruitful time, when Baumane learnt painting with teachers at the Art Academy of Latvia who can be counted among the most outstanding masters – Valdemārs Tone and Jānis Liepiņš. Already in her very first independent works she seems so enviably free in her self-expression, maintaining this independent uninhibitedness all throughout her life. The collection of reproductions lets us follow the development of themes to do with people's lives, with powerful peasant and fishermen archetypes, joyous country weddings, with art – theatre, ballet and the circus, with the flexibility of women's bodies in countless nudes.

The models for the portraits: Aleksandrs Junkers, Kārlis Miesnieks, Vizma Belševica, Māris Villerušs, Valdis Jancis, Helēna Romanova, Ģirts Jakovļevs, Harijs Liepiņš, Anna Priede, Miervaldis Ozoliņš, Alfrēds Jaunušans, Lidija Freimane and Antra Liedskalniņa reveal a constellation of creative contemporaries and outstanding personalities. In her self-portraits, starting from the first in 1947, harsher features are gradually introduced, deep emotional experience, tragedy and human suffering; nevertheless power and confidence still shine through. In her still lifes Baumane convincingly continues to paint the subjects initiated by her teachers Tone and Liepiņš, with clay pots, fish and apples, using the black contours as favoured by French Fauvists and emphasizing the vitally substantial surrounding environment of country people. The country wedding scenes are reminiscent of Jānis Liepiņš tavern scenes, with their poignant image of the gambler, but the paintings of nudes are not unlike Ģederts Eliass' fleshy swimmers. Yet, without being evasive about revealing her sources of inspiration, Baumane at the same time reveals a distinctively individual world view. I have always been fascinated by the green house which has been appearing in many canvases since the 1980s. A sort of simple, cool green Pārdaugava wooden chalet, but it is surrounded by such peculiarly nostalgic mystery. The artist has also painted colourful scenes of Italy and Paris, the bleak Lofoten Islands, though it is particularly in the enchantment of Pārdaugava and Latvia's small town scenes where unfeigned charm shines through.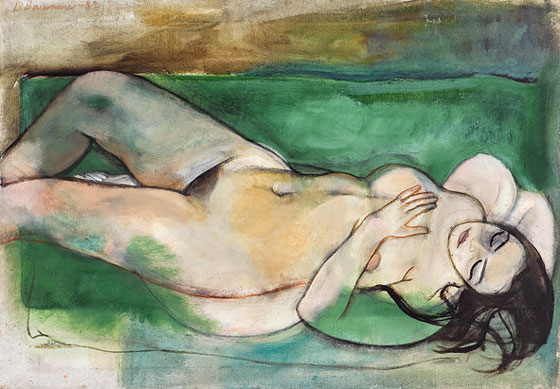 Biruta Baumane. After the winter. Oil on canvas. 70x100 cm. 1982
An exceptional individual, focused assurance, creative wholeness. This is the overall impression left by the collection of works contained in the album Biruta Baumane. Painting. In 1995 Biruta Baumane's powerfully written autobiography Es dzīvoju ('I Live') came out and Anda Treija, in writing the introduction, has naturally been influenced by it. In the introduction, the reader finds out about Baumane's way to art and her enthusiasm for ballet, gains an insight into her journeys and choice of themes, and gets to know her circle of friends and contemporaries. Baumane is representative of a truly capable generation – her contemporary was Boriss Bērziņš, and that already means something. [Then there was also] Vilis Ozols, Gunārs Cīlītis and Aleksandrs Stankevičs – the Grupas portrets ['Group Portrait'] of 1969, with a palefaced Biruta in the centre with a provocative shock of hair and a no less provocative pink scarf around her neck, could, in my view, be considered one of the most vivid icons in Latvian portrait painting. She is inseparably connected with her time, both with its values as well as its various restrictions, but in the power of her talent, Baumane has always stood proudly above the everyday. In her introduction Anda Treija mentions only in passing the ghost of the Soviet era: socialist realism, which in her opinion can neither be attributed to Baumane's painting, nor to Latvian painting as a whole. However, the negative influence it has left on our art cannot be denied, because this direction nurtured under the wing of Soviet ideology was lauded and maintained in force by all possible means at the very same time of the painter's creative expansion. That is why, when highlighting Biruta Baumane's originality as the shining peak of art, the desire naturally arises for a more thorough, deeper analysis of her work, which would reveal her creative independence in the context of a morally degrading era. This album of reproductions can be viewed as a foundation stone for future research of the complex and conflicting history of art in the latter part of the 20th century.

/Translator into English: Uldis Brūns/

go back