Does a group of more than three women make it feminist?


Alise Tīfentāle, Art Historian


Exhibition Gender Check. Femininity and Masculinity in the Art of Eastern Europe
13.11.2009.–14.02.2010. Museum Moderner Kunst Stiftung Ludwig, Vienna
19.03.–13.06.2010. Zachęta National Gallery of Art, Warsaw
The European commemoration of the symbolic "fall" of the Berlin Wall, on 9 November 1989, is also significant as one of those rare opportunities, occurring once a decade at least, for art from Latvia and other former republics of the USSR to break into the Western art scene. Here I am referring to the fact that the curator of the Gender Check exhibition, Bojana Pejič (b. 1948), born in Belgrade and resident in Berlin, was also the curator of the 1999 exhibition After the Wall1. That event, marking the tenth anniversary of the "fall", likewise was an introduction to art created in Eastern Europe, or on the other side of the wall (i.e., from our point of view – on this side).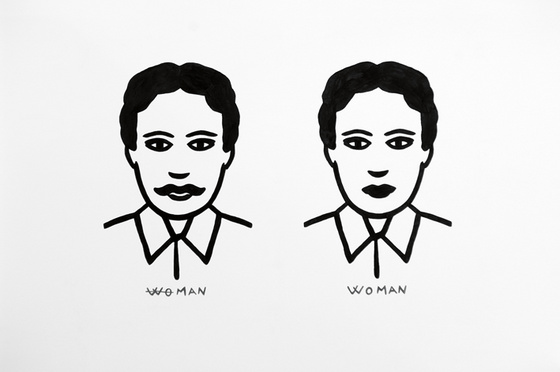 Petra Varl. Zvezda un Odeon. Mural. 205x137cm. Courtesy of the artist
The Gender Check exhibition of Eastern European art is based on research carried out, on behalf of curator Pejič2, by art historians in 24 countries of what was formerly known as the Communist Bloc (including art historian Māra Traumane in Latvia), seeking out works of art relating to gender issues, and identifying approaches to the depiction and interpretation of femininity and masculinity that relate closely to political power in the countries of Eastern Europe before and after 19893. The thematic direction of the exhibition was laid down by the organisation that commissioned and sponsored it, namely the ERSTE Stiftung, which promotes gender studies in Europe.4 Hence it was a logical choice for the foundation to look at the events of 1989 in the light of gender studies and in the framework of an art exhibition.

Working with the research findings, the curator has created a comprehensive and surprising art "story". It covers a geographically broad and diverse region, in chronological terms half a century (most of the works having been created in the period from the 1960s right up to the beginning of the 21st century) and more than two hundred artists. Latvian art is represented by artists of various generations, with works in different media: photography is represented with work from the 1990s by Arnis Balčus (b. 1978), and a series of twelve works from the 1960s by Zenta Dzividzinska (b. 1944); the exhibition includes documentation of Andris Grīnbergs' (b. 1946) happenings Jēzus Kristus kāzas ('The Marriage of Jesus Christ', 1972) and Modelis un citi ('The Model and Others', 1988), as well as a glance at the LN Sieviešu līga ('Latvian National Women's League') project, 1997, curated by Inga Šteimane, an object by Sarmīte Māliņa (b. 1960) and a mixed media work by Zenta Logina (1908–1983). Latvian painting is represented by the work of Helēna Heinrihsone (b. 1948), Ieva Iltnere (b. 1957), Mihails Korņeckis (1926–2005), Felicita Pauļuka (b. 1925), Džemma Skulme (b. 1925), Aija Zariņa (b. 1954) and Indulis Zariņš (1929–1997).

So as to avoid misunderstandings, it is essential to explain from the outset what Gender Check is not: it's not an exhibition of women's art, it's not an exhibition of feminist art, and it's not a general retrospective of East European art. Gender Check is actually the curator's view of the history of East European art through the prism of gender studies and feminist theory, assessing the representation of gender and sex in works of art. The division between the sexes is examined, as are their roles and opportunities in society before and after the fall of the wall. It's the divide between "us" (so-called Eastern Europe, the former Communist Bloc countries) and "them" (so-called Western Europe). (Bojana Pejič quotes Boris Groys (b. 1947), who has said: "it is surely quite evident to all concerned that the true specificity of Eastern Europe can only reside in its communist past"5). These and other possible divides create confrontation and introduce an element of dynamism, since feminism is one of those words that often tends to elicit a reaction of suspicion or ambivalence. For example, one of the exhibition's researchers, Bulgarian art expert Maria Vassileva, recalls an episode relating to a league of Bulgarian women artists: "...my failed attempt to explain to several intellectuals in New York that a group of female artists does not necessarily make it a feminist one. Firing back promptly they assured me that a group is already feminist when more than three women gather together. By the way, this is the impression we create in Bulgaria as well. Which is kind of weird, because feminism, be it political or cultural, simply never happened in our country."6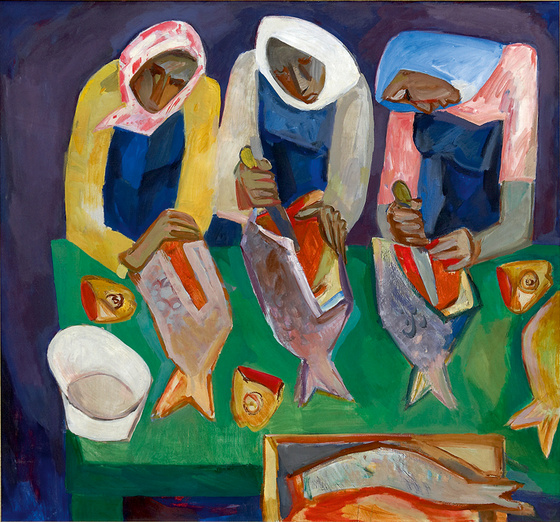 Galina Petrova. Women Cleaning Fish. Synthetic tempera on canvas.150x140cm. 1969. Reproduced with persmission of the Lithuanian Art Museum
Making the past enjoyable
According to philosopher Artist Svece "when choosing a radically new project or goal, people can modify their past, making it interesting and enjoyable. By choosing an interesting goal, one that is exciting, if only for a moment, people can aestheticise even the most uninteresting past – it becomes enjoyable, even if that's only because it led to the idea of this goal."7 Looking back and re-telling the past is something we do all the time, and this is also true of the most significant art exhibitions of recent times. Bojana Pejič quotes the saying: "The only absolutely certain thing is the future, since the past is constantly changing." The curator asserts that the history of Eastern European art requires feminist interventions and that, although there are many high-quality texts written from a gender-conscious perspective, this kind of approach to art history is lacking.8 As Pejič commented in conversation, "I suppose this is really the first exhibition of art from former Soviet countries on such a scale. The only critique of socialism is nationalism I think, in every country nationalism. But I think another critique of socialism is also possible."9

From this point of view, what could the Gender Check exhibition mean in the context of Latvian art? First and foremost, it's another opportunity to reconsider the recent past, namely works of art from the Soviet period. Somewhat perplexing encounters of this kind have taken place at the local scale as well. For example, at the exhibition Padomjzemes mitoloģija ('Mythology of Sovietland')10 held not long ago works of art created within the sphere of influence of Socialist Realism were brought out of museum collections. Moreover, recently there has actually been some interpretation of cultural and art history material from the perspective of gender studies in Latvia also. For example, the book by Inga Pērkone presents a fresh view of 20th century film in Latvia11, Vita Zelče has focussed on the lives of women in the late 19th century12 and, together with Vineta Sprugaine, has studied historic evidence relating to female prostitution in the 1920s and 30s13. Also, in the preparatory stage of Gender Check, art historian Māra Traumane presented her study Skirt is not a problem? Soviet art in Latvia from the perspective of gender studies14 in Riga also.

Bojana Pejič points out that "feminism is just one approach. It's not final. I don't think that feminist art history must replace [all the previous art histories]. We offer a parallel reading."15 I asked her: are you yourself a feminist. "I am. Otherwise I wouldn't be able to make such an exhibition. It would be different. I am a feminist, but not in an activist sense. But you know, if you pay attention to gender, and if you still hear in my country that only male artists can paint, then you have to become feminist, I'm sorry. I became feminist because of the Yugoslav wars. I didn't know how to cope with wars. (..) and feminist theory [can be used] to criticise Serbian nationalism. This was my way."16 I also asked Māra Traumane to express her view of the parallel reading of history through the prism of gender studies. "There is a whole set of internationally topical approaches that allow a reassessment of the national canon. (..) European art, whatever that may mean, certainly does not illustrate critical theories, but works do bear a relation to them, in many cases provoking new developments in these theories. Such discourse certainly does provide a basis for stepping out of one's local, national confines and measuring ourselves against developments elsewhere,"17 considers Traumane.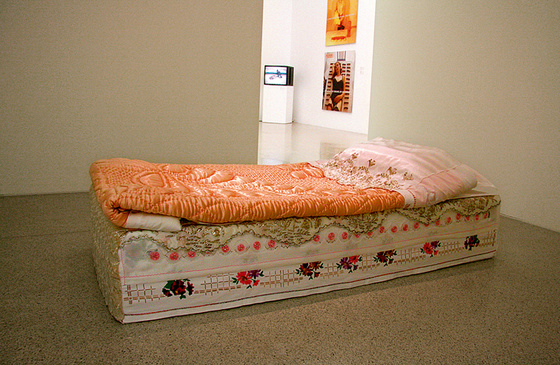 Erzen Shkololli. The Bed. Installation. 1999. Courtesy of the artist
A fight for respect
On examination of the corpus of theoretical texts associated with this exhibition, we find repeated – like keywords – phrases such as emancipation, feminisation of art, female representation in art, the role, possibilities and life of the woman artist, sexuality, the phallocentric perspective, the biopolitical aims of socialism, the patriarchal social model, gender equality, and so forth. In the exhibited works we find questions about indeterminate gender or sex, the critique of gender roles, the challenge of stereotypes, the expression of personal – for the most part traumatic – experience through the medium of art, along with social critique and the struggle (for the most part by women) for respect, authority and a place in society. In the introductory text to the exhibition catalogue, curator Pejič poses the rhetorical question, "Proletarians of All Countries, Who Washes Your Socks?"

It should be added that the works generating the greatest interest were mainly those created in the period of Soviet rule (up to about the turn of the decades1980–90). For these works, the viewer independently undertakes a "gender check", striving to understand and analyse the application of the concepts of femininity or masculinity and their possible significance, while the authors of the works themselves are generally "innocent", in that the artist has been acting intuitively, without any bias to any particular theory or "discourse"18, or else has been guided by an entirely different "book" altogether, one familiar only to themselves.
One of the first works seen by the visitor to this exhibition is the painting Figures (1950) by Polish artist Wojciech Fangor (b. 1922). It depicts quite literally the characteristic contrasts of the class struggle: a strong, healthy and simply-dressed couple, representing the victorious working glass, and next to them an unhealthily pale, elegantly frail, modernly dressed woman in sunglasses. From the perspective of gender studies, it is important in this case that the woman has been chosen to personify the "root of all evil", and paradoxically, her refined image (contrary to the Communist programme) actually draws more attention, and more sympathy on the part of the viewer, than the rather rough and brutal worker couple.

In the context of the reassessment of Latvia's art heritage, we must mention the inclusion in the exhibition of the work Zemes pavadonis ('Satellite', 1972) by Latvian artist Zenta Logina. Logina's abstract textile works on space themes were exhibited in the Soviet period, but her paintings were not.19 This example focuses attention on the hierarchy of artistic media, analysed from a gender theory perspective by Pejič. She mentions the division into "men's" and "women's" artistic media that existed during the Soviet period, textile art being in this context definitely "feminine", while abstract art would seem to be "masculine": "These associations of women's art with handicraft and applied art are well known."20 Lithuanian art historian Laima Kreivytė adds that in the 16 years between 1989 and 2005, the National Award for Culture and Art was awarded to 100 men and only 17 women.21 Māra Traumane, too, recognises that the creative activities of several women artists in Latvia have been inadequately assessed: "Hilda Vīka, Zenta Logina and likewise Lidija Auza studied either privately or else only part time at the Academy of Art, thus not becoming part of the institution. (..) In my view, the histories of these artists have been overshadowed by the life stories of other "formalist" artists, such as Pauļuks, Āriņš and Šenbergs."

The photographs from the 1960s by Zenta Dzividzinska also present the possibility of a polysemous gender check. This is a series of twelve diverse and contradictory works, behind which Pejič recognised a narrative "immediately". There are documentary scenes from intimate moments in the lives of country women, the unembellished, natural essence of which is in absolute contrast to the staged aestheticism prevailing in 1960s fine art photography (which is entirely determined by the "male view", i. e. the woman and the female nude as a fetishised body, an object of desire). The series also includes a stylish self-portrait of the artist in "swinging London" style, wearing a man's top hat. As a counterbalance, there is a view of the mother and child theme, its treatment conforming to the aesthetics of 1960s salon photography. Further ambivalence is introduced by the inclusion of photographs from the series Akmens sievietes ('Stone Women'), showing historical sculptures that have stood for many millennia in silent opposition to common sense. (These ancient stone images sport expressive moustaches, in combination with women's breasts, charming braids and a coquettish handbag.)

Thematic analogies are to be found in many works in this exhibition, in which artists have expressed themselves by utilising "modified" bodies or transformed functions of the body: for example, instead of a child, a woman cradles a cobblestone (the performance What can one do with a paving stone?, 1971, by Hungarian artist Dora Maurer, b. 1937); a woman suffers for all the sins of the world (the painting Sieviete Kristus ('Christ as a Woman', 1989) by Helēna Heinrihsone); a man masked as a woman (the photographs Self-portrait 6.1.1976, 1976, by former GDR artist Stefan Lahovsky); a woman shaves her beard (the performance The Screaming Hole by Serbian artist Katalin Ladik, b. 1942); a woman changes the size of her breasts (the series of photographs 200.000 ft., I-VI, 1997, by Hungarian artist Krizsta Nagy, b. 1972); a man poses as a woman (the photograph Monroe by Vladislav Mamyshev-Monroe22, 1996); men put on dresses (the 1994 work Girls Too by Czech artist Veronika Bromová, b. 1966), and so forth.

The age of declarations
Some of the more recent works, created "after the wall", are less absorbing than the works from the preceding period, because here the "gender check" has already been carried out for the viewer by the artists themselves, sometimes perhaps in an overly schematic or declarative manner. (For example, "the hard life of a woman" is very literally illustrated in works by two Polish artists: three photographs from the series Supermother (2002) by Elžbieta Jabłońska (b. 1970) and the triptych Madonnas (1996–2001) by Katarzyna Górna (b. 1968).23 This may be connected with the new forms and languages of communication introduced by the new age (influenced by the mass media, the advertising and entertainment industries, and new media), as well as the new situation in art: the culture of the project (the necessity of intellectualising and clearly verbalising one's creative process in order to obtain funding), free access to new developments in the world in the absence of adequate criteria for evaluation (in countries where, during the years of Soviet rule, art education ignored certain 20th century directions in art history for a long time), as well as the mechanical "implantation" of feminist and gender theories into a post-Soviet setting24. In reply to my question of whether the works from this period are not sometimes overly didactic, Māra Traumane assesses the process: "In the 90s, when the content of art was no longer commissioned by the state, or else was not censored, the language of art became more direct, and new themes appeared: homosexuality, transsexuality, prostitution, violence in the family and games with gender roles. (..) These works are also intended to act on society, to produce an effect, and perhaps this is the reason for directness, humour and irony."

Several of the works included in the exhibition have already become chrestomathic examples of contemporary art, such as the long-running project Looking for a Husband with an EU Passport (2002–2005) by Serbian artist Tanja Ostojić (b. 1972), in the frame of which the artist really did seek, and find, a "husband with an EU passport", in order to obtain the right to live in the West. Another widely known work is the black and white poster Bosnian girl (2003) by Šejla Kamerič (b. 1976) of Bosnia and Herzegovina, showing a photograph of an attractive young miss covered in abusive graffiti, which a Dutch soldier had apparently left on a barracks wall during the international peace mission in 1994–1995. "The experience of the Yugoslavian wars, alien to us, but still so vivid in Bosnia and Herzegovina, and in Kosovo, came as a surprise to me: I was surprised that such violence can be "digested" through artistic media, without dramatising, but rather with solidarity, as is done by the artists from these countries: Maja Bajevic, Gordana Andjelic-Galic and Šejla Kamerič," adds Traumane. Critically ironic is a glass case in the style of Oleg Kulik, showing a monstrous wax figure of a leaping tennis player (Sportswoman (Tennis player), 2003, from the series Museum), as are the works by Vladislav Mamyshev-Monroe. Balancing on the boundary between humour and irony is the video work Karaoke (2001) by Lithuanian star artists Nomeda (b. 1968) and Gediminas Urbonas (b. 1966). A female Lithuanian bank worker sings a karaoke version of the Abba hit 'Money, Money, Money'. Whatever one might see in this work from the perspective of gender studies, sometimes "a cigar is just a cigar". In this case, it's about women, money and an entertaining show. After all, isn't that what every man dreams about?


The author thanks the State Culture Capital Foundation for the opportunity to attend the exhibition Gender Check. Femininity and Masculinity in the Art of Eastern Europe


(1) The exhibition was held at the Moderna Museet in Stockholm from 16 October 1999 to 16 January 2000. After this, it was shown at the Museum Ludwig in Budapest (2000) and at the Hamburger Bahnhof exhibition hall in Berlin (2000–2001).

(2) Two years ago, ERSTE Stiftung invited seven internationally known curators to prepare an exhibition project commemorating the events of 1989, and out of five project proposals the jury chose Bojana Pejič's project "Gender Check".

(3) Intervista a Michel Foucault di A. Fontana e P. Pasquino. Microfisica del Potere. Interventi politici. Torino: Einaudi, 1977, pp.3.-28.

(4) Marte, B. Forging Links. In: Gender Check: Femininity and Masculinity in the Art of Eastern Europe (Preview Copy). Vienna: Museum Moderner Kunst Stiftung Ludwig Wien, 2009, p. 9.

(5) Pejič, B. Proletarians of All Countries, Who Washes Your Socks? Equality, Dominance and Difference in Eastern European Art. In: Gender Check: Femininity and Masculinity in the Art of Eastern Europe (Preview Copy), p. 16.

(6) Gender Check: Femininity and Masculinity in the Art of Eastern Europe (Preview Copy),
p. 297.

(7) Svece, A. Augu seka un pagātnes estetizēšana. From: Homo aestheticus: No mākslas filosofijas līdz ikdienas dzīves estētikai. Sast. M. Rubene. Rīga: Tapals, 2001, 128. lpp.

(8) Pejič, B. Proletarians of All Countries, Who Washes Your Socks? Equality, Dominance and Difference in Eastern European Art, p. 17.

(9) From a conversation with Bojana Pejič in Vienna on 19 November 2009.

(10) The exhibition was shown from 11 April to 7 September 2008, and the following publications relate to it: Ansone, E. Padomjzemes mitoloģija [Series "Studijas bibliotēka]. Rīga: Neputns, 2008;
Padomjzemes mitoloģija. Muzeja raksti I [Starptautiskas zinātniskas konferences "Sociālistiskā reālisma mākslas interpretācijas problēmas" rakstu krājums]. Rīga: Latvijas Nacionālais mākslas muzejs, 2009.

(11) Pērkone, I. Es varu tikai mīlēt...: Sievietes tēls Latvijas filmās. Rīga: Neputns, 2008.

(12) Zelče, V. Nezināmā: Latvijas sievietes 19. gadsimta otrajā pusē. Rīga: Latvijas Arhīvistu biedrība, 2002.

(13) Zelče, V., Sprugaine, V. Marginālās jeb 1376. fonds. Rīga: Latvijas Valsts arhīvu ģenerāldirekcija; Latvijas Valsts vēstures arhīvs, 2005.

(14) Māra Traumane gave this lecture on 16 March 2009 at the Centre for Contemporary Art in Riga. The English text of the lecture can be found on the centre's website: www.lcca.lv/e-texts/13/.

(15) Conversation with Bojana Pejič in Vienna, 19 November 2009.

(16) Ibid.

(17) Here and below: an e-mail interview with Māra Traumane, 4 December 2009.

(18) In particular, there is no reference to feminist ideas, since, as is emphasised repeatedly by the researchers of the Gender Check exhibition, these were not popular in the information space controlled by the Soviet authorities, and this explains the prejudiced and often negative attitude towards gender studies that still prevails.

(19) For a brief treatment of the unwritten division of artistic media in terms of perniciousness ('formalism') in Latvia in the 1960s see: Borgs, J. Pētergaiļa agrā dziesma. Brīva māksla –
padomju produkts? In: Daba. Vide. Cilvēks. 1984-2004. Sast. I. Baranovska. Rīga: Latvijas Mākslinieku savienība, 2004, 23.–25. lpp.

(20) Pejič, B. Proletarians of All Countries, Who Washes Your Socks? Equality, Dominance and Difference in Eastern European Art, p. 21.

(21) Gender Check. Femininity and Masculinity in the Art of Eastern Europe (Preview Copy), p. 311.

(22) It should be added that this particular work was chosen as the central image of the exhibition's advertising campaign, and the colourful 'bogus' Marilyn against a pink background drew the attention of the public in the international art press, and in the drab urban setting of Vienna in the autumn.

(23) These works were also shown in Riga at the exhibition A Poisoned Source. Polish Contemporary Art in a Post-Romantic Landscape in the Arsenāls Exhibition Hall of the Latvian National Museum of Art, 31 August to 21 October 2007.

(24) As pointed out, for example by Katrin Kivimaa, Estonian researcher for the Gender Check exhibition in the exhibition catalogue: Gender Check. Femininity and Masculinity in the Art of Eastern Europe (Preview Copy), p. 301.

/Translator into English: Valdis Bērziņš/
go back